VISITORS







News & Events
Updated: 2017-03-10 07:54:33
Inclusive finance for young startups in Vietnam
(VBSP News) "Being instructed by VBSP credit staff, he borrowed VND 20 million and after careful thought, he invested in planting sugarcane". Bui Xuan Niem, VBSP's client, says.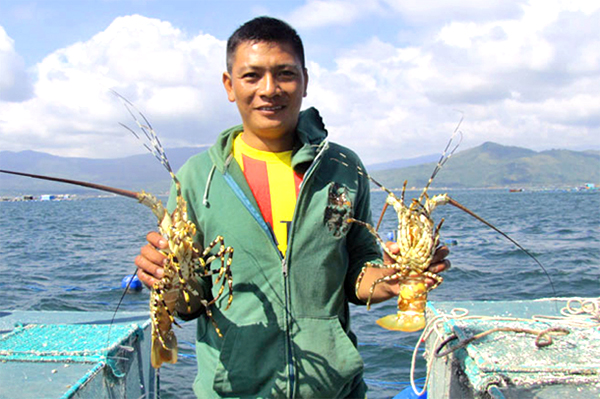 The owner of more than 100 lobster cages in Vung Mam, Xuan Phuong Commune,
Song Cau town (Phu Yen) is proud of his work with big lobsters
A renewed spring arrives in every corner of the country. People joyfully welcome the New Year with fresh confidence and hope. At Phu Yen province, the atmosphere is even more excited with hundreds of young people in the province getting preferential loans for doing business to escape from poverty sustainably. Many young people are confident to walk in the road of their career.
The owner of more than 100 lobster cages in Vung Mam, Xuan Phuong Commune, Song Cau town (Phu Yen) is proud of his work with big lobsters
Recently, in youth entrepreneurship forum themed "I start up- where to start from?" organized by the Phu Yen provincial Youth Union and Youth Association, Vice Chairman of Phu Yen Provincial People's Committee, Phan Dinh Phung, requested ministerial delegation, mass organizations, young entrepreneurs across the province to strengthen communication in the near future to promote youth entrepreneurship, absorb knowledge during international integration, actively participate in economic development; create conditions for young people have the opportunity to gain experience in production, business by supporting each other on seeds, capital, science and technology and market information etc,.
Capital and environment for doing business
Currently, as the owner of more than 100 lobster cages in Vung Mam, Xuan Phuong Commune, Song Cau town. Vo Van Thach, born in 1986 had to overcome many difficulties to establish his business.
Thach said: "As a son of the Song Cau sea, grew up along the sea side, I always concern how to get rich from the homeland. My family already had experiences in raising lobsters, I decide to develop the business. I was very poor, until 2008, when I got VND 15 million from VBSP through support of Youth Union. I used the loan and my savings to invest into 200 lobsters farming". In the first investment cycle, Thach got VND 120 million net profit. During next years, he also got big profit and managed to pay the bank and invest more on farming. Take only the 2015 shrimp season, Thach gained VND 1 billion and became a young billionaire of the Vung Mam area.
With more than 100 cages, he hired 3 more local labors to care for and manage the lobsters with a salary of VND 3 million / person / month. In addition, he also lend breed lobsters to local young people and only got paid after the borrowers managed to sell their products. ""I grew up in hardships, thus, I understand the situation of young people in shortage of capital. Therefore, I am always willing to help those who are doing business or even guide them to get loan from VBSP for economic development as I have done before, "said Vo Van Thach.
Also came from a poor family and got married in 2008, Bui Xuan Niem, born in 1983 in the village of An Hoa, Duc Binh Tay, Song Hinh district tried very hard with several business but still lived in poverty. As taking part in events of the youth at locality, he got to know VBSP through Youth Union. Being instructed by VBSP credit staff, he borrowed VND 20 million and after careful thought, he invested in planting sugarcane.
Niem said: "The original loan was not great but I am strongly motivated to do business. Every year, after the harvest, I spent all the money to buy more land to plant sugar cane. Until now, I had 30 hectares of land planting sugarcane, bringing me about VND 1 billion income after deducting investment expenses. I had repaid the bank fully ".
Besides Niem and Thach, thousands of young poor people in Phu Yen, thanks to policy credit, and young energy, has struggled to escape from poverty and become typical cases in home economic development. Director of VBSP Phu Yen, Mr. Ho Van Thuc said, through Youth Union, 161 Savings and Credit groups with 5,000 young people has got loans from VBSP with loan outstanding of over VND 106 billion. Comparing to other mass organizations, capital channeling through Youth Union is not large in amount but helps numbers of young people to develop their home economics. This is a positive factor, typical practices for other young people at locality to get rich. "Most of the youth borrowing from VBSP is using loans for right purposes and effectively, thus, their repayment is on time. Overdue rate of loans channeling through Youth Union is also the lowest as compared to other Unions.", Director Ho Van Thuc said.
Emulation of startups
According to Phu Yen Youth Union, before 2010, young people from across the province were very difficult to access loans for farming, animal husbandry, economic development. The reason is that many young people living in same households with parents and the head of the household has borrowed through the Veterans Association, Women or Farmers Association, people in the same household cannot get loans. To solve these problems, Youth Union guided young people to separate from the households, form Savings and Credit groups, and apply for loans from VBSP. Since then, many young people have chances to access loans to invest in cows, lobsters, pigs, fish sauce, sugar canes etc,. for economic development towards enrichment. The capital support for young people to do business or to start a business is also part of the province of Phu Yen Youth Union in boosting the movement " Emulation of startups of the Phu Yen youth and justifiable legislative enrichment."
Bui Thanh Toan - Secretary of Phu Yen Youth Union, said: "For the movement to be more effective. The Unin has instructed staff at various level to review needs of the youth, promptly remove problems and respond to the needs of the youth. In particular, it is necessary to actively build households economic model, collective economic through programs, projects and regularly organizes tours for the youth to learn and exchange experiences in applying economic models effectively. In addition, Phu Yen Youth Union also asked subordinated units to well perform management of lending collaboration with VBSP; focus on improving credit quality policy, continue to strengthen the activities of Savings and Credit groups etc,.; while mainstreaming training and poverty reduction programs, transfer scientific and technical advances to help borrowers to use funds effectively, contributing to establishment of desire to start up a new career for the youth, especially in rural areas .
At the meeting with the Central Committee of Ho Chi Minh Communist Youth Union recently, Prime Minister Nguyen Xuan Phuc said: "Getting business started is the measure of success of a government. The more people starting business the more dynamic the economy and the higher human resources quality would be". Accompanying young people on their career path, VBSP shall closely cooperate with mass organizations to enhance communication in the youth and the people on meaning and importance of guidelines and policies of the Party and State, of policy credit for poor households and other policy beneficiaries. Besides, VBSP and Youth Union of various level shall also enhance surveillance, monitoring of the youth's loan utilization, encourage borrowers to do business effectively, understand the rights and obligations to pay debts on time and fully to the State.
LENDING INTEREST RATE
Poor Households

Lending to poor households
6,6%/year
Lending to poor households in 64 poor districts as stipulated by the Government Resolution No.30a in 2008
3,3%/year

Near Poor Households

Lending to near poor households
7,92%/year

Students

Lending to disadvantaged students
6,6%/year

People in need of loans for job creation

Lending to business establishments owned by war invalids and handicapped persons
3,3%/year
Others...
DEPOSIT INTEREST RATE
Term
Deposit Rate
Overnight
3,04%/year
1 week
3,23%/year
2 week
3,5%/year
Others...