VISITORS







Inovations
Updated: 2016-12-27 20:56:18
Fixed-date transaction point at commune: Key success for microfinance in Vietnam
The model of fixed-date transaction at commune is one of the most effective delivery channels that help poor households, near poor households and other disadvantaged groups access inclusive finance from VBSP in Lao Cai province, the Northwest of Vietnam.
Over 14 development years, VBSP's branch in Lao Cai province has helped 72,123 poor households and other disadvantaged groups access financial inclusion with total outstanding loans of VND 2,181 billion.
The model of fix-dated transaction points at commune acts as the loan delivery channel to the address of borrowers effectively and efficiently, helping customers mitigate travelling time and costs, ensure communication and transparency in providing financial services in remote, mountainous and rural areas. To date, the bank has helped 42,116 turns of households lift from poverty, create jobs for 8,134 workers, 11,891 turns of disadvantaged students cover tuition fee, build 19,524 constructions of clean water supply and rural sanitation and build 6,582 houses for the poor etc.
The bank has contributed to decreasing the poverty rate of the whole province from 42.99% in 2010 to 12.11% in 2015. Each month, 98% of the poor and other disadvantaged people deposit savings through savings and credit groups with gross balance reaching VND 37 billion. The average savings deposit is VND 513,000/household.
The photo essay will help viewers get more understanding on the model of commune fixed-date transaction in Lao Cai.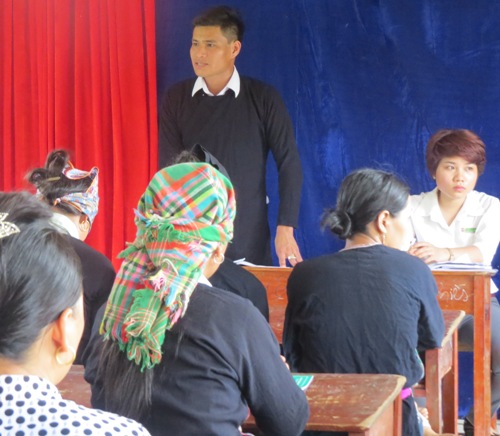 The leader of savings and credit group in Dao village, Dang Van Quynh and the VBSP credit staff, Dang Thi Hoa Lieu, are chairing the group meeting to communicate new credit policies, answer questions in borrowing procedures for group members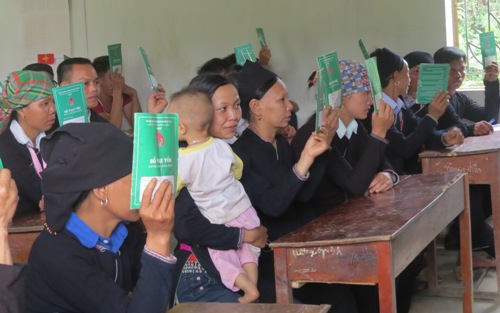 Group members are voting which household is legible for borrowing loans from VBSP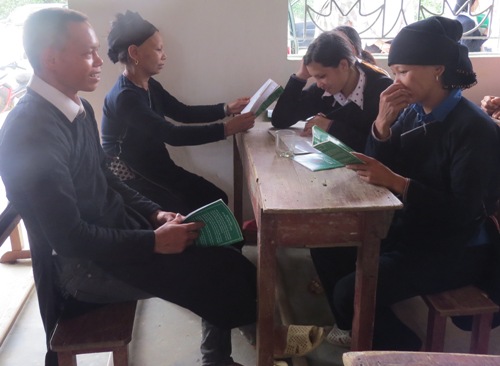 The group meeting is an occasion for group members to share experiences in business, production and loan use efficiently.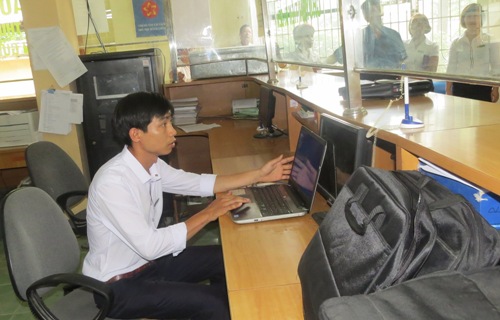 Before each session of monthly fixed-date transaction, the field staff transfers the offline data from the server to the laptop for serving for transaction at Tri Quang commune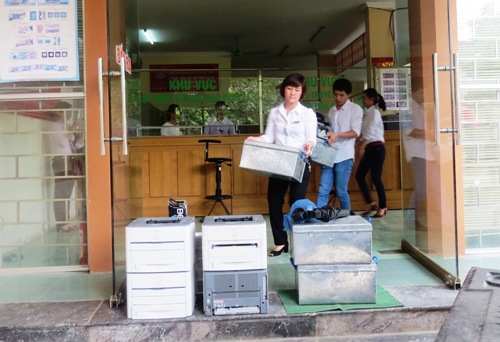 The field team must prepare necessary materials and equipment carefully and adequately to ensure one successful day of commune transaction.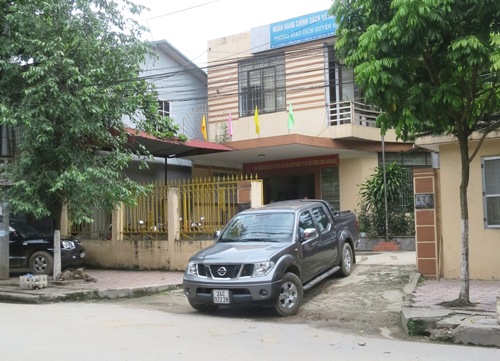 The car is taking the field staff to the transaction point in Tri Quang commune away from the district banks at about 40 km.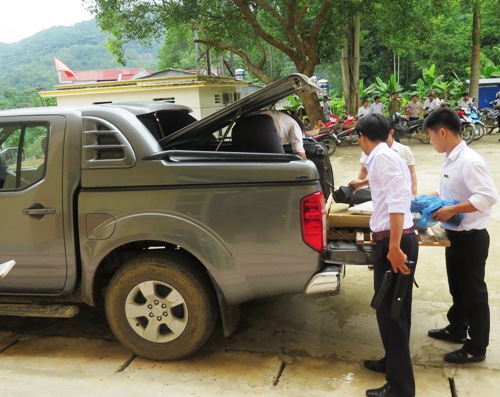 The field staff are bringing materials, facilities and equipment into the commune transaction point.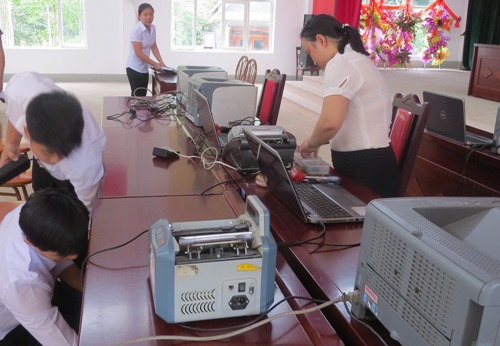 The VBSP field team is arranging and connecting laptops, printers and other equipment for serving transaction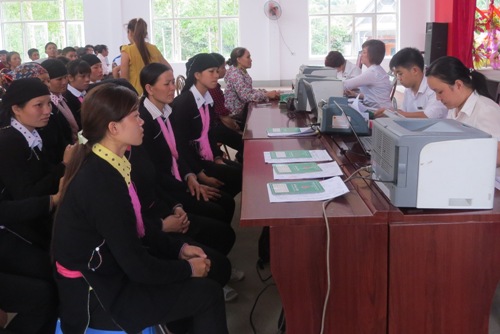 VBSP field team are conducting transaction with customers (loan disbursement, loan repayment, savings deposit etc) at the transaction point of Tri Quang commune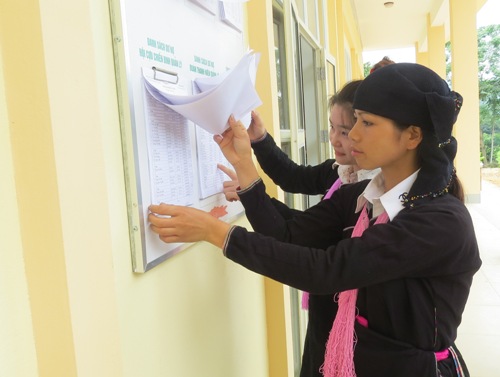 The Dao ethnic minority is reading the list of active borrowers posted on the information board at the mobile transaction point of Tri Quang commune, Bao Thang district.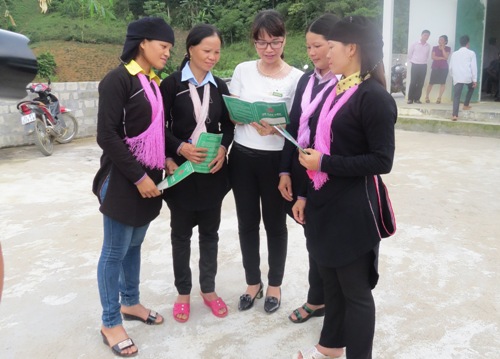 VBSP field staff is explaining about the borrowing procedures and credit policies to group leaders in Tri Quang commune.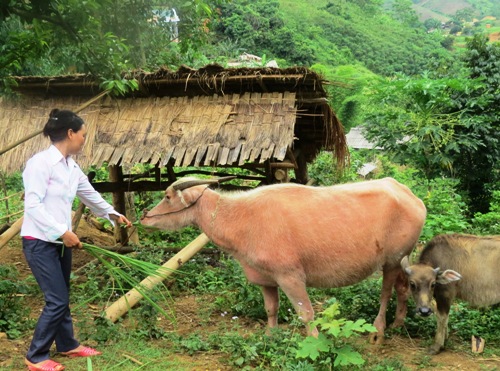 Applying for VND 20 million from the poor household credit program of VBSP, the ethnic borrower Ly Dai Vinh in Dao village invested to purchase one female buffalo for production. Right after one borrowing year, one baby buffalo was born and worthed VND 8-10 million.
The household of Dao Thi Vuong (in Xuan Quang commune, Bao Thang district) invested in chicken husbandry from the loan of VBSP.
The credit program of safe water supply and rural sanitation helps ethnic minorities improve daily living water, ensure health and living standard.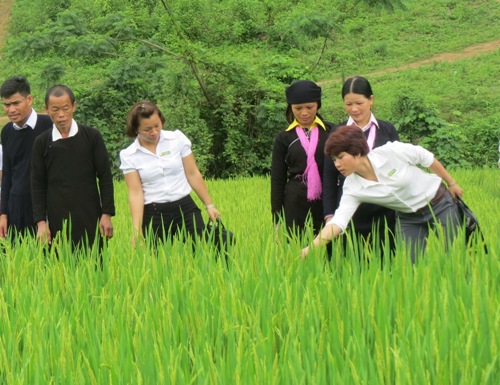 Through VBSP's financial inclusion, the likelihood of the Dao ethnic minority in Tri Quang commune has changed actively. The green paddy fields bring about high yield and quality.
LENDING INTEREST RATE
Poor Households

Lending to poor households
6,6%/year
Lending to poor households in 64 poor districts as stipulated by the Government Resolution No.30a in 2008
3,3%/year

Near Poor Households

Lending to near poor households
7,92%/year

Students

Lending to disadvantaged students
6,6%/year

People in need of loans for job creation

Lending to business establishments owned by war invalids and handicapped persons
3,3%/year
Others...
DEPOSIT INTEREST RATE
Term
Deposit Rate
Overnight
3,04%/year
1 week
3,23%/year
2 week
3,5%/year
Others...