VISITORS







Inovations
Updated: 2016-12-27 20:34:20
Improve responsible finance for the poor in Vietnam
The financial inclusion of VBSP plays such an important role in helping poor households and other disadvantaged groups improve business and production and stabilize likelihood.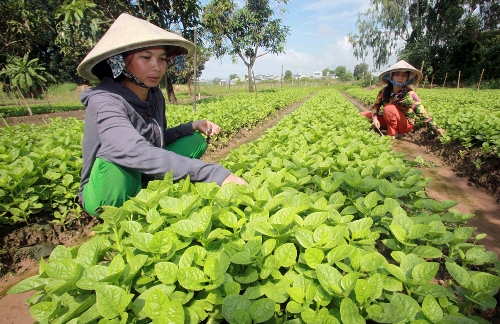 Poor households plant vegetables from small loans
During 14 development years, VBSP has helped poor households and other disadvantaged people to access financial inclusion for invest business and production, improve incomes, generate jobs and lift from poverty. It has contributed to associating economic development with sustainable poverty reduction and social security.
Responsible finance brings about benefits for the poor
We visited the borrower Ha Thi Dao who is one of the successful customers lifting from poverty in Hoi 3 village, Chau Hoi commune, Quy Chau district, Nghe An province. Dao said, her household was the poorest in the past. Her family had five members, in which her couple was the main laborers and three children were small and studying. The main incomes relied on farming and she had no enough money to invest planting and husbandry.
In 2007, she applied for a loan of VND 10 million from VBSP to buy two female cows. Over time, 3 calves were born, bringing about incomes for Dao to repay for the bank. However, the life was still hard. Dao continued to apply for a loan from VBSP to invest more cattle husbandry, plan grass and acacias.
The acacia farm is increasingly growing; the cow herd is more increasing. Today, her household has lifted from poverty and had a better life with 15 cows and buffaloes, 1 truck, 1 machine of cement brick production and other valuable assets.
" We has a better life today in our hometown is thanks to VBSP's loans and training courses on husbandry technology" Dao said.
"It can be affirmed that VBSP's inclusive finance has a very important meaning for the poor and other disadvantaged people to improve business and production and likelihood". Deputy Chairperson of People's Committee in Son La province Nguyen Quoc Khanh emphasized.
He said, Son La is a mountainous province in Northwest Vietnam with 1.2 million populations, out of which the ethnic minority accounts for 80%. VBSP has helped more than 32,000 households lift from poverty, generate jobs for over 11,000 workers, more than 6,000 disadvantaged students go to school; build more than 13,000 houses for the poor, nearly 50,000 clean water supply and rural sanitation works. VBSP contributed to reducing the poverty rate from 31.91% in 2011 to 23.94% in late 2015 in Son La province.
Provide "fish and crane" for the poor to improve likelihood
The household of Thao A Theng, Mong ethnic minority in Xa Ho comune, Tram Tau (Yen Bai) is also another example on successful customer stories. In early days, his family was very poor but since borrowing VBP's loans for production, he has lifted from poverty.
"Applying for VBSP's loans, my couple bought one mother cow. Gradually it gave birth calves. Besides, we plant rice and tea for increasing incomes and repay for the bank on time". Theng said.
Also another borrower Luong Thi Lai, Dao ethnic minority in Yen Binh commune, Yen Binh district (Yen Bai province) applied for VND 35 million from VBSP to invest pig and cow husbandry. The life has changed gradually.
"Thanks to the VBSP's loan, my family has got away from poverty, repay for the bank, develop economy and raise cows. I expect several villagers will apply and use loan in production for proper purpose". Lai told.
Deputy Head of National Assembly office Do Manh Hung emphasized: "Financial inclusion is such an important channel for us to improve the likelihood of the poor, help the poor more actively in earning a living".
As of late September 2016, VBSP reaches a VND 157,000 billion portfolio helping 28.8 million turns of the poor and other poor households access loans for business and production; helping more than 4 million households lift from poverty; generate jobs for 3.2 million workers, out of which more than 107,000 migrant workers overseas, build more than 8.1 million clean water supply and rural sanitation works, more than 7.5 thousand flood resistant houses for residents in Mekong Delta River and nearly 484,000 houses for the poor and other disadvantaged nationwide...
Help the poor more access to financial inclusion
Despite achieve important achievements in financial inclusion, according to the approach of multi-dimensional poverty line in period of 2016 - 2020, total poor households nationwide is more than 2.3 million (9.88%), near-poor households is more than 1.2 million (5.22%). It has resulted in increasing two folds in terms of the number of poor households, which is a challenge for VBSP in context of limited funding.
To conduct the target on sustainable poverty reduction up to 2020, the National Assembly issued Decree No. 76/2014/QH13, as quoted: "Focus on providing inclusive finance for poor households, near poor households, adjust beneficiaries, loan term and interest rate associating with the policies on agriculture-industry-forestry extension, technological and scientific transfer, develop and expand the model of poverty release".
To respond with the borrowing demand of poor households and other disadvantaged groups, helping the poor access financial inclusion in the best manner, VBSP will boost cooperation with domestic and international organizations or individuals to mobilize technical and financial assistance for microfinance development in Vietnam.
LENDING INTEREST RATE
Poor Households

Lending to poor households
6,6%/year
Lending to poor households in 64 poor districts as stipulated by the Government Resolution No.30a in 2008
3,3%/year

Near Poor Households

Lending to near poor households
7,92%/year

Students

Lending to disadvantaged students
6,6%/year

People in need of loans for job creation

Lending to business establishments owned by war invalids and handicapped persons
3,3%/year
Others...
DEPOSIT INTEREST RATE
Term
Deposit Rate
Overnight
3,04%/year
1 week
3,23%/year
2 week
3,5%/year
Others...