VISITORS







News & Events
Updated: 2017-12-20 13:37:54
Binh Thuan province combats poverty with microfinance
(VBSP News) Over the years, farmers in Binh Thuan province have made good use of microcredit to build a better life for themselves. VBSP branch in Binh Thuan achieved outstanding loans in both quantity and quality: 14 programmes have dispatched VND2.22 trillion ($98 million) of capital so far to 100,000 poor families in the province.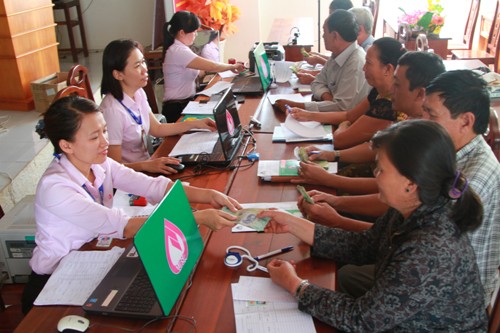 Vietnam Bank of Social Policies provide microcredit to poor families in Binh Thuan province
The time of hardship is over
Binh Thuan province is famous for its vast array of natural landmarks, including Mui Ne-Phan Thiet, Ke Ga, Phu Quy Island or Cau Island. The province, despite being blessed with natural wonders, remains an impoverished place where residents struggle to make ends meet.
Nguyen Chin and Le Thi Que in Tan Tien ward, Lagi district are one example. They recalled their first year of marriage, when the only tool they had was an axe which they used for logging, building furniture, and even building their first home. The only land that they owned was sold to them at a low cost by a family member, who took pity on their hardship.
The couple borrowed VND5 million ($220) of microcredit in 2007, which they invested in a dragon fruit field. Chin and Que later received an additional VND20 million ($882) to increase their plantation from 500 to 1,000 trees. The field then started to bring profit for the couple, who went on to raise a couple of cows.
"The loan we got from Vietnam Bank for Social Policies (VBSP) has paved the way for us to be where we are now. Thanks to the dragon fruit and the cows, we have been able to send three children to college. Our children also received loans from VBSP and has since graduated and got stable jobs," said Que, beaming with pride.
A similar miracle happened to Pham Tan Dong, who resides in Tan Phuoc ward, Lagi district. Dong is a handicapped man from an impoverished background, but this setback has never stopped him from fulfilling his dreams. He borrowed VND20 million ($882) from VBSP in 2007 to buy a cow and a cart. Dong and his wife could then cover basic expenses thanks to their wage from menial labour, but the couple aspired for a better future.
"We switched to prawn farming to escape poverty. We were armed with the VND50-million ($2,205) credit from VBSP, which allowed us to produce our first batch of prawns. Day after day, the farm started to bring profit, and nowadays we can earn up to VND50 million ($2,205) every year from three batches," said Dong, smiling from ear to ear.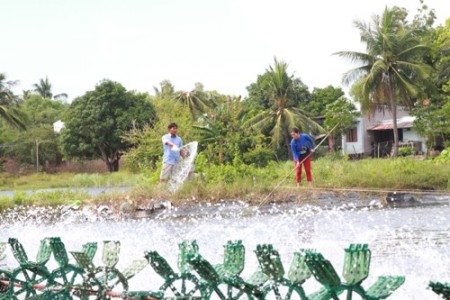 Farmers in Binh Thuan province borrows loan from VBSP for production and business
Impressive results
Pham Anh Duc, director at the Binh Thuan branch of VBSP, said that the branch has VND2.2 trillion ($97 million) of operating capital, growing by 21 per cent every year. Outstanding loans grew in both quantity and quality: 14 programmes have dispatched VND2.22 trillion ($98 million) of capital so far to 100,000 poor families in the province.
"Between 2011 and 2015, the number of poor families has dropped from 9 per cent to only 2.5 per cent. More importantly, we have paved the way for 259,000 poor families to escape poverty, find a new way to earn money, and set up their own business. About 66,000 people have found jobs and 74,000 students have been sent to school with our help," said Duc.
Duc emphasised that poor families in Binh Thuan province make very good use of their capital, as bad debt takes up merely 0.3 per cent of outstanding loans. This is particularly impressive for a province like Binh Thuan, which is frequently ravaged by natural disasters and climate change effects, he added.
"We have collaborated with local authorities to solve non-performing loans. It also helps us a lot that residents have shown great responsibility in repayment," the official noted.
Towards a better and stronger future
National Assembly member Bui Sy Loi said that microfinance is an important part of Vietnam's quest to combat poverty. Over the years, microfinance has helped thousands of poor and ethnic families to access capital and improve their livelihood, thus transforming the face of the entire region.
However, Loi still expressed concern that VBSP may not be able to provide sufficient credit for everyone, especially as the demand for low-rate loans is increasing in far-lying areas. According to Central Institute of Economic Management and international organisations, such as the World Bank, most families in rural Vietnam still depend on non-official loans.
Specifically, half of the rural residents are having at least one loan, 20.7 per cent of which comes from official sources, while 30 per cent is from non-official sources, such as family members, friends or loan sharks.
As a result, VBSP still needs to co-operate with relevant authorities to continue its role as the official provider of microcredit in Vietnam. This is a crucial part of moving Vietnam forward, alleviating poverty in the country and improving the lives of millions of Vietnamese people.
http://www.vir.com.vn
LENDING INTEREST RATE
Poor Households

Lending to poor households
6,6%/year
Lending to poor households in 64 poor districts as stipulated by the Government Resolution No.30a in 2008
3,3%/year

Near Poor Households

Lending to near poor households
7,92%/year

Students

Lending to disadvantaged students
6,6%/year

People in need of loans for job creation

Lending to business establishments owned by war invalids and handicapped persons
3,3%/year
Others...
DEPOSIT INTEREST RATE
Term
Deposit Rate
Overnight
3,04%/year
1 week
3,23%/year
2 week
3,5%/year
Others...