VISITORS







Client success stories
Updated: 2017-12-14 23:22:50
Successful customer stories that benefit from inclusive finance served by VBSP
Following is some successful customer stories that benefit from inclusive finance served by VBSP: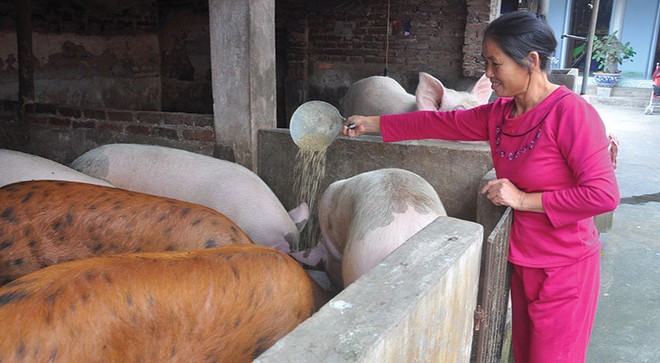 In 2004, the family of Dinh Thi Dinh, an ethnic Tay female, residing in Trang Tranh hamlet (Tan Loi commune, Dong Phu, Binh Phuoc), was recognised as poor household and provided with preferential loans worth VND12 million to invest in growing 100 piles of pepper, generating an annual income of VND22 million. As a result, in 2007 her family managed to escape from poverty. However, due to her husband falling ill, the whole estate was used to fund his treatment, so in 2013, her family fell into poverty again.
Once again, Dinh's family was provided with access to preferential loans from the Vietnam Bank for Social Policy (VBSP) for poor households, with the amount of VND30 million being provided to cultivate pepper and rubber. Thanks to that, Dinh's family has more than 1 ha of rubber and cashews, along with 200 piles of pepper. Dinh said that by the end of 2015, her family officially escaped from poverty, with an average income, after deducting the relevant costs, at approximately VND200 million per year. Not only that, Dinh's family has also deposited monthly savings to create capital in order to repay their due debts to the bank.
Another the case can be referred to is Ha Thi Dao, in Hoi 3 hamlet (Chau Hoi commune, Quy Chau, Nghe An). In early 2007, Dao was admitted to the Savings Group to be eligible to borrow money in her village and was given the opportunity to receive loans from VBSP, in Quy Chau district for poor households, amounting to VND10 million.
Up until now, Dao's family has managed to escape from poverty, becoming an above-average household in the commune. Her existing assets include 15 buffaloes and cows worth more than VND200 million; a small truck worth roughly VND200 million; a rice mill and a cement brick machine, each valued at VND20 million; and a fish pond, as well as additional facilities serving local weddings for people in the commune. Her average income is from VND170-190 million per year, after deducting costs.
With the household of Bui Van Quy, residing in Hung Giao hamlet (Tam Hung commune, Thanh Oai district, Hanoi), the total amount of preferential loans, paid by the VBSP Thanh Oai district branch, for his three children to study, is at VND183.1 million. Currently, Quy's two older children have graduated from school and have begun working to earn money to cover their daily expenses and repay their loans.
Bui Thi Quynh, Quy's second daughter, said that her parents and siblings had agreed on a plan to repay the due loans and interest in accordance with the Government's regulations on offering credit to students. The family is always aware of saving money each month to pay back VBSP, so now they only owe the loan of the third brother with the amount of VND16.5 million.
In 2010, receiving a loan worth 25 million VND (1,100 USD) from the VBSP's district branch with preferential interest, Quy decided to improve one hectare of land to cultivate longan, grapefruit and pineapple. After 3 years of cultivation, the fruit garden earned Quy nearly 100 million VND (4,400 USD) last year.
"The soft loan has helped my family get away from poverty, return borrowings and patch up my house. I can also afford my children's schooling", he said.
Bao Son commune has five groups which facilitate ethnic minority people's borrowing from the VBSP. Over 200 ethnic households have accessed the soft loans, over 95 percent of them settled their debts on schedule.
The capital has helped many households in ethnic-populated communes like Bao Dai, Tam Di, Nghia Phuong, Truong Son, Vo Tranh and Luc Son break out poverty. According to Trinh Huu Ngoc Nam, vice director of the district branch of the VBSP, over 10 billion VND (440,000 USD) in loans has been given to 866 impoverished ethnic households. Nearly 100 families escape from poverty and have stable lives.
Thanks to soft loans from land and water support programmes for poor ethnic groups and deprived households in specially difficult communes and villages via the VBSP system, more than 200 families in Yen The district said goodbye to poverty between 2013 and 2016.
The family of Vuong Thi Lap, a Nung ethnic in Na Trang village, Dong Vuong commune, is a standout example. Her family was granted a loan of 30 million VND (1,320 USD) five years ago although they had no mortgage. She now pockets 80 million VND (3,520 USD) from her farming model combining longan plantation and pig raising every year and becomes an excellent model in the commune.
LENDING INTEREST RATE
Poor Households

Lending to poor households
6,6%/year
Lending to poor households in 64 poor districts as stipulated by the Government Resolution No.30a in 2008
3,3%/year

Near Poor Households

Lending to near poor households
7,92%/year

Students

Lending to disadvantaged students
6,6%/year

People in need of loans for job creation

Lending to business establishments owned by war invalids and handicapped persons
3,3%/year
Others...
DEPOSIT INTEREST RATE
Term
Deposit Rate
Overnight
3,04%/year
1 week
3,23%/year
2 week
3,5%/year
Others...