VISITORS







Client success stories
Updated: 2016-03-09 16:49:59
Help poor households for sustainable poverty release
According to Decision of the Prime Minister on new lines for poor and near poor households in the period of 2011 to 2015, the boundary between these two objects is just VND 1,000 / person / month at the minimum. However, preferential policies for them are like sky and ground and such gap is becoming a barrier, making the goal of sustainable poverty difficult to be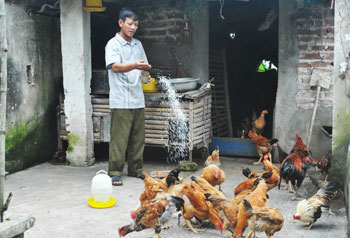 Despite already poverty release, the family of Nguyen Van Thanh still faces difficulties due to lacking funds
Near poor households- The Missing Middle
Following credit officers of VBSP Ninh Binh Province, we come to Khanh Tien, Yen Khanh district, Ninh Binh province, a mere agricultural commune with 100% of households relying mainly on agriculture. Sharing with us, Vice Chairman of Khanh Tien, Mr. Nguyen Anh Tuan, cum head of commune poverty reduction board, said: the commune has 1,266 households with more than 4,000 people, including more than 165 poor households (14.8%) and around 90 poor households (8%). For many years, the lending policy to the poor of the State has been effective. By this time, there were 208 poor households in the commune received VBSP loans, of which 128 are poor households and 80 households have already got out of poverty. Total loan outstanding of first six months of this year to date is VND 2.03 billion.
According to Mr. Nguyen Anh Tuan, the majority of near poor households in the village are facing with many difficulties in life, as the line gap between the poor and the near poor is small, just VND 1,000/ person / month. And while poor households enjoy many preferential policies of the Government such as low-interest loans, health, education etc., near poor households do not receive any of those. In fact, over the past time, many poor households, after just a period out of poverty fall back into poverty again due to natural disasters, epidemics, etc., and especially due to lack of funding for business and production. The household of Nguyen Van Thanh, in hamlet 1, Khanh Tien commune is an example.
Escaping from poverty since 2001, but four people only rely on fluctuated income from three acres of rice and pigs, chickens, hence, until now the family is still hang around the sufficient level of food. In recent years, his father is sick, his children are growing up which accompanied by increase in living cost, thus, his family once gain falls into hardship. He said: "I was very happy because thanks to the loan from VBSP, my family gradually got out of poverty. But in recent years, economic downturn, and a sick member in the family, despite our hard working, we cannot manage to save any amount, some time it is even insufficient. He has a plan to hire the nearby land to dig a pond and raise fishes but it is all still a project because there is a lack of funding. "I only wish for a loan from 20 to 30 million dongs with low interest rates below 1% / month, but every bank I asked, they just shook their head because I did not have collateral. Now, I could only count on the Government, the VBSP", he said.
New standards for poor households and near- poor households in the period of 2011 - 2015:
Rural poor households are households with an average income from VND 400,000 / person / month (from VND 4.8 million / person / year) or less. Urban poor households are households with an average income from VND 500,000 / person / month (from VND 6 million / person / year) or less.
Rural near- poor households are households with average income from VND 401,000 to VND 520,000 / person / month. Urban near- poor households are households with average income from VND 501,000 to VND 650,000 / person / month.
Similar to Van Thanh's households, but the family of Dinh Van Thanh in hamlet 4, Ngoc Dong village, Gia Phong, Gia Vien district is even worse since the flock of ducks he invested in is facing the risk of loss due to deseases. After escaping from poverty by the VND 8 million loan from VBSP in Gia Vien district a few years ago, his family life is still in uncertainties. No longer eligible for VBSP's loans while the family economic capacity is not strong enough, he and his wife took nine acres of farm contractors. In addition, as he cannot borrow from commercial banks, he takes risks to borrow an amount of VND 40 million outside with interest rate of 3% / month to feed the ducks and do bran trading. But in recent two years, during economic dowturn, bran price increases while duck price decrease and more deseases infected making him distress. "I just look forward to a loan from VBSP with low-interest to pay off external debts, continued my investment in bran trading, raising cattle to develop family economic" Thanh expressed.
Need timely support
According to the latest statistics of the Ministry of Labor, War Invalids and Social Affairs, the country now has more than 1.5 million near poor households (6.98% of total number of households). These are ineligible households for preferential loans from the VBSP. At the same time, having no collateral, they find it is very difficult to access funding from commercial banks for their family economic development. In fact, near poor households are those easily influenced by natural conditions as well as socio-economic changes. Just a natural disaster, disease outbreak, or bad economic movement, near poor households can become poor in a very short time. So the people themselves, as well as local authorities, mass organisations, unions have given many recommendations on extension of eligible borrowers to near poor households.
According to the Vice Chairman of People Committee, Head of poverty reduction board in Gia Minh, Gia Vien District- Mr. Vu Duc Hanh, thanks to loans from the VBSP, the poverty rate has dropped significantly, from 27% in 2008 to 13.06% (in compliance with the new criteria for poor households). However, in the commune, the percentage of near poor households is still 17.8% (187 out of 810 households). These are the households whom have overcomed poverty but are under high risk of falling back because they cannot continue to borrow from VBSP to re-invest to expand production and increase income. As a mere agricultural commune, located in the region of flood-prone, near-poor households all have a common desire to continue to receive support of the State, especially preferential credit to stabilize their lives and invest in production development.
"As the regional flood bag, sometimes when a flood come, just over one night, it washes away all assets, many households have to temporarily live on the roof to wait for the water to recede", Chairwoman of Women Union in Gia Minh commune – Ms. Nguyen Thi Huyen said. For the members to get out of poverty, commune Women Union as well as local governments, associations and unions have made many efforts to create favorable conditions for women to do business. However, in order to escape poverty sustainably, people really need support, especially preferential funding of the government.
Besides, many other comments recommend the government to add near-poor households to eligible borrowers along with a specific lending mechanism in which loan amount andprocedures will be as lending to the poor but interest charge will be close or equal to market interest rates. In this way, the state budget will not beaffected because it will not have to subsidy interest charge, VBSP expenses will notincrease significantly. The most important thing is that near-poor households wouldhave access to loans and preferential services. This is also fully consistent with therequirements of "research to amend and adjust policies to support near-poor households for sustainable poverty reduction" that Resolution No. 5 of the CentralCommittee of the Party has set out.
Hong Anh
LENDING INTEREST RATE
Poor Households

Lending to poor households
6,6%/year
Lending to poor households in 64 poor districts as stipulated by the Government Resolution No.30a in 2008
3,3%/year

Near Poor Households

Lending to near poor households
7,92%/year

Students

Lending to disadvantaged students
6,6%/year

People in need of loans for job creation

Lending to business establishments owned by war invalids and handicapped persons
3,3%/year
Others...
DEPOSIT INTEREST RATE
Term
Deposit Rate
Overnight
3,04%/year
1 week
3,23%/year
2 week
3,5%/year
Others...