VISITORS







Press Release
Updated: 2016-11-08 09:37:21
Over 1.4 million turns of the poor access inclusive finance in Hanoi
(VBSP News) Over 14 years of establishment and development, VBSP branch has affirmed gradually as a key position in poverty reduction, job creation, new rural development and ensure social security in Hanoi.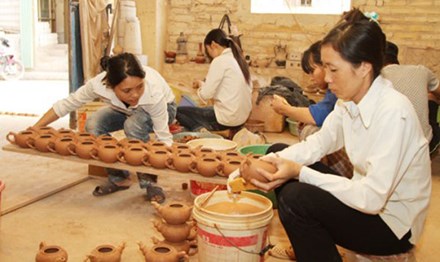 Several Bat Trang pottery production establishments in Gia Lâm district access financial inclusion from VBSP.
More than 1.4 million turns of the poor access inclusive finance in Hanoi
To date, VBSP has helped over 1.4 million turns of the poor access inclusive finance in Hanoi aiming to develop business and production, improve incomes and living standard.
We visited Kim An commune, Thanh Oai district in Hanoi on the monthly commune transaction date of the district transaction office. Conducting transaction at commune has helped poor households save travelling time and cost. The borrowing procedures are more simple and quicker. Ms. Tran Thi Ta, one excellent female leader of savings and credit group in Hoạch An hamlet, happily says her group gathers 42 poor and near poor members who voluntarily participate in and the group's loan portfolio reaches more than VND 700 million up to now.
Approaching this responsible finance, a lot of group members have chances to develop business and production, find jobs and take care of their children to continue studying. They gradually graduate from poverty and have better life.
For the case of the borrower Tran Van Dung, in 2010, he applied a loan of VND 15 million from VBSP to expand the pond and raise fish. Today right after full repayment for the Bank, Dung also purchased one land milling machine and one vehicle to transport facilities. Another borrower Nguyen Thi Duyen lives in Thuong hamlet, Thuong Lam commune, My Duc district in Hanoi, starting from one poor households now lifting from poverty. In 2013, applying for VND 25 million from the near-poor household credit program initiated by VBSP, added with her savings that her couple renovated 1,500m2 water surface as fish pond and raise cows and chickens. Duyen happily says "Thanks to VBSP's financial services, my family gradually lifts from poverty, repay for the bank and have a stable life".
Contribute to poverty reduction and ensure social affairs
As of late September 2016, total capital source of the Hanoi branch reaches more than VND 5,523 billion, out of which, the local mobilization is VND 1,422 billion. Thus, Hanoi is the top branch in fund mobilization from local levels in the VBSP system to respond with the increasingly borrowing demand of the poor, near-poor and other disadvantaged groups.
The responsible finance of VBSP has supported more than 190,000 poor households lift from poverty, generate jobs for more than 500,000 workers, over 145,000 disadvantaged students continue studying, build over 400,000 works of clean water supply and rural sanitation, build more than 7,200 houses for the poor etc.
VBSP has contributed pro-actively to conducting the national targeted program on sustainable poverty reduction, social and political stability and new rural construction. VBSP contributed to reducing the poverty rate from 6.09% in 2010 to 1.5% in 2015 under the city's poverty standard; or 4.97% in 2010 to 0.27% in 2015 under the national poverty standard.
Highly assess the important role of VBSP in poverty reduction and new rural development, Hanoi Party Secretary Hoang Trung Hai says: VBSP has had an active impact and clear improvement on the likelihood of Hanoi residents, especially the poor and other disadvantaged cases.
Accordingly, he determined that Hanoi government will create the most convenient condition for VBSP to succeed in providing inclusive finance for the poor, to help VBSP mobilize various sources to satisfy with the borrowing demand of poor households, near poor households for investing business and production, job creation and transforming the agricultural production model.
Hanoi branch Director Nguyen Kim Phung emphasized that all branch employees and leaders will strive to overcome any difficulty and challenge and together with total VBSP system to conduct successfully the VBSP Development Strategy by 2020 towards "developing VBSP in such a stable and sustainable manner, enough capacity to better implement the state policy credit associated with developing products and services more effectively for the poor, near-poor households and other policy-based beneficiaries".
Spending 14 operation years, from three credit programs with loan portfolio of VND 300 billion in newly established periods, up to now, VBSP has extended 14 credit programs with total outstanding loans of VND 5,504 billion, increasing 12 times against the establishment period. The operation network has covered at locality with 558 communal transaction outlets, 7,807 savings and credit groups in total 584 communes, wards or towns.
LENDING INTEREST RATE
Poor Households

Lending to poor households
6,6%/year
Lending to poor households in 64 poor districts as stipulated by the Government Resolution No.30a in 2008
3,3%/year

Near Poor Households

Lending to near poor households
7,92%/year

Students

Lending to disadvantaged students
6,6%/year

People in need of loans for job creation

Lending to business establishments owned by war invalids and handicapped persons
3,3%/year
Others...
DEPOSIT INTEREST RATE
Term
Deposit Rate
Overnight
3,04%/year
1 week
3,23%/year
2 week
3,5%/year
Others...