VISITORS







Press Release
Updated: 2016-11-08 09:11:28
Over 3.3 million turns of students access loans for studying in Vietnam
(VBSP News) After 9 years of rolling out the credit program for disadvantaged students in Vietnam, VBSP has helped millions of students in poor, near poor households and other disadvantaged groups access education loans for studying and start up jobs.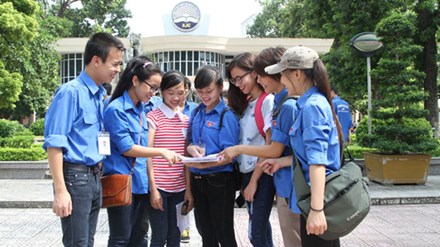 As of 31th August 2016, total loan volume reaches VND 56,000 billion, total loan portfolio reaches around VND 21,000 billion serving more than 3.3 million turns of students access loans for going to university, college or vocational schools.
Lighting dreams for poor students
We had a chance to visit the poor household of Trần Xuân Điện living Đông Lạc hamlet, Đức Lạc commune, Đức Thọ district, Hà Tĩnh province. He applied for education loans from VBSP for four girl children to study. Điện told us his couple were unemployed and weak therefore it was very hard to earn daily living and much harder to earn for his children to go to school. Since approaching the loan from VBSP, four daughters in turn passed entry examinations to university. He said: "For five constant years, VBSP has approved us to borrow 85 million dongs to cover tuition fee for our daughters. Now two daughters have graduated, found a job and send partly salaries each month to repay for the bank. We have repaid 45 million dongs for VBSP".
There are many cases like Tran Xuan Dien in Duc Tho district applying for student loans from VBSP to help their children continue studying. For example, the household of Nguyễn Thị Hoa was near poor with two sons and two daughters living in Đức Lạc commune. Their children study well and pass entry examinations to university. When receiving announcement letters on going to university, they felt very worried whether earning which fund for their children to study. All daily costs relies on a few of paddy field acres. Hoa said: "without VBSP's loans, I had no way to help my children go to university. Now they have graduated and had stable jobs. We have repaid off the bank loan thanks to my children's salaries added with incomes from farming. My family has lifted from poverty and become an example for others to learn experience"
Mobilize community participation
Spending nine years of performing the student loan program, it has come into daily life and become an initiative for millions of students in the whole country to pursue studying.
To date, total loan volume gains VND 56,000 billion, loan portfolio reaches VND 21,000 billion helping more than 3.3 million turns of disadvantaged students go to school. The funding mobilization is flexible year by year. In 2008, each student can borrow 8 million dongs per year, up to now the loan size has increased to around 15 million dongs/year. The interest rate is also adjusted from 0.65%/month to 0.55%/month, responding with the borrowing demand of students and the current socio-economic situation.
To achieve such a significant result is the support and coordination by VBSP with local governments, mass organization and savings & credit groups in communicating and delivering education loans for disadvantaged students; mobilizing multi resources to responding with the studying needs of students; select right borrowers, guide loan procedures and supervise loan use for proper purpose; raise community awareness on loan use, savings deposit and due repayment. Every step is to ensure transparency and democracy in providing loans for borrowers.
This can be affirmed that the credit program for disadvantaged students has great scope and profound socio-humanized meaning, making an active contribution to education development, poverty reduction and ensure social security in Vietnam.
LENDING INTEREST RATE
Poor Households

Lending to poor households
6,6%/year
Lending to poor households in 64 poor districts as stipulated by the Government Resolution No.30a in 2008
3,3%/year

Near Poor Households

Lending to near poor households
7,92%/year

Students

Lending to disadvantaged students
6,6%/year

People in need of loans for job creation

Lending to business establishments owned by war invalids and handicapped persons
3,3%/year
Others...
DEPOSIT INTEREST RATE
Term
Deposit Rate
Overnight
3,04%/year
1 week
3,23%/year
2 week
3,5%/year
Others...