VISITORS







Press Release
Updated: 2016-11-07 22:22:45
Press Release: VBSP boost funding mobilization for credit programs serving the poor and other disadvantaged groups
The BOD Chairperson requested VBSP to carry on approaching with the market for funding mobilization in order to implement and roll out credit programs for poor households and other disadvantaged groups and especially the new credit program on social housing for low-income households.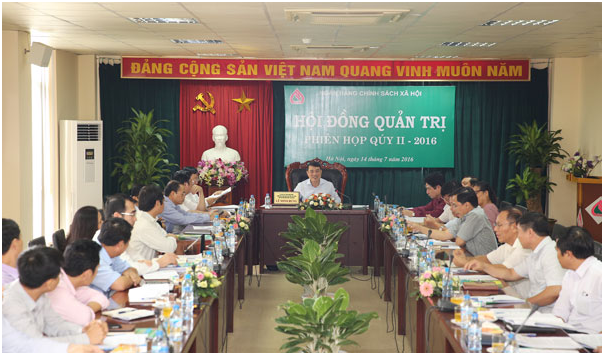 On 14th July 2016, the VBSP's BOD held the quarterly meeting in VBSP's headquarters hosted by SBV Governor cum VBSP's BOD Chairperson. Attending the BOD meeting included BOD members, BOD advisory board and VBSP senior management.
As of 30th June 2016, total funding source reached around VND 157 trillion, up over VND 10 trillion (+7%) against the end-2015; total loan portfolio reached VND 150 trillion, up over VND 7 trillion (+5%) against the end-2015, serving 6.8 million poor households, near poor households and other disadvantaged groups. The credit quality is increasing improved and the non preforming loan rate merely accounted for 0.76% in total loan portfolio.
In the first six month of 2016, VBSP concentrated on risk treatment due to natural disasters in the Northern mountainous areas, highland, Mekong river delta and environment disasters in 4 provinces in the Central coastal regions; informed the transparency on financial statement, human resources, loan eligibility etc., helping prevent, detect and deal with shortcomings timely.
Addressing a conclusion speech at the meeting session, the BOD Chairperson appreciated highly the activeness and creativeness of management and staff in VBSP; the close coordination with local government and mass organizations in delivering loans to poor households and other disadvantaged groups.
He also suggested VBSP should urgently finalized the expertise procedures of social housing credit program, closely collaborate with the steering committee in the North-West, Highland and West South regions to consolidate and evaluate the credit policy to respond with the borrowing demand of poor households in each geographical regions; continue control and supervision, communicating the credit programs to the community.
The VBSP's loan volume in the first six months of 2016 reached around VND 28 trillion, helping over 1.14 million turns of poor households, near poor households and other disadvantaged groups approach financial inclusion; building over 710,000 safe water supply and sanitation constructions; generating jobs for nearly 73,000 workers, in which nearly 1,000 migrant workers working abroad for definite terms; over 18,000 disadvantaged students borrowed loans for studying; over 2,000 houses to prevent floods for poor households in the central region.
LENDING INTEREST RATE
Poor Households

Lending to poor households
6,6%/year
Lending to poor households in 64 poor districts as stipulated by the Government Resolution No.30a in 2008
3,3%/year

Near Poor Households

Lending to near poor households
7,92%/year

Students

Lending to disadvantaged students
6,6%/year

People in need of loans for job creation

Lending to business establishments owned by war invalids and handicapped persons
3,3%/year
Others...
DEPOSIT INTEREST RATE
Term
Deposit Rate
Overnight
3,04%/year
1 week
3,23%/year
2 week
3,5%/year
Others...