VISITORS







Press Release
Updated: 2016-11-07 22:20:20
Press Release: Need more funding for job generation
The preferential credit of VBSP in the Job Creation Program has supported many rural households in Vietnam to expand business and production, generate more jobs, stabilize incomes and step by step improve likelihood. To ensure the sustainability for this program, VBSP expects to technical and financing assistance from domestic and international organizations or individuals.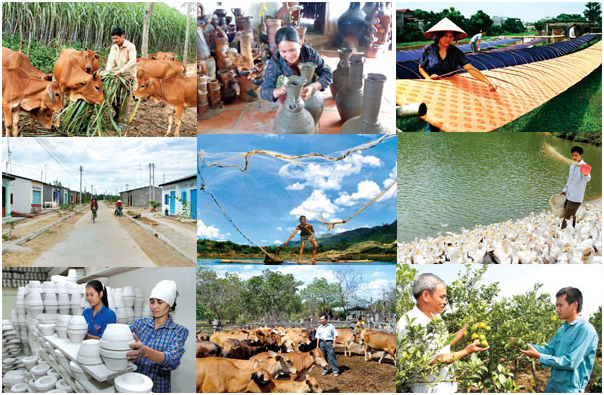 The VBSP's preferential credit has attracted and created jobs for around 3 million employees
As of 31st March 2016, total portfolio for job creation reaches VND 6,858 billion, attracting and creating jobs for around 3 million employees. According to the statistic report, this program has helped millions of labors have stable employment; hundreds of thousands of households have developed business and production effectively and efficiently as well as generated thousands of business & production models, contributing to the socio-economic development.
In many rural areas, in addition to the main job of farming, farmers have more part-time jobs right in their hometown thanks to the VBSP's credit program.
We had a chance to visit one private handicraft business which is a successful customer in loan utilization in Tay An, Tien Hai district (Thai Binh province) - Manager Pham Thi Ngan said: "I have decided to choose sedge production for generating jobs for villagers and preserving traditional handicrafts".
Starting business since 1996 but up to 2003, her business has developed well thanks to borrowing loans from VBSP. "In the past, I went to offer products by old bike. Due to lack of funds, it was difficult to expand production", Ngan reminded. Fortunately, VBSP helped her to borrow VND 50 million from the job creation program. Using the loan effectively, then she continued to propose VBSP to lend VND 400 million to expand business and production.
She focused on improving product quality and sample diversification as well as persistently seeking the stable market to export products to Japan, USA, France and China. Up to now, she has created stable jobs for 20 employees with average VND 3 million/head/month directly and around 7,000 employees indirectly with maximally VND 2 million/head/month.
We also visited an agricultural business of Do Trung Thanh who is another successful customer from VBSP's loan utilization in hamlet 3, Nhan Khang commune, Ly Nhan district (Ha Nam province).
3 years ago, Thanh borrowed VND 20 million from VBSP to buy materials and new seeds for mushroom production. So far, he has had 5 house blocks with 5,000 bags of mushrooms. Besides, he planted such fruit trees as grapefruit, guava and pink banana. Thanks to the loan and hardworking, he created total annual incomes from his farm reaches hundreds of millions dongs, creating regular jobs for 6 labors.
In other words, the job creation credit of VBSP has contributed to preserving traditional handicrafts, supporting loans for small business and households to expand production, generating jobs for many labors, especially for women, people with disability. The job creation program has contributed to decrease in the unemployment rate, income growth and improve lives for rural areas.
VBSP News
LENDING INTEREST RATE
Poor Households

Lending to poor households
6,6%/year
Lending to poor households in 64 poor districts as stipulated by the Government Resolution No.30a in 2008
3,3%/year

Near Poor Households

Lending to near poor households
7,92%/year

Students

Lending to disadvantaged students
6,6%/year

People in need of loans for job creation

Lending to business establishments owned by war invalids and handicapped persons
3,3%/year
Others...
DEPOSIT INTEREST RATE
Term
Deposit Rate
Overnight
3,04%/year
1 week
3,23%/year
2 week
3,5%/year
Others...