VISITORS







Press Release
Updated: 2016-03-01 13:34:06
Loan limit for disadvantaged students increased
Students in difficulty nationwide could get preferential loans from the Vietnam Bank for Social Policies (VBSP) with a maximum amount of 1.25 million VND (54 USD) per month from January 9, instead of the current 1.1 million VND (48 USD), under a decision recently issued by the Prime Minister.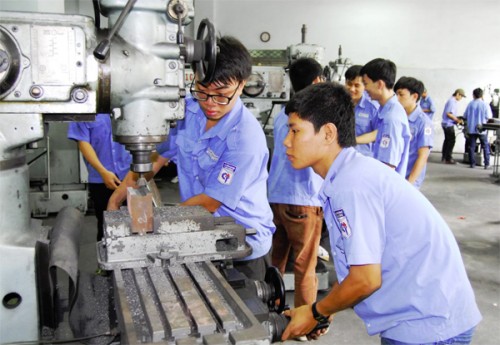 Students continue studying thanks to the VBSP loans
According to the VBSP, the adjustment is aimed at bringing appropriate support to students based on the rising cost of living and the tuition-fee increase roadmap set by the Government.
In order to create favourable conditions for students in repayment, the decision also stipulates that borrowers could postpone all loan repayments (both principal and interest) until they had commenced their first job and income after graduation – but not exceeding a 12-month limit.
The current interest rate is 0.55 percent per month or 6.6 percent per year.
Since the loan programme for students was launched nine years ago, nearly 3.3 million students have been given preferential loans from the VBSP.
The programme current total outstanding loans are 24.7 trillion VND (nearly 1.1 billion USD), of which overdue debt accounts for only 0.54 percent.
Website VietnamPlus English
LENDING INTEREST RATE
Poor Households

Lending to poor households
6,6%/year
Lending to poor households in 64 poor districts as stipulated by the Government Resolution No.30a in 2008
3,3%/year

Near Poor Households

Lending to near poor households
7,92%/year

Students

Lending to disadvantaged students
6,6%/year

People in need of loans for job creation

Lending to business establishments owned by war invalids and handicapped persons
3,3%/year
Others...
DEPOSIT INTEREST RATE
Term
Deposit Rate
Overnight
3,04%/year
1 week
3,23%/year
2 week
3,5%/year
Others...