VISITORS







News & Events
Updated: 2021-05-21 11:09:29
Examining the activities of lending in Ho Chi Minh city
(VBSP News) Mr. Nguyen Anh Tuan - Member of the Central Committee of the Communist Party, First Secretary of the Central Committee of the Youth Union, Chairman of the Vietnam Youth Union, visited VBSP branch in Thu Duc city to examine the activities of lending in this area.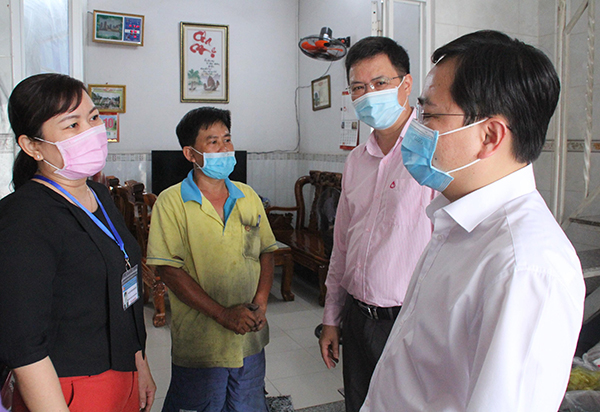 Mr. Nguyen Anh Tuan research the use of policy credit loans at some households in Thu Duc city
The Central Committee of the Youth Union and VBSP brand in HCM city has examined the practice of 6 households borrowing capital to invest in facilities of livelihood. Mr. Nguyen Anh Tuan shared that the use of policy capital to create livelihoods and develop the lives of poor people is a valid experience to continue to adjust the method of implementing credit policy activities.
Luong Thi Huong at area 2, Cat Lai Ward, Thu Duc City has borrowed two times with a total of VND 100 million from the preferential loan of VBSP. Since then, Huong has been able to buy garment equipment to work from home, which is the main source of income for four members of her family. She said that the policy credit has made an opportunity for her to get a stable income and a saving deposit to take care of her children. After stabilizing her business, Huong was facilitated to borrow another loan to repair the house and buy household items.
Receiving the loan of VND 100 million from VBSP, Tran Thi Tuoi has used it to resolve the difficult situation of her family. In particular, the credit has been used to buy items for home business. She really appreciates the opportunity which VBSP creates for people like her to stabilize and enhance their standard of living.
Through the examination, a number of households in Thu Duc city are making effective use of policy loans. This result comes from the attention and concern of each residential group and the local government in supporting and guiding households to use loans. On the other hand, households also present high awareness and responsibility in saving to pay loans on time for the bank. The borrowers themselves also have the spirit of escaping poverty.
Vbso.org.vn
LENDING INTEREST RATE
Poor Households

Lending to poor households
6,6%/year
Lending to poor households in 64 poor districts as stipulated by the Government Resolution No.30a in 2008
3,3%/year

Near Poor Households

Lending to near poor households
7,92%/year

Students

Lending to disadvantaged students
6,6%/year

People in need of loans for job creation

Lending to business establishments owned by war invalids and handicapped persons
3,3%/year
Others...
DEPOSIT INTEREST RATE
Term
Deposit Rate
Overnight
3,04%/year
1 week
3,23%/year
2 week
3,5%/year
Others...