VISITORS







News & Events
Updated: 2021-05-18 13:53:43
Accompany poor households
(VBSP News) The family of Ha Van Luc at Dung 2 area, Thach Kiet commune is one of the typical examples for effectively using preferential loans to escape poverty. A new house is a successful proof of their efforts over a long period.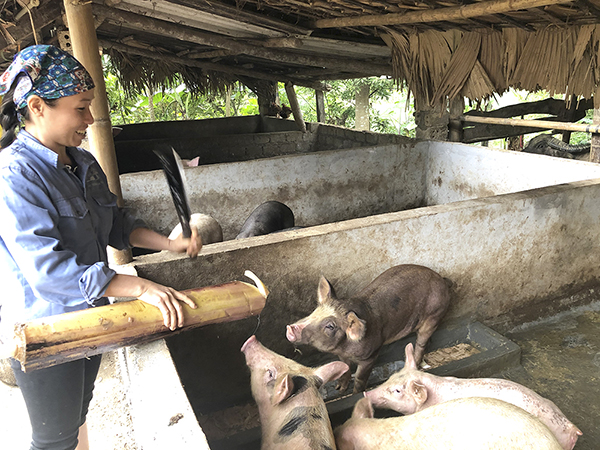 Thanks to the loans of VBSP, Ha Thi Lan at Dung 2 area, Thach Kiet commune has a budget to invest in breeding
Luc shares that his family starts from nothing, which the financial condition is a hardship. Therefore, they decided to take a loan of VND 15 million from VBSP to afforestation. However, forestry planting will lead to a shortage of revolving capital to pay the bank interest. Thus, his family also invested in breeding. Saving money over 10 years, his achievement is out from the list of poor households. Until now, he had over 1ha of acacia, dozens of pigs, fishponds and flocks of chickens and ducks, a stable house.
Similar households as Luc's family are a huge motivation for the bank staff and the leader of Saving and Credit, which motivate them closely to follow the area, promptly propose cases in need of support. The VBSP branch in the district has cooperation with entrusted mass organizations on consolidating and improving credit quality; disbursing disbursements quickly, timely, to the right subjects, urging the recovery of due debts, overdue debts, outstanding interests, etc. Thereby, contributing to improving the efficiency of policy credit implementation in the district.
Director of the VBSP branch in Tan Son district, Mr. Tang Tien Sy, said that in 2020, the total loan volume reached nearly VND 110 billion, with approximately 3,000 households receiving loans. In particular, more than 1,500 customers are poor, near-poor households, and escaped poverty households. The VBSP branch has coordinated with local authorities and socio-political organizations to grasp the situation of households in order to implement support solutions to support people to have a budget for production and business, creating opportunities to rise out of poverty and stabilize their lives.
In addition, in 2020, there were above 470 safe water and facilities repaired, renovated and newly built with the capital of VBSP. Nearly 80 workers are poor households, ethnic minority households are entitled to work abroad for a limited time. Moreover, 80 poor households are supported with housing construction loans, etc. For effective capital from the district budget (over VND 1 billion) has facilitated 28 households to receive loans for production and business.
Vbsp.org.vn
LENDING INTEREST RATE
Poor Households

Lending to poor households
6,6%/year
Lending to poor households in 64 poor districts as stipulated by the Government Resolution No.30a in 2008
3,3%/year

Near Poor Households

Lending to near poor households
7,92%/year

Students

Lending to disadvantaged students
6,6%/year

People in need of loans for job creation

Lending to business establishments owned by war invalids and handicapped persons
3,3%/year
Others...
DEPOSIT INTEREST RATE
Term
Deposit Rate
Overnight
3,04%/year
1 week
3,23%/year
2 week
3,5%/year
Others...