VISITORS







News & Events
Updated: 2021-05-11 16:27:36
The policy credit approaching the daily need of local people
(VBSP News) Over these years, thanks to policy credit from VBSP, Hoa Binh province has over 100.000 rural safe water and sanitation facilities that have been fixed or created. It not only improves the environment and the standard of living but also enhances the process of new rural development.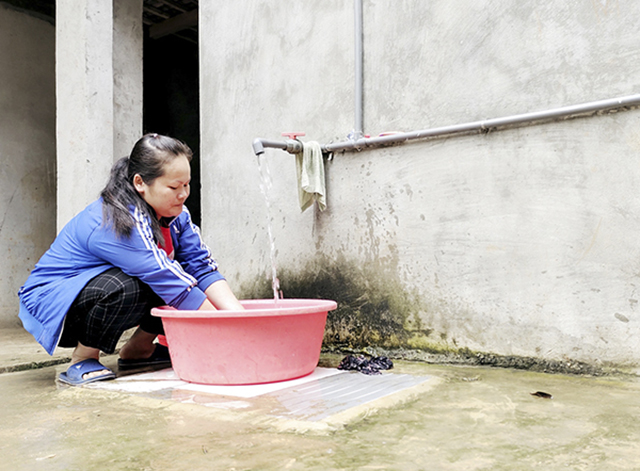 Thanks to preferential loans, the family of Hoang Thi Son at Dau hamlet has built safe water and sanitation facilities
Improving life standard
Until now, the total outstanding loan for the Safe Water and Rural Sanitation program in Hoa Binh province has reached over VND 500 billion, with more than 35 thousand active customers. In recent years, this program has seen rapid growth in outstanding loans rate, which is of interest to many local people.
In the period 2015 - 2020, from this loan scheme, over 102,000 rural safe water and sanitation facilities have been fixed or created. In 2020, the total lending turnover of the program ranked 3rd in total with over VND 177 billion. In particular, Hoa Binh has nearly 9,900 safe water facilities and over 9,300 sanitation works in rural areas built and repaired this year.
Formerly, Hoang Thi Son's household at Dau village, Tong Dau commune, Mai Chau district have not got a private toilet facility, which brings many inconveniences in daily life, especially during the rainy season. In early 2020, after borrowing VND 12 million from VBSP's safe water and rural sanitation program, her family built a self-contained sanitation facility with hygienic water sources. She shared that thanks to the policy source, her family has built sanitation facilities that are convenient and safe for living. Likewise, there are thousands of households that have improved their lives based on approaching this loan scheme.
Create a civilized and modern living environment
Deputy Director in charge of the VBSP branch in Mai Chau district - Mr Nguyen Minh Phuong stated that the locally demand of policy credit from the safe water and rural sanitation program is over VND 10 billion in 2021. In the first months of the year, the VBSP deployed and disbursed according to the plan. The fact that many households in remote and mountainous areas have not got sanitation facilities and safe water sources, which significantly push the demand for loans. Besides, the VBSP staff actively reviewed and provided timely loans, especially focusing on communes striving for a new rural destination.
In recent years, due to the good implementation of poverty reduction policies, the rate of poor and near-poor households in Cao Phong district has decreased significantly. The Director of the VBSP branch in Cao Phong district shared the outstanding loans for production and business households in difficult areas, and the safe water and rural sanitation program grew rapidly. In 2020, the outstanding loans of the safe water and rural sanitation program increased by over VND 6 billion, assisting people in the district to build and repair 2,560 facilities.
Acknowledging the reality, households who have received loans from the policy to build sanitation works and clean water all expressed their excitement about the effects that the program brought about. The program not only helps improve the lives of each household but also contributes to improving the quality of the rural environment, as well as changing people's habits in building an increasingly civilized life.
Vbsp.org.vn
LENDING INTEREST RATE
Poor Households

Lending to poor households
6,6%/year
Lending to poor households in 64 poor districts as stipulated by the Government Resolution No.30a in 2008
3,3%/year

Near Poor Households

Lending to near poor households
7,92%/year

Students

Lending to disadvantaged students
6,6%/year

People in need of loans for job creation

Lending to business establishments owned by war invalids and handicapped persons
3,3%/year
Others...
DEPOSIT INTEREST RATE
Term
Deposit Rate
Overnight
3,04%/year
1 week
3,23%/year
2 week
3,5%/year
Others...