VISITORS







News & Events
Updated: 2021-05-20 15:09:59
Accompany local people overcome challenges
(VBSP News) Implementing the Prime Minister's decision on credit for escaped poverty households, in the past 5 years, the VBSP branch in Tien Phuoc district (Quang Nam) has created favourable conditions for these households to get a preferential loan to develop production and stable their life.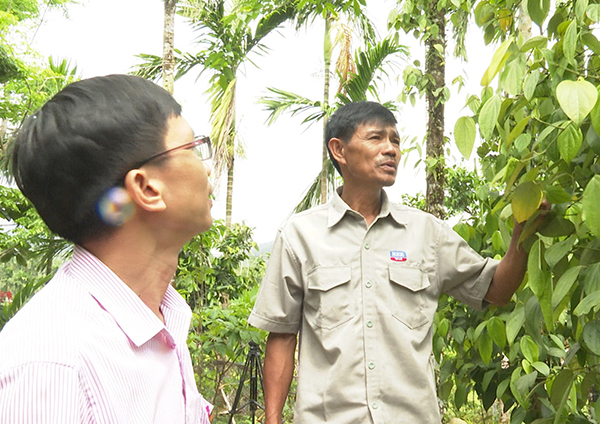 The business model of Nguyen Van Nguyet at village 6, Tien Canh commune
In 2014, Nguyen Van Nguyet family at village 6, Tien Canh commune witnessed a serious disease, which they have to seek treatment in many places. The family fell into difficulties and became a poor household in the commune. After 3 years, he succeeded in getting out of the list of poor households. At that time, he was lent VND 50 million from the post-poor households program of VBSP and immediately invested in buying breeding cows. The income from breeding is continued to invest in raising sows and fishponds, growing pepper, towards building a sustainable garden - pond - barn model.
"Thanks to the attention and support pff VBSP's credit staff and local government, my family is able to approach the policy credit which has a low interest. Therefore, our family had the condition to do business and have a stable life."
Due to the thoughtful implementation, the fast progress and regular monitoring from VBSP and the Saving and Credit groups, there are thousands of households similar to Nguyet's family, who have approached and used effectively the credit source.
The coordination between the VBSP branch in districts with entrusting socio-political organizations and local authorities is done properly from such steps as propaganda of policies; loan selection and review from grassroots; urge and inspect the use of budget, collect interest, collect savings and repay principal when due.
The leader of the Saving and Credit group, Mr Dang Sanh, at village 4, Tien Canh commune stated that almost all households used loans for the right purposes and paid debts on time, which many households escaped poverty and stabilized their economy. The policy credit is a lever to help poor and near-poor households to escape poverty and improve their quality of life.
Over five years, VBSP branch in Tien Phuoc district has implemented a loan program for escaped poverty households with more than 3,800 turns of customers. A total loan turnover of over VND 173 billion, which 100% of households registered are eligible according to Resolution No. 13/2017 of the Provincial People's Council. Until now, the program's outstanding loans have reached VND 131 billion with 2,800 households still active customers. From this budget, many newly escaped poverty households can access preferential loans for production and business, generating regular income and sustainably escaping poverty.
The director of VBSP branch in Tien Phuoc district, Mr Nguyen Van Hien said that the Prime Minister has signed and promulgated Decision No.02/2021 on amending and supplementing a number of articles of Decision No. 28/2015 on credit policy for households escaping poverty. Accordingly, from March 30, 2021, VBSP will continue to disburse the policy credit programs for households escaping poverty. The maximum loan amount is VND 100 million per household. In addition, the loan term will be agreed upon by VBSP and borrowers based on the business cycle and the customer's debt repayment capacity, but not exceeding 5 years.
Vbsp.org.vn
LENDING INTEREST RATE
Poor Households

Lending to poor households
6,6%/year
Lending to poor households in 64 poor districts as stipulated by the Government Resolution No.30a in 2008
3,3%/year

Near Poor Households

Lending to near poor households
7,92%/year

Students

Lending to disadvantaged students
6,6%/year

People in need of loans for job creation

Lending to business establishments owned by war invalids and handicapped persons
3,3%/year
Others...
DEPOSIT INTEREST RATE
Term
Deposit Rate
Overnight
3,04%/year
1 week
3,23%/year
2 week
3,5%/year
Others...