VISITORS







Press Release
Updated: 2021-11-02 09:08:22
VBSP General Director Duong Quyet Thang met the Embassy of the Lao PDR
(VBSP News) On the afternoon of October 29, 2021, VBSP General Director Duong Quyet Thang met and worked with Mr. Sengphet Houngboungnuang - Ambassador Extraordinary and Plenipotentiary of the Lao PDR in Vietnam at VBSP's Head Office.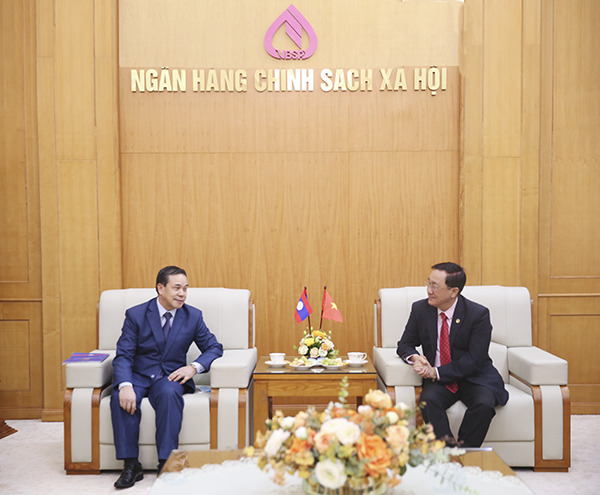 General Director Duong Quyet Thang (right) work with Ambassador of Laos Sengphet Houngboungnuang
Welcoming the Ambassador of Lao PDR and his team to visit and work with VBSP, General Director Duong Quyet Thang summarized the main features of VBSP activities over the past 20 years as well as the role, meaning and importance in poverty reduction and social security assurance in Vietnam; helping the poor for production and business, stabilizing their lives, and escaping from poverty sustainably.
As a not-for-profit government credit institution, VBSP is the largest provider of inclusive finance for the poor and other policy beneficiaries in Vietnam. Up to now, VBSP has established more than 170 thousand savings and credit groups and more than 10,700 commune transaction points. With the operation method of serving people at home, disbursing and collecting debts in the commune with the aim of minimizing costs for the policy beneficiaries. As of September 30, 2021, the total capital of VBSP reached VND 254,356 billion; total outstanding loans reached VND 242,292 billion with more than 6.4 million active customers.
The General Director highly appreciated the good cooperation relationship between VBSP and the Policy Bank of the Lao PDR - NAYOBY BANK (NBB) in the past 11 years (2010 - 2021). Through the cooperation program between VBSP and NBB, the two sides have signed agreements to regularly cooperate, exchange experiences, and organize training courses. VBSP also sent well-qualified staff to support NBB in the following areas: organizational structure, management, administration, training, human resource development improvement, credit program management mechanism, and lending methods through social organizations and local funds, mechanisms and policies on capital mobilization, accounting and treasury activities, savings deposit services, internal audit, implementation of Core banking system, information technology application to develop banking operations management software, etc.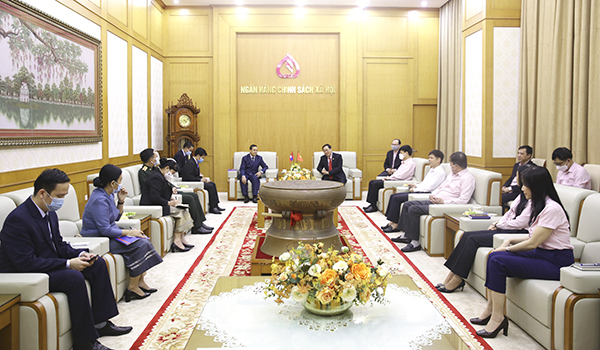 The scene of the working session
The General Director asked the Embassy of the Lao PDR in Vietnam to create favorable conditions to support the VBSP and NBB delegations to visit, work and exchange experiences in Vietnam and Laos in the period of 2021 - 2030 so that the relationship cooperation can be stronger. At the same time, reporting to the Government of Laos and the Government of Vietnam on the results of cooperation between the two banks.
Ambassador Sengphet Houngboungnuang thanked VBSP for the warm welcome and congratulated the strong cooperation relationship between VBSP and NBB. VBSP has always spent time caring, enthusiastically helping, sharing valuable experiences for NBB in building a policy banking system to implement preferential credit policies for poverty reduction. Hopefully, the two banks will continue to develop cooperative relations in many new aspects to share experiences as well as exchange activities between branches in accordance with the laws, customs and traditions of the two countries; contributing to the well implementation of the common goal of sustainable poverty reduction, ensuring social security, and building new rural areas for people in Vietnam and Laos.
vbsp.org.vn
LENDING INTEREST RATE
Poor Households

Lending to poor households
6,6%/year
Lending to poor households in 64 poor districts as stipulated by the Government Resolution No.30a in 2008
3,3%/year

Near Poor Households

Lending to near poor households
7,92%/year

Students

Lending to disadvantaged students
6,6%/year

People in need of loans for job creation

Lending to business establishments owned by war invalids and handicapped persons
3,3%/year
Others...
DEPOSIT INTEREST RATE
Term
Deposit Rate
Overnight
3,04%/year
1 week
3,23%/year
2 week
3,5%/year
Others...