VISITORS







News & Events
Updated: 2021-10-22 11:10:04
Effectiveness of policy credit in Chi Dao commune
(VBSP News) In recent years, VBSP's preferential capital has been an important driving force in Chi Dao commune, Lac Son district (Hoa Binh). From 2020 to now, although the COVID-19 pandemic has been complicated, policy credit has continued to accompany the poor and other disadvantaged groups here to overcome difficulties.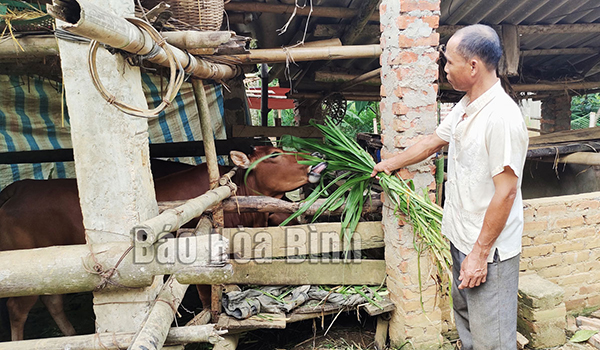 Thanks to the VBSP's loans, customer Bui Van Thu's family in Kho hamlet, Chi Dao commune, Lac Son district invested in breeding cows to escape from poverty
Chi Dao is a remote commune with many difficulties. The main income of the people comes from farming and raising cattle. In recent years, the lives of many households have changed a lot, especially in hamlets with a lot of trees such as Be Tren and Be Duoi. However, according to Chairman of the Commune People's Committee Chi Dao Quach Cong Thai, the rate of poor and near-poor households in the commune is still quite high, accounting for nearly 50%. Therefore, in recent years, Chi Dao has promoted economic restructuring to effectively exploit the potential and advantages of the locality. In particular, there have been a number of models that bring economic efficiency such as: raising native pigs, raising buffaloes and cows.
These positive changes are thanks to people's access to preferential loans. Therefore, VBSP's preferential loans play a very important role. Up to now, the total outstanding loan of policy capital in the commune has reached over VND 11 billion. From 2020 to now, in the face of the effects of the COVID-19 pandemic, many poor households and other disadvantaged groups in the area continue to receive loans to develop their economy and stabilize their lives.
Previously, Quach Van Loan's family in Kho hamlet was a near-poor household. Their economic life faced many difficulties. In 2018, he borrowed loans from VBSP's near-poor household credit program, his family invested in breeding cows and female pigs. After nearly 4 years, the cow has produced 2 litters. In addition, his family raised female pigs, increasing income by several tens of millions of dong/year. Thanks to VBSP's loans for raising cows and pigs, they gain more income in this difficult time.
Also living in Kho hamlet, customer Bui Van Thu's family has escaped from poverty thanks to VBSP's loans. After receiving loans from the program for lending to near-poor households and housing, his family has built a solid flat roof house and raised 2 cows. He said "My family got VND 25 million from VBSP to build a house and VND 20 million to invest in breeding cows. This is a very important loan, helping the family to develop the economy and have a stable income. Up to now, my family has escaped from the poverty."
Customer Thu and Loan's family are two of many households in Chi Dao commune that have gradually overcome from poverty through effective use of policy capital. In the coming time, policy credit will continue to be an important driving force in poverty reduction and new rural development in Chi Dao commune. However, there are still many households who want to get loans and increase the loan size to have investment conditions for economic development. Therefore, they hope that VBSP will continue to pay more attention and create conditions for poor, near-poor households and other disadvantaged groups in the commune to access loans for economic development.
vbsp.org.vn
LENDING INTEREST RATE
Poor Households

Lending to poor households
6,6%/year
Lending to poor households in 64 poor districts as stipulated by the Government Resolution No.30a in 2008
3,3%/year

Near Poor Households

Lending to near poor households
7,92%/year

Students

Lending to disadvantaged students
6,6%/year

People in need of loans for job creation

Lending to business establishments owned by war invalids and handicapped persons
3,3%/year
Others...
DEPOSIT INTEREST RATE
Term
Deposit Rate
Overnight
3,04%/year
1 week
3,23%/year
2 week
3,5%/year
Others...