VISITORS







News & Events
Updated: 2021-09-09 14:57:40
New vitality in the Que Phong mountainous area
(VBSP News) Que Phong is a poor district of Vietnam according to Resolution 30a/2008/NQ-CP of the Government, the majority of population are ethnic minorities living in 13 communes and towns. Their lives are still difficult, mainly based on livestock production and small-scale cultivation on high mountains. Understanding those difficulties, with dedication, VBSP has brought capital to remote villages, helping people to quickly access loans to invest in business, thereby changing the economic conditions of many families, rural villages.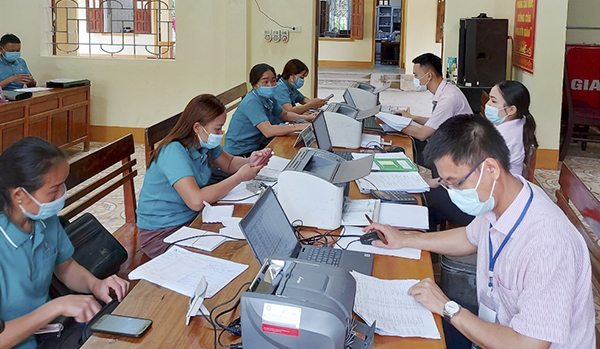 People receive preferential loans at the transaction point of Dong Van commune, Que Phong district
Over the years, with attention and support of authorities at all levels, the transaction office of VBSP in Que Phong district has persistently and dynamically brought policy credit to the people, meeting production and business needs, and thus, improving their quality of life.
VBSP's credit officials have always sticking to the grassroots and cooperate with mass organizations to provide guidance helping the poor borrow capital, use loans effectively which have contributed to changing vitality of the mountainous land of Que Phong. The policy capital has helped many poor, near-poor, and ethnic minority households to have conditions to develop production and convert crops and livestock. Consequently, it led to prevention and mitigation of the problem of "borrowing with high interest rate, selling crop in advance" that has existed for a long time in rural areas; including the policy of lending to employers to pay employees for job stoppage due to the impact of the COVID-19 pandemic - the timely and humane policy of the Party and Government.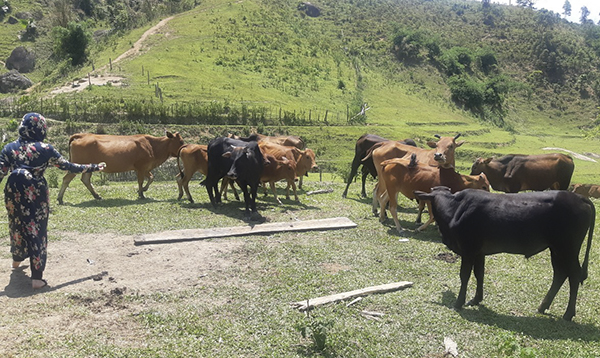 Loans bring high economic efficiency
Quang Thi Van's family in Muong Phu village, Thong Thu commune is one of many households benefiting from policy credit programs. Ms. Van borrowed VND 30 million from the poor household program to invest in breeding cows. After 3 years of hard work, the family has risen out of poverty and continues to borrow another VND 50 million from the near-poor household program to expand production scale to 9 breeding cows, 200 commercial chickens, 15 pigs and more material forest.
Policy capital has helped 2,000 households with difficult economic situations in the mountainous district of Que Phong escape poverty, more than 1,500 households have conditions for economic development, building new spacious and solid houses. For example, Tri Le Commune has more than 95% of Thai and Mong ethnic people. In the past, people always lacked food and clothing, now life has changed. Chairman of the Commune People's Committee Vi Van Cuong said: "With loans VBSP, agro-forestry production in the commune developed, social evils disappeared, and people's lives in remote areas are improved".
Director of the Social Policy Bank of Que Phong district Nguyen Khoa Van shared: "In the coming time, priority will be given to ethnic minorities, particularly in disadvantaged areas, remote areas, areas affected by epidemics and natural disasters, etc. in compliance with national target programs on sustainable poverty reduction and new rural development. Ensure 100% of poor households and other policy beneficiaries who have needs and are eligible can borrow loans and access available services."
SL
LENDING INTEREST RATE
Poor Households

Lending to poor households
6,6%/year
Lending to poor households in 64 poor districts as stipulated by the Government Resolution No.30a in 2008
3,3%/year

Near Poor Households

Lending to near poor households
7,92%/year

Students

Lending to disadvantaged students
6,6%/year

People in need of loans for job creation

Lending to business establishments owned by war invalids and handicapped persons
3,3%/year
Others...
DEPOSIT INTEREST RATE
Term
Deposit Rate
Overnight
3,04%/year
1 week
3,23%/year
2 week
3,5%/year
Others...