VISITORS







News & Events
Updated: 2021-09-06 16:06:42
Empowering farmers to get out of poverty
(VBSP News) Over the past time, credit for job creation from the transaction office of VBSP Nong Son district (Quang Nam) has helped many households have more capital to expand production, develop economy, create jobs to gradually improve living standards in a sustainable way.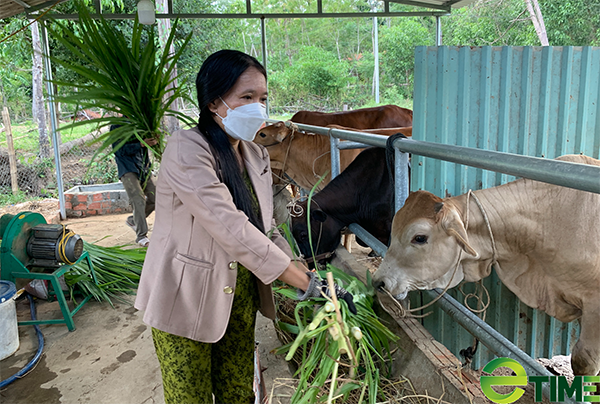 Herd of cows of Mrs. Nguyen Thi Lam's family in Xuan Hoa village, Phuoc Ninh commune
Borrow capital to build barns and plant trees with proper technique
For a long time, Mr. Tran Van Tri's family in Que Trung commune has grown acacia on an area of ​​8 hectares of the family's hilly land. Realizing the suitability of climate, soil and economic efficiency from fruit trees, in 2016, Mr. Tri decided to renovate 1.5ha of land at the foot of the hill to plant fruit trees. He shared that initial difficulties were many, mainly lack of capital. However, thanks to his hard work and diligence and the timely support from VBSP's job creation program, his family developed the current fruit garden.
From the capital of VND 150 million from VBSP in Nong Son district, Mr. Tri boldly invested in planting 70 durian trees, 200 Dai Binh pomelo trees, 100 orange trees, 700 timber trees… To have a source of water for irrigation, Mr. Tri borrowed another 20 million VND to build wells, tanks and automatic irrigation pipes.
Up to now, the fruit trees are nearly 3 years old, the hybrid acacia and rubber forests are 3 - 5 years old and develop well. Taking short crop for developing long crop, Mr. Tri grows more bananas and pineapples, earning about VND 25-35 million per year. Each month, he hires about 4 people to weed, fertilize and take care of plants for 10-20 days with an income of VND 250,000/person/day.
Similarly, Ms. Nguyen Thi Lam in Xuan Hoa village, Phuoc Ninh commune was also supported to borrow VND 100 million from job creation program at the beginning of 2021. Ms. Lam used this capital to invest in buying 3 3B cows, 4 breeding sows with a total amount of VND 185 million. According to Ms. Lam, in order to raise livestock effectively, her family has learnt to build a stable barn properly, grew ​​grass, and learnt techniques to silage grass to preserve and store for cows in coming storm season. In addition, her family also borrowed another VND 50 million to restore 5 hectares of acacia trees that are more than 3 years old.
"In the past, my family did raise livestock but it was small scale, faced many difficulties and brought little economic efficiency. Thanks to the loan from the bank, my family can do the current cow husbandry model, creating jobs for both of us. At the end of this year, 3 sows will give birth to calves, I will expand the herd, raise more beef cattle in the coming time…", Ms. Lam shared.
Many households rise out of poverty
Identifying job creation is one of the important programs which help people to have conditions for economic development and sustainable poverty reduction. Over the years, VBSP in Nong Son district has fully implemented the program, coordinated with departments, branches and mass organizations at all levels to promote communication, guidance and create most favorable conditions for the People to access capital.
According to the Director of the Transaction Office of VBSP in Nong Son district, Nguyen Van Dung, over the past time, the job creation program has supported VND 24 billion for 420 borrowers. In the first 7 months of 2021, VND 11 billion has been supported for 154 borrowers to invest in production models such as fruit trees, livestock, afforestation... Thanks to effective use of loans, many households in the district have risen out of poverty, some have become well off.
In the coming time, local VBSP will continue to promote communication on job creation credit program, help families, production and business establishments maximize the efficiency of loans in expanding production, business and consumption of agricultural products.
Tam Le - Minh Thong
LENDING INTEREST RATE
Poor Households

Lending to poor households
6,6%/year
Lending to poor households in 64 poor districts as stipulated by the Government Resolution No.30a in 2008
3,3%/year

Near Poor Households

Lending to near poor households
7,92%/year

Students

Lending to disadvantaged students
6,6%/year

People in need of loans for job creation

Lending to business establishments owned by war invalids and handicapped persons
3,3%/year
Others...
DEPOSIT INTEREST RATE
Term
Deposit Rate
Overnight
3,04%/year
1 week
3,23%/year
2 week
3,5%/year
Others...