VISITORS







News & Events
Updated: 2023-04-24 10:19:04
Sustainable poverty reduction from policy credit
(VBSP News) Through the preferential loans of the VBSP, many poor households and policy beneficiaries in Mai Chau district (Hoa Binh) have conditions to develop their economy and improve their lives to step by step get out of poverty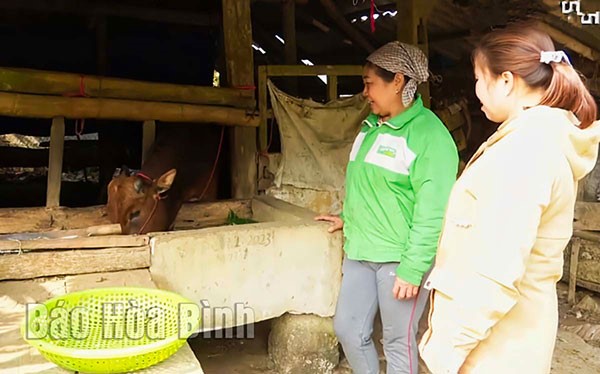 From preferential loans, poor households in Thanh Son commune (Mai Chau) invest in breeding cows
Mai Chau is a highland district with many particularly disadvantaged villages and communes, so the need to access policy capital is very large. Director of VBSP Mai Chau district Vu Hoai Nam said: Over the years, the unit has grasped the needs of people and timely disbursed loans. Total outstanding loans of preferential credit programs in the district have reached over VND 367 billion with nearly 8,000 active households. Poverty reduction lending programs accounted for the largest of outstanding loans, in which, poor households had the highest with VND 90.3 billion. The capital has made an important contribution to ensuring social security, helping many poor households to invest in economic development.
Ms. Ha Thi Dam's family at Noong Luong hamlet, Thanh Son commune is a poor household with many economic difficulties. Previously, the family's income depended entirely on maize and rice cultivation. She shared: "There are many favorable conditions in the locality to develop cow breeding, but due to lack of capital, my family has not been able to buy breeding animals. In 2018, my family boldly borrowed capital to build a barn and raise breeding cows. Up to now, cows have grown well, which bringing stable reproduction, and selling 3 breeding calves each year. Thanks to the VBSP's preferential loan, my family can afford to buy cows to raise, and improve economy. Next time, my family hopes that VBSP will continue to create conditions for lending more capital to expand livestock production to bring higher economic efficiency."
Thanh Son commune's total outstanding loans reached to nearly VND 26.8 billion. In the first quarter of this year, the lending turnover reached nearly VND 2.4 billion. Chairman of the Commune People's Committee Lo Thanh Khuyen said: For a commune with many difficulties like Thanh Son, preferential loans from VBSP are very important. Due to the limited arable land, people mainly use preferential loans to develop livestock. From animal husbandry, many households have escaped from poverty, near-poor and are moving towards economic development with stable efficiency. Over the past time, the Commune People's Committee has closely coordinated with the VBSP's Mai Chau district to choosing the right customers and lending timely to the people.
In the first 3 months of 2023, VBSP in Mai Chau district promptly disbursed funds to poor households and policy beneficiaries with lending turnover reaching more than VND 20.6 billion. Through policy credit, in the quarter, 485 poor households and policy beneficiaries received loans; 154 clean water works and 149 sanitation works were built.
In the coming time, VBSP in Mai Chau district will continue to advise the district Representative Units of BOD to direct policy credit activities in the area. At the same time, coordinate with entrusted organizations, People's Committees of communes and townships to deploy solutions to promptly transmit capital to people, as well as propose measures and solutions to strengthen and improve credit quality. Continue to review and grasp the need for loans to develop plans to meet the needs of poor households and policy beneficiaries.
vbsp.org.vn
LENDING INTEREST RATE
Poor Households

Lending to poor households
6,6%/year
Lending to poor households in 64 poor districts as stipulated by the Government Resolution No.30a in 2008
3,3%/year

Near Poor Households

Lending to near poor households
7,92%/year

Students

Lending to disadvantaged students
6,6%/year

People in need of loans for job creation

Lending to business establishments owned by war invalids and handicapped persons
3,3%/year
Others...
DEPOSIT INTEREST RATE
Term
Deposit Rate
Overnight
3,04%/year
1 week
3,23%/year
2 week
3,5%/year
Others...