VISITORS







News & Events
Updated: 2023-02-03 14:18:27
Secretary of the Provincial Party Committee Mr.Ho Quoc Dung visited and worked at the VBSP in Binh Dinh province
(VBSP News) In the first working days of the Lunar New Year 2023, Comrade Ho Quoc Dung - Member of the Central Committee of the Party, Secretary of the Provincial Party Committee, Chairman of the People's Council of Binh Dinh Province visited and worked at VBSP Binh Dinh Province.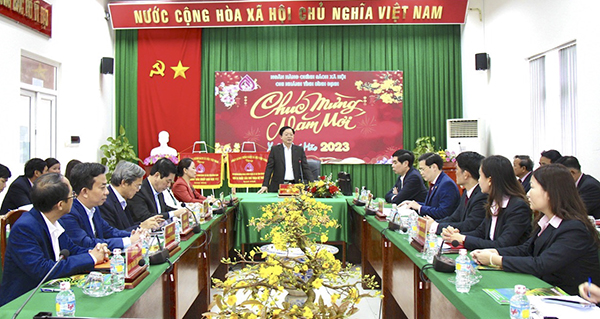 Secretary of the Provincial Party Committee Ho Quoc Dung spoke at the meeting
At the meeting, Mr. Ho Quoc Dung acknowledged and praised the outstanding results of the VBSP Binh Dinh branch over the past time, in which the social policy credit programs were implemented timely, the loan object is expanded, the quality is improved, contributing to the implementation of the goal of rapid and sustainable poverty reduction, ensuring social security in the province. At the same time, he praised, acknowledged and highly appreciated the Party committees, local authorities, Fatherland Front Committees, socio-political organizations at all levels, departments and branches, and VBSP Binh Dinh branch for their efforts to coordinate and effectively implement credit policies for the poor and other policy beneficiaries in the province, successfully completing assigned tasks.
As of December 31, 2022, the total outstanding loans of social policy credit programs in the province reached VND 5,537 billion, with more than 99,000 poor households and other policy beneficiaries having outstanding loans. In 2022, nearly 42,000 turns of poor households, near-poor households, post-poor households and other policy beneficiaries getting loans for production and business development, contributing to nearly 10,000 turns of poor households and near-poor households getting out of poverty; creating jobs for more than 13 thousand workers; building more than 21,000 rural clean water and environmental sanitation works; supporting to buy and build 556 social housing; creating favorable conditions for nearly 4,000 disadvantaged students to borrow loans for study...
Secretary of Binh Dinh Provincial Party Committee requested that in 2023, the branch of VBSP in Binh Dinh province will continue to effectively implement social policy credit programs, especially drastically implementing preferential credit packages in the Government's program for socio-economic recovery and development in 2022 - 2023 period.
vbsp.org.vn
LENDING INTEREST RATE
Poor Households

Lending to poor households
6,6%/year
Lending to poor households in 64 poor districts as stipulated by the Government Resolution No.30a in 2008
3,3%/year

Near Poor Households

Lending to near poor households
7,92%/year

Students

Lending to disadvantaged students
6,6%/year

People in need of loans for job creation

Lending to business establishments owned by war invalids and handicapped persons
3,3%/year
Others...
DEPOSIT INTEREST RATE
Term
Deposit Rate
Overnight
3,04%/year
1 week
3,23%/year
2 week
3,5%/year
Others...