VISITORS







News & Events
Updated: 2023-03-22 14:58:32
Escape from falling back into poverty thanks to preferential loans
(VBSP News) The VBSP's preferential loans are promoting positive effects for households in remote, isolated and ethnic minority areas in Phu Yen district (Son La province).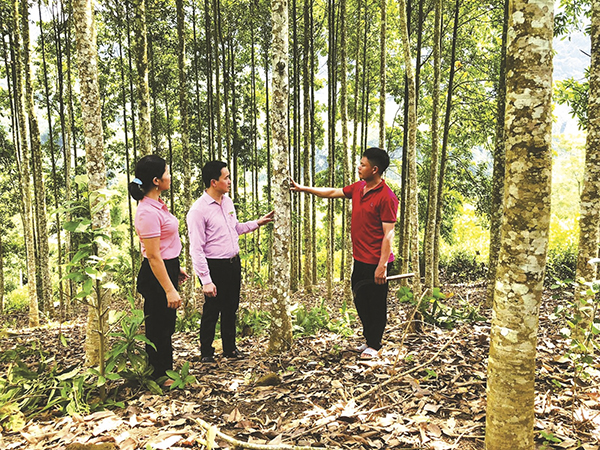 VBSP staff in Phu Yen district visit borrowers
Mr. Thao A Sua's family in Suoi Chat village, Suoi Bau commune was previously a poor household in the commune because there was no capital for production and economic development. By 2020, after being propagated the preferential credit policy of the State by the VBSP staff in Phu Yen district and unions, he was really happy.
He signed up to join the Savings and Credit Groups and got a loan of VND 100 million to buy 2 buffaloes and 4 cows. In order to promote the effectiveness of the loan, he participated in science and technology transfer classes organized by the Commune Youth Union in collaboration with VBSP and district agricultural and forestry extension agencies.
After more than 2 years, his family's income has increased, his herd also raised to 20 heads, including 5 buffaloes and 15 cows. "Preferential capital has created favorable conditions for poor, near-poor, post-poor households and other policy beneficiaries like us to have capital for business, economic development, poverty reduction, with a loan up to VND 100 million without mortgage assets. This shows the superiority of policy credit for poor, near-poor, post-poor households and other policy beneficiaries," Mr. Sua shared.
Thanks to preferential loans, Mr. Dang Van Nai's family in Suoi Coc village, Muong Coi commune has risen out of poverty. He was a student at Ha Tay Pedagogical College with very young age, after finishing school, he returned to hometown to join the local Youth Union and became a customer of VBSP.
Through two preferential loans, the first was a loan of VND 20 million from poor households lending program in 2017 to buy 2 breeding buffaloes, after 3 years, the buffalo herd added 2 more, he sold to pay the principal to the bank. The second was a loan of VND 50 million in 2021 to buy 3 more buffaloes.
He also planting more industrial crops: cinnamon, lard with more than 10.000 trees, expected having an additional income VND 700-800 million after harvesting. "Thanks to VBSP's support, farmers get out of poverty. Accessing to credit capital timely and having easy and simple loan procedures have helped my family get out of poverty and have a foundation to develop, step by step to get rich," Mr. Dang Van Nai shared.
Chairman of Muong Coi Commune People's Committee Nguyen Van Hai said: 4 ethnic groups are Muong, Kinh, Dao, Mong (mainly Muong ethnic) living in the commune, the main income is from livestock and farming, major crops are maize, fruit trees (oranges, sweet tangerines) and industrial plants for afforestation (fat, pine, cinnamon).
The commune has more than 7,600 people living in 16 villages in the area with 2 special difficulties villages. Currently, the loan balance is more than VND 24 billion with 8 policy credit programs. Especially, households with preferential loans in the commune are no longer falling back into poverty. It can be said that policy credit has performed well the task of helping people gradually reduce poverty.
Mr. Cam Van Dang - Director of VBSP in Phu Yen district shared: Currently, the district is implementing 15 preferential credit programs, with a total outstanding loan of nearly VND 600 billion and more than 13.000 active households. During more than 20 years of operation, the loan source has contributed to helping over 10.000 households get out of poverty; building 3,643 houses to stabilize life; helping 7,289 households get loans to build 14,578 clean water and sanitation works, helping 6,738 workers create jobs from the job creation program; 35 houses were newly built, repaired and renovated.
It must be affirmed that the preferential capital of the Government through the VBSP has effectively contributed to the implementation of the national program on poverty reduction, ensuring social security in the locality.
vbsp.org.vn
LENDING INTEREST RATE
Poor Households

Lending to poor households
6,6%/year
Lending to poor households in 64 poor districts as stipulated by the Government Resolution No.30a in 2008
3,3%/year

Near Poor Households

Lending to near poor households
7,92%/year

Students

Lending to disadvantaged students
6,6%/year

People in need of loans for job creation

Lending to business establishments owned by war invalids and handicapped persons
3,3%/year
Others...
DEPOSIT INTEREST RATE
Term
Deposit Rate
Overnight
3,04%/year
1 week
3,23%/year
2 week
3,5%/year
Others...