VISITORS







News & Events
Updated: 2023-02-14 14:18:19
Promoting green credit from the Rural Safe Water and Sanitation Lending Program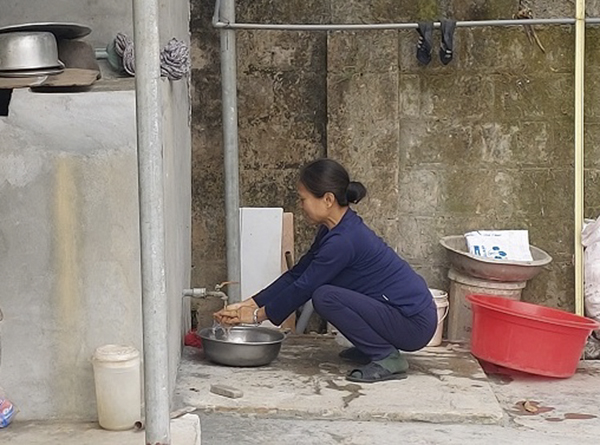 Trinh Thi Nga's family in hamlet 3, Liem Chung commune, Phu Ly city is excited to use clean water
Green credit policy
Aware of the importance and significance of the policy credit program assigned by the Government, the VBSP branch in Ha Nam province has closely coordinated with the departments, branches, local authorities and entrusted mass organizations to unify the implementation method, ensure the correct process, propaganda and effective implementation of the lending program.
By the end of January 2023, the outstanding loan of the Rural Safe Water and Sanitation (RSWS) lending program of the VBSP branch in Ha Nam province reached over VND 526 billion, helping more than 29,000 households living in 88 rural communes have conditions to access State's preferential credit capital to build more than 274 thousand clean water and sanitation works, ensuring the health of the population community and improving the living standards of people.
Typically, in Thanh Liem district, the program has been implemented since 2007 until now, with a total outstanding loan of over VND 108 billion, with nearly 6,000 active households. Ms. Dinh Thi Diep's family in Boi village, Thanh Phong commune excitedly shared: "In the past, my family used water from open wells, then drilled wells. Although it has been filtered many times, the water source is still not hygienic because it is seriously polluted by waste from the craft village".
Similarly, Ms. Trinh Thi Nga's family in Hamlet 3, Liem Chung commune, Phu Ly city is one of the households that effectively use loan funds from the RSWS program. In 2022, Ms. Nga's family received a loan of VND 20 million, with self-financed funds, her family built a self-contained toilet area including a bathroom, toilet, and water tank. The toilet area is renovated, clean water is delivered to the house, the quality of life is improved, health is more secure.
Ms. Nga said: "My family borrowed VND 20 million from VBSP along with self-financed funds to build a toilet and a clean water project, a clean water tank north of a pipeline leading to the house, which is very convenient to use. Although the loan is not large, it is really a big help for our farmers in ensuring their health and peace of mind in production."
Expanding beneficiaries
Deputy Director of VBSP branch in Ha Nam province Mr.Tran Quoc Hoan said: "The results of the program show that it is necessary to issue a national strategic credit policy on granting RSWS, ensuring the appropriateness in order to improve health, improve living conditions, and promote socio-economic development in rural areas".
However, besides the achieved results, one of the current difficulties of the program is for households living in wards and townships. According to the program's regulations, households in these two areas are not eligible for loans. Although located in wards and towns, the characteristics of the households here are not concentrated in the center like the provinces and big cities, but mainly live and work near livestock and agricultural production. Therefore, it is necessary to expand the loan beneficiaries to towns and wards that are not in rural areas soon.
Besides, the loan size of the program is VND 10 million/work, compared to the current price, it is not enough to meet the needs of the people. Therefore, in order for the RSWS credit program to be more effective, it is necessary to soon expand the target customers and raise the loan size.

vbsp.org.vn
LENDING INTEREST RATE
Poor Households

Lending to poor households
6,6%/year
Lending to poor households in 64 poor districts as stipulated by the Government Resolution No.30a in 2008
3,3%/year

Near Poor Households

Lending to near poor households
7,92%/year

Students

Lending to disadvantaged students
6,6%/year

People in need of loans for job creation

Lending to business establishments owned by war invalids and handicapped persons
3,3%/year
Others...
DEPOSIT INTEREST RATE
Term
Deposit Rate
Overnight
3,04%/year
1 week
3,23%/year
2 week
3,5%/year
Others...