VISITORS







News & Events
Updated: 2023-04-25 09:41:00
Supporting young people for starting a business
(VBSP News) Thanks to the loans from the VBSP, many union members and young people in Mo Duc district (Quang Ngai province) have the conditions to start a business and become better off in their hometown. Mo Duc district will continue to create the best conditions for youth people for start-up.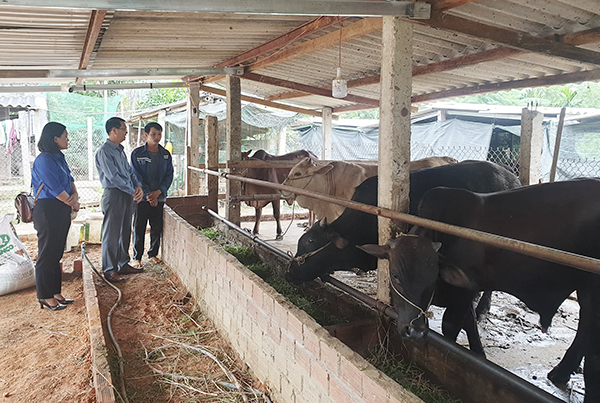 Many economic models from the youth promote their effectiveness thanks to VBSP's loans
According to the Director of the VBSP district Nguyen Minh No, the Youth Union of Mo Duc district is the entrusted unit with the management of policy credit, currently managing nearly 1,000 youth loans for production development, with total outstanding loans of more than VND 50 billion. Up to now, through the inspection and assessment of preferential credit resources, which have contributed to creating jobs for disadvantaged young households, poor and near-poor households, it has helped young people in the district in particular, and poor households through the trusted channels of other associations and mass organizations have conditions to access capital for doing business, economic development and poverty reduction.
In recent years, the movement to start a business and develop the economy in Mo Duc district's youth has been spreading more and more, with many various industries such as clean agriculture, construction and home sewing. Up to now, 3 youth economic cooperation groups and 1 startup, innovation and creativity club have been established to connect, support and share experiences for young people in the process of starting a business, setting up a business, especially connecting and consuming products. It is precious that in recent times, many young people in Mo Duc district have chosen the field of clean agriculture and organic agriculture to start a business. Especially focus on developing local OCOP products. Young people doing business have received great attention from local authorities by creating favorable conditions for land fund and unsecured loans for economic development.
Chairman of the District People's Committee Mo Duc Pham Ngoc Lan said: Youth unionists who have the will to start a business and start economic models in their hometown of the district will have certain support policies. Every year, Mo Duc district will arrange entrusted budget funds through VBSP to supplement loans for job creation, creating maximum conditions for young people to borrow capital to develop economic models.
vbsp.org.vn
LENDING INTEREST RATE
Poor Households

Lending to poor households
6,6%/year
Lending to poor households in 64 poor districts as stipulated by the Government Resolution No.30a in 2008
3,3%/year

Near Poor Households

Lending to near poor households
7,92%/year

Students

Lending to disadvantaged students
6,6%/year

People in need of loans for job creation

Lending to business establishments owned by war invalids and handicapped persons
3,3%/year
Others...
DEPOSIT INTEREST RATE
Term
Deposit Rate
Overnight
3,04%/year
1 week
3,23%/year
2 week
3,5%/year
Others...