VISITORS







News & Events
Updated: 2021-06-16 14:47:27
Securely and fluently activities during the pandemic period
(VBSP News) During the complicated situation of Covid-19, the VBSP branch Khanh Hoa province has actively developed plans for epidemic prevention and control to ensure safe, fluently and effective system operation in all situations.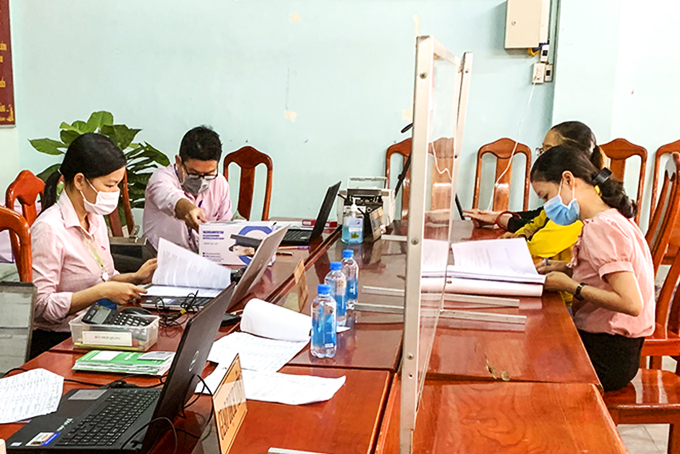 People receive preferential loans at Dien Thanh commune transaction point
The activities of transaction at commune point in VBSP branch of Dien Khanh district in Dien Thanh commune was still taking place as usual. Nevertheless, the arrangement and decor of the transaction point had many changes. In particular, the seats were spaced apart, with only 3 transactions at a time. Moreover, the transaction desk was equipped with a face shield. Also, there was an officer who was always on hand to guide each customer into the transaction.
The chairman of Commune People's Committee in Dien Thanh, Mr. Pham Trong Duy share: Before organizing the mobile transaction session, the VBSP branch has coordinated with the People's Committee to notify the leaders of the Savings and credit groups and socio-political organizations about the specific transaction time. Simultaneously, they organized disbursement and debt collection for each group, Hence, customers can arrange work to facilitate transactions, ensure distance, and limit crowds according to the direction of Covid-19 epidemic prevention and control.
The method of operation of VBSP has many differences compared to other commercial banks, which are mobile transaction groups. Until now, there are 136 commune transaction points in Khanh Hoa province. In which, each area has nearly 20 Savings and credit groups.
The manager of Credit Planning Department in Khanh Hoa's VBSP branch, Mr. Le Van Thanh stated that to ensure safety during the epidemic period, all officials, employees and people who come to transact must have to strictly implement the regulations on epidemic prevention and control such as: wearing masks, using antiseptic water, measuring body temperature, sitting distance, etc. In particular, transaction desks in communes, wards and townships have equipped with a face shield to enhance epidemic prevention and control. Thanks to the good implementation of epidemic prevention and control measures, from the very first month of this year, the operation of transaction points has been fluently and safe, ensuring both anti-epidemic and timely disbursement of loans to policy beneficiaries.
Over the first 5 months of 2021, VBSP branch in Khanh Hoa province disbursed VND 600 billion to more than 17,000 customers. The total policy credit balance as of the end of May reached VND 3,260 billion, increasing VND 147 billion compared to the beginning of the year.
Vbsp.org.vn
LENDING INTEREST RATE
Poor Households

Lending to poor households
6,6%/year
Lending to poor households in 64 poor districts as stipulated by the Government Resolution No.30a in 2008
3,3%/year

Near Poor Households

Lending to near poor households
7,92%/year

Students

Lending to disadvantaged students
6,6%/year

People in need of loans for job creation

Lending to business establishments owned by war invalids and handicapped persons
3,3%/year
Others...
DEPOSIT INTEREST RATE
Term
Deposit Rate
Overnight
3,04%/year
1 week
3,23%/year
2 week
3,5%/year
Others...