VISITORS







News & Events
Updated: 2021-06-08 16:19:03
Policy consumer loans timely reached beneficiaries in Kon Tum
(VBSP News) After more than 1 year of implementing Decision No. 05/2020/QD-UBND dated February 10, 2020 of the People's Committee of Kon Tum Province, with entrusted local budget, VBSP has actively implemented consumer lending to poor households, near-poor households, households with average living standards, and households just getting out of poverty in the province. Loans have helped the households to have timely financial resources to solve difficulties in life; at the same time, contributing to "black credit" prevention.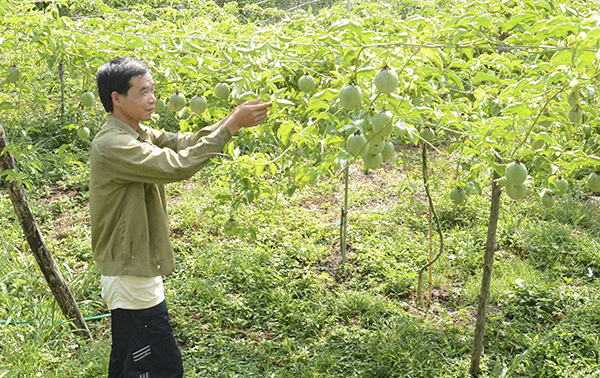 Mr. Nguyen Ngoc Anh – a disadvantaged household who got a consumer loan in a timely manner
Households can borrow policy loans for emergencies
In October 2020, Mr. Nguyen Ngoc Anh in Dak Binh hamlet, Dak Ngok commune, Dak Ha district, a disadvantaged household, was facilitated by the district VBSP to obtain a consumer loan of VND 20 million to treat his father's illness.
According to Ngoc Anh, his father has been ill for more than 10 years. When he was better, he helped his son cook, sweep the garden, and take care of chickens and ducks. By mid-2020, his illness worsened, he could no longer recognize his loved ones, often broke furniture and left home to wander around the village and hamlet. Having seen his father's illness getting worse and worse, he wanted to take him to the hospital for treatment, but the family was so poor with a monthly income of less than VDN 3 million.
At such a desperate time, fortunately, he was visited and encouraged by neighbors and the head of Dak Binh village to ask the leader of the village's Savings and Credit group to introduce him to VBSP Dak district for a loan of VND 20 million. Mr. Ngoc Anh took his father to get medical treatment and buy medicine for long-term treatment. Up to now, thanks to regular medication and health care, according to the doctor, his father's condition has improved by 80% - 90%.
Ngoc Anh shared: "When my father fell seriously ill, I went to a few "black credit" addresses to borrow money with a very high monthly interest rate of 25% - 30%. Fortunately, thanks to the care and help of officials, people in the village and VBSP's loan, I overcame difficulties. Currently, my family has a garden of 200 coffee trees at their 7th year, growing more vegetables and fruits, raising 4-5 pigs, more than a dozen chickens and more. It's enough to ensure the lives of my father and me. Every year, income from 200 coffee roots is around VND 10-12 million, enough to pay the principal and interest to the bank.
Another case is A Phan and his wife in Dak Lung, Dak Ro Nga commune, Dak To district who were facilitated by VBSP's loan for home repair. His family was a poor household with 4 young children of school age. The living mainly depended on nearly 1 hectare of cassava. In their spare time, they worked as hired laborers to earn extra money. Unfortunately, in October 2020, the typhoon No. 8 suddenly hit. The flood came quickly and strongly, eroding the foundation of the house, collapsing the wall, and the whirlwind damaged the entire corrugated iron roof of his house in one night.
After the typhoon No. 8 in 2020, A Phan's family was confirmed by the commune authorities of the damage to their houses due to natural disasters, and proposed to VBSP of Dak To district to borrow a loan to repair the house. A Phan's family was able to borrow VND 30 million, plus the family's contribution, they can build a new house as it is today.
Since February 2020, in Kon Tum province, 108 households with difficulties or falling into such above circumstances have been facilitated to borrow consumer loans with a total amount of more than VND 2.9 billion. Loans from households are mainly for housing repair, unexpected illness, and production investment.
Effective consumer loan policy, contributing to reducing "black credit"
According to Decision 05 of the Provincial People's Committee, the policy consumer loan is a special program, meaningful in both economic and human terms, and promptly helps households with unexpected emergencies in life (such as illness, sudden illness requiring long-term treatment, property damage due to unexpected natural disasters, storms, floods, lack of investment for production, etc.) have capital to make a living, or to cover or overcome difficulties to settle down. In addition, the implementation of this policy is also the central task of the province and the whole political system to serve the people for a better life, minimize black credit and ensure social security in the area.
According to the report, after more than 1 year of implementing the consumer lending project, the Party committees and local authorities in the province have directed and actively and effectively implemented communication on new policies to all people, especially in rural areas. Therefore, when the unfortunate households encountered life events, they turned to village officials, or Savings and Credit group for advice and assistance with loan procedures within 24 hours, contributing to preventing "black credit" activities in the province. People strongly support this policy. In 2020, reports showed that 100% of the households that borrowed from the project were right beneficiaries and used the loan for right purposes.
In the coming time, the provincial VBSP will continue to advise the Provincial People's Committee, coordinate with local authorities to supplement capital from the local budget to VBSP to lend, to ensure that those who need it can access the program and coordinate with mass organizations and relevant agencies to continue communication about the program.
Mai Tram
LENDING INTEREST RATE
Poor Households

Lending to poor households
6,6%/year
Lending to poor households in 64 poor districts as stipulated by the Government Resolution No.30a in 2008
3,3%/year

Near Poor Households

Lending to near poor households
7,92%/year

Students

Lending to disadvantaged students
6,6%/year

People in need of loans for job creation

Lending to business establishments owned by war invalids and handicapped persons
3,3%/year
Others...
DEPOSIT INTEREST RATE
Term
Deposit Rate
Overnight
3,04%/year
1 week
3,23%/year
2 week
3,5%/year
Others...