VISITORS







Press Release
Updated: 2021-01-12 10:10:07
Overview of VBSP's inclusive finance in 2020
(VBSP News) At some points, Vietnam faced many difficulties and challenges, especially Covid-19 pandemic in 2020 and increasingly complicated and unpredictable natural disasters and epidemics, however, thanks to the leadership of the Government; the support of ministries, departments and local authorities, VBSP has well implemented the political plans and tasks, ensuring safe and effective banking operations and positively contributing to the stability of the country's economy, politics & society.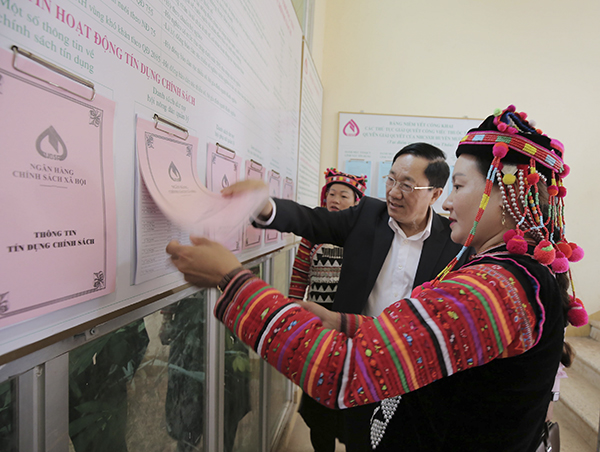 Over the past 18 years, VBSP have always accompanied the poor and other disadvantaged groups in their journey to escape from poverty
Total asset as of December 31, 2020 reached VND 233,426 billion (US$10,149), an increase of VND 21,532 billion compared to 2019; of which, entrusted fund from local governments reached VND 20,315 billion, an increase of VND 4,882 billion compared to 2019. Total outstanding loans reached VND 226,197 billion, an increase of VND 19,391 billion compared to the end of 2019, of which outstanding loans for credit programs according to the credit growth plan approved by the Prime Minister reached VND 194.405 billion, an increase of VND 14,400 billion compared to the end of 2019, completing 100% of the plan assigned by the Prime Minister with more than 6.4 million active customers.
In spite of the outbreak of the Covid-19 pandemic in 2020, VBSP still disbursed VND 31.6 billion for 207 enterprises to pay salaries for 8,529 employees. Besides, VBSP also has extended loan and adjusted loan term for 242,700 customers; provided additional loans for 122,900 customers with the amount of VND 3,112 billion and new loans for 1,942,586 customers with the amount of VND 71,585 billion.
By 2020, the inclusive financial scheme of VBSP has helped attract and create jobs for more than 361,000 workers; over 5,200 workers work abroad for definite term; nearly 44,600 disadvantaged students borrow loan to continue studying; over 1.3 million clean water and sanitation facilities for rural households; over 17,000 houses for poor households, nearly 43,500 thousand houses against flood for households in the Central region and the Mekong River Delta and nearly 6,000 social houses for low-income households.
Thanks to outstanding achievements from 2009 to 2019, VBSP was awarded the certificate of "Labor of Hero" in the renovation period by the President of the Socialist Republic of Vietnam on November 13, 2020.
vbsp.org.vn
LENDING INTEREST RATE
Poor Households

Lending to poor households
6,6%/year
Lending to poor households in 64 poor districts as stipulated by the Government Resolution No.30a in 2008
3,3%/year

Near Poor Households

Lending to near poor households
7,92%/year

Students

Lending to disadvantaged students
6,6%/year

People in need of loans for job creation

Lending to business establishments owned by war invalids and handicapped persons
3,3%/year
Others...
DEPOSIT INTEREST RATE
Term
Deposit Rate
Overnight
3,04%/year
1 week
3,23%/year
2 week
3,5%/year
Others...