VISITORS







Press Release
Updated: 2020-12-22 13:54:12
Infographic: 10-year implementation of development strategy of VBSP
(VBSP News) VBSP is ranked among the biggest micro-finance providers in the world, supporting the poor to access to social policy credits.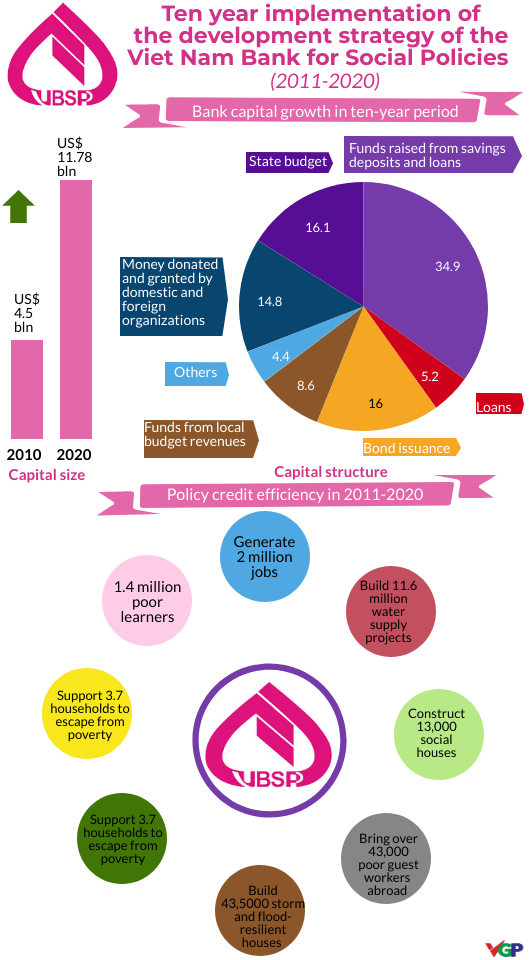 On July 10, 2012, the development strategy of VBSP period 2011-2020 was introduced. The bank is responsible properly implementing the State's social policy credit, in association with developing more effective support services for the poor, near-poor households and other policy beneficiaries.
So far, 21.5 million poor households and other social beneficiaries have accessed to preferential credits worth VND 504,565 billion.
The social policy credits contributed to cut poverty rate down to 4.25% from 14.2% in the 2011-2015 period. Multidimensional poverty rate dropped from 9.88% in 2016 to 3.75% in 2019 and is expected to touch less than 3% in 2020./.
news.chinhphu.vn
LENDING INTEREST RATE
Poor Households

Lending to poor households
6,6%/year
Lending to poor households in 64 poor districts as stipulated by the Government Resolution No.30a in 2008
3,3%/year

Near Poor Households

Lending to near poor households
7,92%/year

Students

Lending to disadvantaged students
6,6%/year

People in need of loans for job creation

Lending to business establishments owned by war invalids and handicapped persons
3,3%/year
Others...
DEPOSIT INTEREST RATE
Term
Deposit Rate
Overnight
3,04%/year
1 week
3,23%/year
2 week
3,5%/year
Others...