VISITORS







News & Events
Updated: 2021-11-09 16:40:35
VBSP is awarded the medal "Business Partnerships Platform" from the Australian Government
(VBSP News) In the morning of November 9, in Hanoi, the Australian Department of Foreign Affairs and Trade (DFAT) in collaboration with the Ministry of Foreign Affairs Vietnam held a ceremony to announce and award the medal "Business Partnerships Platform" (BPP) for organizations that have made positive contributions to the BPP program. Attending the ceremony were Australian Minister of Foreign Affairs Marise Payne, Vietnamese Minister of Foreign Affairs Bui Thanh Son and Australian Ambassador to Vietnam Robyn Mudie.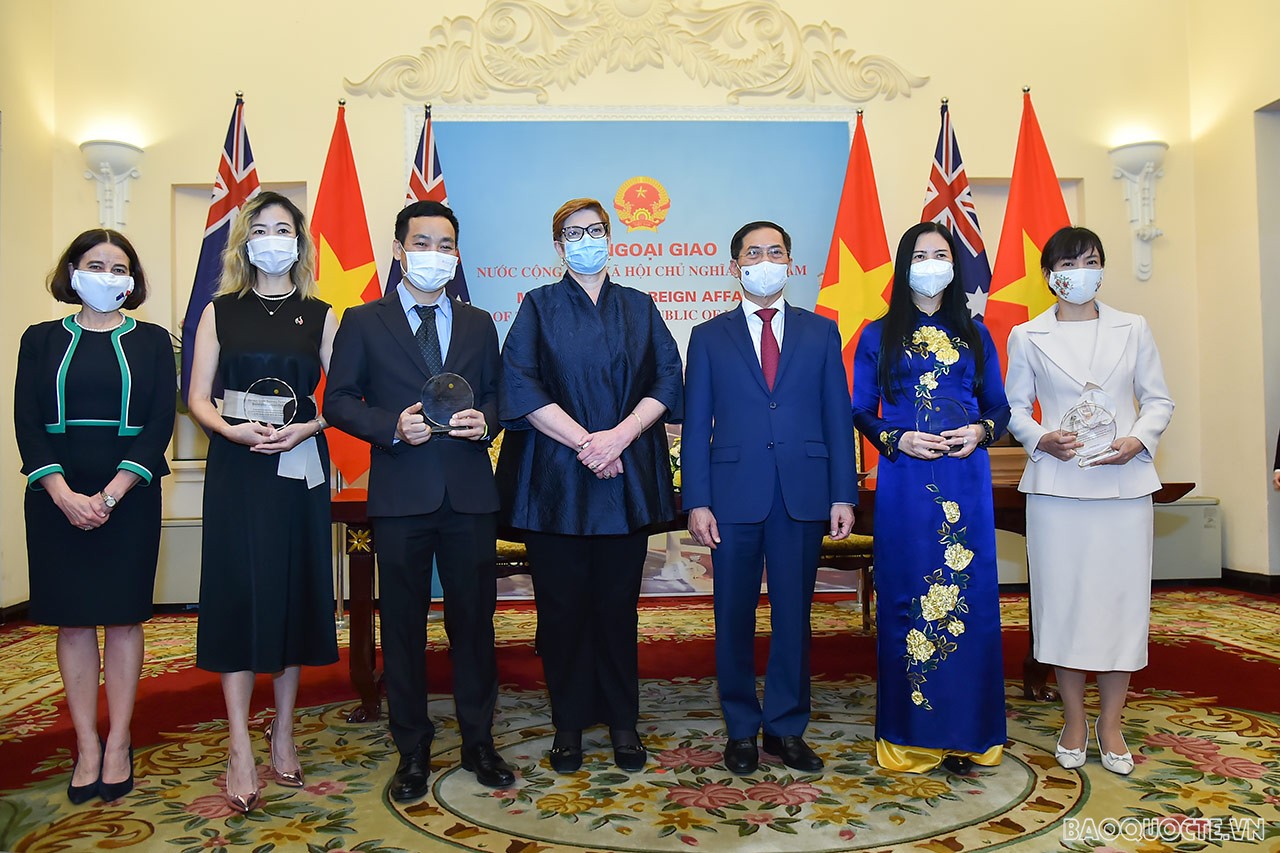 Deputy General Director Tran Lan Phuong on behalf of VBSP received the BPP Medal from the Australian Government under the witness of Foreign Affairs Ministers of Australia and Vietnam
VBSP was honored to receive a medal from DFAT for its active contribution to the Australian Government's BPP program to promote green economic recovery in response to Covid-19 and sustainable development.
DFAT highly appreciates VBSP as one of the partners that has a cooperative relationship with the Government's BPP/DFAT program through 02 projects: Project of technical support for Mobile Banking for the poor, women and other vulnerable population phase I (2017-2018) and phase II (2019-2022) and this year VBSP is a potential partner of the project "Dual use of solar energy for agriculture and aquaculture" (2021-2024) sponsored by DFAT.
On this occasion, the parties expressed their desire to strengthen the long-term foreign cooperation relationship between VBSP, DFAT and the Australian Embassy.
vbsp.org.vn
LENDING INTEREST RATE
Poor Households

Lending to poor households
6,6%/year
Lending to poor households in 64 poor districts as stipulated by the Government Resolution No.30a in 2008
3,3%/year

Near Poor Households

Lending to near poor households
7,92%/year

Students

Lending to disadvantaged students
6,6%/year

People in need of loans for job creation

Lending to business establishments owned by war invalids and handicapped persons
3,3%/year
Others...
DEPOSIT INTEREST RATE
Term
Deposit Rate
Overnight
3,04%/year
1 week
3,23%/year
2 week
3,5%/year
Others...