VISITORS







Social Affairs
Updated: 2016-04-15 13:55:56
The Trade Union of the State Bank of Vietnam and VBSP give Decision to support building love shelters in Bac Giang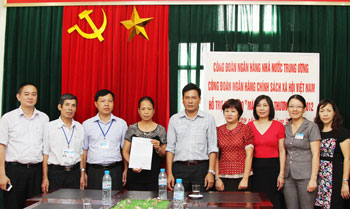 In response to the "campaign supports poor women and children" and "love shelters for disadvantaged households, on August 29th the Trade Union of the State Bank collaborated with the Trade Union of VBSP to establish the monitoring board and give Decision to support building "love shelters" in Bac Giang province.
Here, the monitoring board gave Decision to support VND 120 million to 2 disadvangted households which were represented by Ms. Pham Thi Toan in Tran Nguyen Han ward, Bac Giang City and Ms. Pham Thi Hien in Huong Gian communue, Yen Dung District.
The amount was deducted from the Social Sercurity Fund and the contribution of the Trade Union members in 02 organizations to help disadvantaged households to have a stable life and to fall in line with the community.
RP
LENDING INTEREST RATE
Poor Households

Lending to poor households
6,6%/year
Lending to poor households in 64 poor districts as stipulated by the Government Resolution No.30a in 2008
3,3%/year

Near Poor Households

Lending to near poor households
7,92%/year

Students

Lending to disadvantaged students
6,6%/year

People in need of loans for job creation

Lending to business establishments owned by war invalids and handicapped persons
3,3%/year
Others...
DEPOSIT INTEREST RATE
Term
Deposit Rate
Overnight
3,04%/year
1 week
3,23%/year
2 week
3,5%/year
Others...