VISITORS







News & Events
Updated: 2022-11-10 09:57:44
Escaping from poverty thanks to inclusive finance
(VBSP News) Na Pua village has the most households borrowing from VBSP in Chau Nga commune, Quy Chau district (Nghe An province), with 180 out of 201 households. Thanks to preferential loans, many households in the village have escaped from poverty to accompany with the Party committees and local authorities in new countryside construction by the end of 2022 . Mr. Vi Van Luyen's household is a typical example.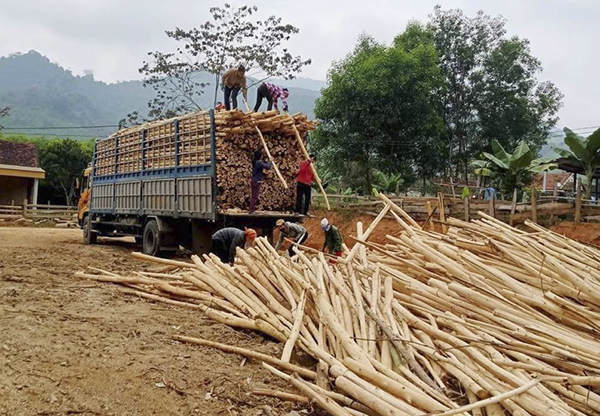 Acacia weighing station of Mr. Vi Van Luyen's family in Na Pua village,
Chau Nga commune, Quy Chau district
Be happy in his spacious and well-equipped house, Mr. Luyen said: After finishing high school, he did not study anymore, he chose to get married in 2007. Starting up with nothing, in 2010, he was consulted on credit sources of VBSP by the local government. He boldly proposed to borrow VND 20 million from VBSP in Quy Chau district to develop 3 hectares of acacia. Thanks to hard working, applying science and technology to cultivation and care, acacia has grown well and sold at a good price. By 2015, his family has paid off all debts to the bank.
Realizing the economic potential of growing acacia, Mr. Luyen continued to borrow VND 50 million from the VBSP to plant more 5 hectares of acacia. Currently, Mr. Luyen's family has a spacious house, a large truck and a weighing station, creating jobs for more than 10 local workers.
Talking about today's achievements, Mr. Luyen said: "In order to get rich and escape from poverty like today, thanks to attention off all levels, branches, and mass organizations in communes, villages and hamlets, especially in VBSP in Quy Chau district. In the next time, I hope that many disadvantaged people will access to policy credit capital, get loans to improve their quality of life, and rise out of poverty".
Chairman of Chau Nga Commune Women's Union Lo Thi Huong said: The association directly manages 3 Savings and credit groups in Na Pua village, with outstanding loans of more than VND 6 billion. After getting loans, many members have escaped from poverty and become rich, typically Mr. Vi Van Luyen's household. In the coming time, the Commune Women's Union will continue to create favorable conditions for poor households and other policy beneficiaries in the area to get loans to improve their lives, contributing to the construction of an enhanced new rural area of ​​the locality.
vbsp.org.vn
LENDING INTEREST RATE
Poor Households

Lending to poor households
6,6%/year
Lending to poor households in 64 poor districts as stipulated by the Government Resolution No.30a in 2008
3,3%/year

Near Poor Households

Lending to near poor households
7,92%/year

Students

Lending to disadvantaged students
6,6%/year

People in need of loans for job creation

Lending to business establishments owned by war invalids and handicapped persons
3,3%/year
Others...
DEPOSIT INTEREST RATE
Term
Deposit Rate
Overnight
3,04%/year
1 week
3,23%/year
2 week
3,5%/year
Others...