VISITORS







News & Events
Updated: 2019-06-03 11:51:45
Workshop "Sharing experience of digital financial inclusion for the poor at VBSP"
(VBSP News) On May 31, Ms. Maria Theresa Niña Espinola-Abogado, Program Manager for Digital Financial Inclusion from Oxfam Philippines visited VBSP headquarter to discuss digital financial inclusion program.
The workshop, aiming at sharing experiences about the subject, started with a short reminder on financial inclusion state in VBSP programs. This workshop was attended by Deputy General Director of VBSP Hoang Minh Te, leader representatives from departments, IT Center and Training Center of VBSP.
Mr. Hoang Minh Te - Deputy General Director makes opening speech in the workshop
The second part of the workshop focused on the importance and stakes of financial inclusion. Currently, about 264 million people are still unbanked in South-East Asia. This massive exclusion has a detrimental consequence on society: poor populations are marginalized, they cannot have access to efficient social services, and they lack self-sufficiency. Moreover, financial exclusion curtails economic development. It is the source of insufficient savings, investments, consumption and finally business development.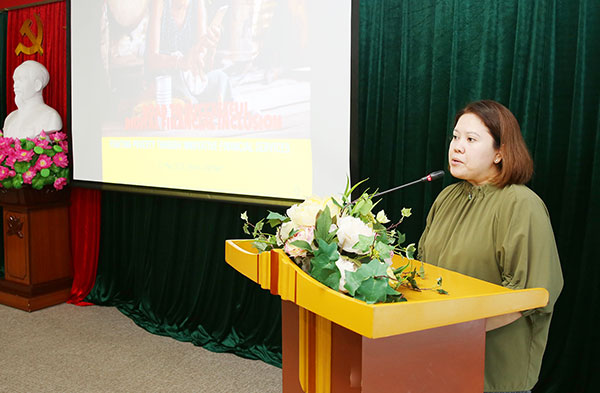 Ms. Maria speaks at the workshop

Oxfam offered a solution to prevent this issue. The financial inclusion program consisted in facilitating access to financial services, supporting business and economic activities, investments and savings. Financial inclusion drives economic growth, poverty alleviation, and responds to sustainable development goals. However, such programs must confront many barriers to financial inclusion that persist among disadvantaged populations: psychological or cultural barriers, and lack of financial literacy.
How to fight financial exclusion? The purpose of going digital
Oxfam Philippines has developed the Pay Maya tool. It has been designed by means of a democratic method, in cooperation with users. Thereby, the tool is consumer-based and fits perfectly how people manage their money, spendings and savings. Pay Maya allows customers to have access, through an application, to an online payment account that they can use in stores, pawnshops or online. They can check their balance of accounts or transaction costs whenever they want. Not only is it a tool for empowerment, but also a tool for safety. It encourages people to keep money on a bank account rather than at home, which is safer. Nonetheless, the target population is still reluctant to these financial services because of a lack of trust in banks. Implementing digital banking options is probably the best way to fight financial exclusion also in Vietnam where almost 80% of the population has a smart phone, and benefits from a broad network coverage. This also allows to reduce banking costs, online banking being cheaper for users. Through its quality of service, the Pay Maya project has attracted 6 million new clients. However, digital tools are sometimes difficult to implement because of security and privacy issues. That is a point that must be considered by digital programs to gain consumer's confidence. This matter of trust goes both ways: the bank also needs to know about customers identities, which is made possible with electronic cards.
Landscape of the workshop
VBSP concluded this workshop with a presentation of its digital financial project, a smart phone application. Customers who tried it were satisfied about this new service, which holds great promises. It is easy to use and offers a clear content, but can still be improved. For instance, the information given as pictogram must take precedence over the text, to enable the spread of financial literacy in Vietnam.
Mathilde and Charlotte
LENDING INTEREST RATE
Poor Households

Lending to poor households
6,6%/year
Lending to poor households in 64 poor districts as stipulated by the Government Resolution No.30a in 2008
3,3%/year

Near Poor Households

Lending to near poor households
7,92%/year

Students

Lending to disadvantaged students
6,6%/year

People in need of loans for job creation

Lending to business establishments owned by war invalids and handicapped persons
3,3%/year
Others...
DEPOSIT INTEREST RATE
Term
Deposit Rate
Overnight
3,04%/year
1 week
3,23%/year
2 week
3,5%/year
Others...