VISITORS







News & Events
Updated: 2022-12-07 14:19:09
Winging disadvantaged students' dreams of going to school
(VBSP News) In order to help disadvantaged students continue to study at universities, colleges, and intermediate schools, the disadvantaged students lending program under Decision No. 157/2007/QD-TTg has been implemented effectively by VBSP branch in Quang Binh province, thousands of students have continued to go to school to fulfill their dreams.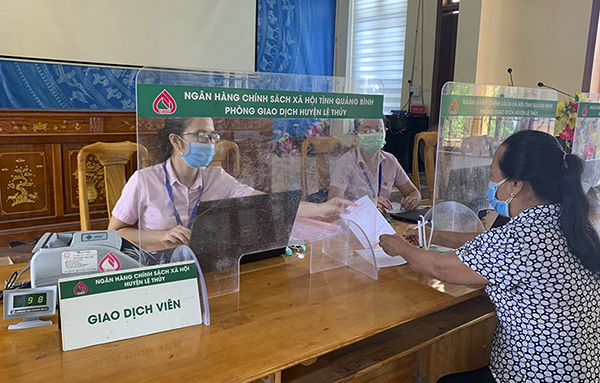 Disadvantaged student loans help many children fulfill their dreams of attending universities and colleges
Make dreams come true
Although the family's economic situation is difficult, the children of Ms. Nguyen Thi Ai Hau at Tan Ninh commune, Quang Ninh district still study hard and get into universities. Sometimes Ms. Hau thought that she could not let her children continue to attend these schools due to the lack of money. However, thanks to the VBSP's preferential loan for disadvantaged students, her children continued their education.
She shared: Previously, my family was a poor household of the commune, with very difficult economic conditions. Unfortunately, my husband was seriously ill and could not work. The whole family lived mainly on farming and raising chickens and pigs. Due to the precarious income, my family has been on the list of poor households in the commune for many years.
Understanding the hardships of parents, her children are all obedient and good at studying. Thanks to studying hard, both of them went to university. When she heard that her son had passed the university, she was both happy and worried when she didn't know where to get the money to pay for her children's tuition.
Fortunately, at that time, she was advised by the village Women's Union about the VBSP's loan program for disadvantaged students. She borrowed VND 118 million for both children during their university studies and divided into installments, received 1 time every 6 months.
Talking about the humanity that the loan program has brought to her family, Mrs. Hau shared: "The money I borrowed means a lot to my children. Thanks to this loan program, my child continued to attend the college and gained the success. Currently, my children have graduated from university and both have stable jobs, they also saved up money to help us pay interest and principal periodically. My family has paid off the debt before the due date, so we enjoyed interest reduction regime."
20 years of accompanying disadvantaged students to school
Lending to disadvantaged students program is a meaningful program that shows humanity and the right policy of the Party and State. In Quang Binh province, this program has helped thousands of disadvantaged students have opportunity to attend secondary schools, colleges and universities.
Mr. Tran Van Tai, Director of VBSP branch in Quang Binh province, said: Since VBSP's establishment, the branch has been handed over 3 credit programs, including disadvantaged students program. Up to now, our branch has effectively implemented this program for the past 20 years, creating conditions for thousands of disadvantaged students to access capital to continue pursuing their dreams.
Currently, the Government has also adjusted loans to suit the economic situation, specifically: The Deputy Prime Minister issued Decision No. 5/2022/QD-TTg amending, supplementing a number of articles of Resolution No. 157/2007/QD-TTg. Accordingly, the maximum adjusted loan size is VND 4 million/month/student, an increase of VND 1.5 million compared to this before.
Bo Trach is one of the localities with high disadvantaged student's outstanding loan in the province and has helped many students in the district complete their study programs, contributing to improve the quality of local workers. Over the years, the capital from this loan program has helped more than 11,131 disadvantaged students have conditions to study at universities, colleges and secondary schools. Many students have found a stable job and helped their family repay the loan after graduated.
According to the statistics of the branch of VBSP in Quang Binh province, up to now, the total lending turnover of disadvantaged students under Decision No.157 reached VND 1,148 billion with more than 63,000 turns of student loans. Debt collection revenue is VND 1,093 billion. Outstanding loan is more than VND 56 billion, accounting for 1.3% of total outstanding loans, with 1,545 active customers. The overdue debt rate is 0.5%.
vbsp.org.vn
LENDING INTEREST RATE
Poor Households

Lending to poor households
6,6%/year
Lending to poor households in 64 poor districts as stipulated by the Government Resolution No.30a in 2008
3,3%/year

Near Poor Households

Lending to near poor households
7,92%/year

Students

Lending to disadvantaged students
6,6%/year

People in need of loans for job creation

Lending to business establishments owned by war invalids and handicapped persons
3,3%/year
Others...
DEPOSIT INTEREST RATE
Term
Deposit Rate
Overnight
3,04%/year
1 week
3,23%/year
2 week
3,5%/year
Others...