VISITORS







News & Events
Updated: 2018-05-08 13:51:16
Vietnam Bank for Social Policies - the largest bank in terms of access points in Vietnam
(VBSP News) VBSP has been reported by the MIX to be the largest bank in Vietnam in terms of access points by a large margin, controlling 40% (11,566) of all banks access points , more than all other combined. This is an international recognition for VBSP as being a prominent institution in financial inclusion in Vietnam
Financial inclusion means that individuals and businesses have access to useful and affordable financial products and services that meet their needs - payments, savings, credit and insurance – delivered in a responsible and sustainable way. The State Bank of Vietnam has been partnering with the World Bank Group to develop a national financial inclusion strategy. The strategy is said to be a focus on digital finance including shifts in government payments to digital products and platforms; providing financial services to rural and agricultural communities and ethnic minorities; and strengthening consumer protection and financial education so that the next generation of consumers are prepared for a modern financial marketplace.
Although the strategy is still in development, VBSP as a biggest microfinance services provider in Vietnam has been ready to accompany financial inclusion strategy.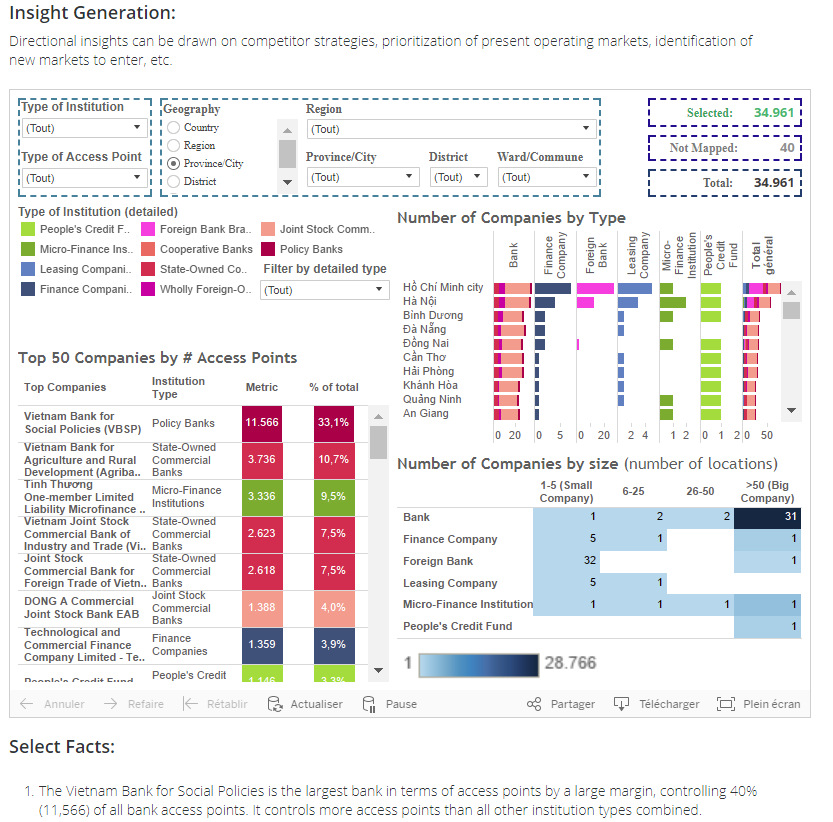 http://finclusionlab.org/country/Vietnam/analytics?title=Company-Analysis
MIX screenshot
After 15 years of operation, VBSP has expanded its network to all communes, with 63 provincial branches, 629 district transaction offices, nearly 11,000 commune transaction points, making a total of 11,566 point of services (POS). With this number, the MIX - the leading global information provider in support of financial inclusion has concluded that VBSP is the largest bank in Vietnam in terms of access points by a large margin, having more access points than all other institution types combined (i.e banks, finance companies, foreign banks, leasing companies, micro-finance institutions, People's Credit Fund). However, this number of POS in fact is far more with nearly 200,000 Savings and Credit group (SCGs) as the lengthen arm of VBSP to each living quarter.
Each SCGs has a group leader who hold responsibility of a semi-agent for VBSP, i.e entrusted to collect loan interest, savings for VBSP with commission upon the amount collected. VBSP is considering making the SCG leaders to be more involved in VBSP system such as payment service when VBSP complete its mobile banking project. Once the model is implemented successfully, VBSP can become a door-to- door bank in Vietnam to target customers who mostly have been excluded from the formal financial sector. They are the poor, near poor, policy beneficiaries living mainly in rural and isolated areas.
Besides a huge network - a first step to broader financial inclusion, VBSP also continue struggling to enhance financial education to partners and customers, develop various products and services to meet with customer demands, deploy mobile banking and particularly enhance customer protection by preferential policies over interest rate, risk management and transparency. The bank's target is to bring formal financial services to vulnerable customers, helping them to build a sustainable out of poverty life so that "no one is left behind".
LENDING INTEREST RATE
Poor Households

Lending to poor households
6,6%/year
Lending to poor households in 64 poor districts as stipulated by the Government Resolution No.30a in 2008
3,3%/year

Near Poor Households

Lending to near poor households
7,92%/year

Students

Lending to disadvantaged students
6,6%/year

People in need of loans for job creation

Lending to business establishments owned by war invalids and handicapped persons
3,3%/year
Others...
DEPOSIT INTEREST RATE
Term
Deposit Rate
Overnight
3,04%/year
1 week
3,23%/year
2 week
3,5%/year
Others...