VISITORS







News & Events
Updated: 2020-03-18 11:00:23
VBSP provides various credit schemes for the poor and other last mile population
Since VBSP's inception, the credit programs have changed over the time to adapt the market need. With the primary target of providing loans to the poor households, after 17 years of operation, VBSP has developed various programs to cover the demand of poor and last mile segment as much as possible. As the decline of the number of the poor households, VBSP launched a number of new programs to support the poor and other beneficiaries demand in many aspects. The below figure show the major products running in VBSP with the large client bases.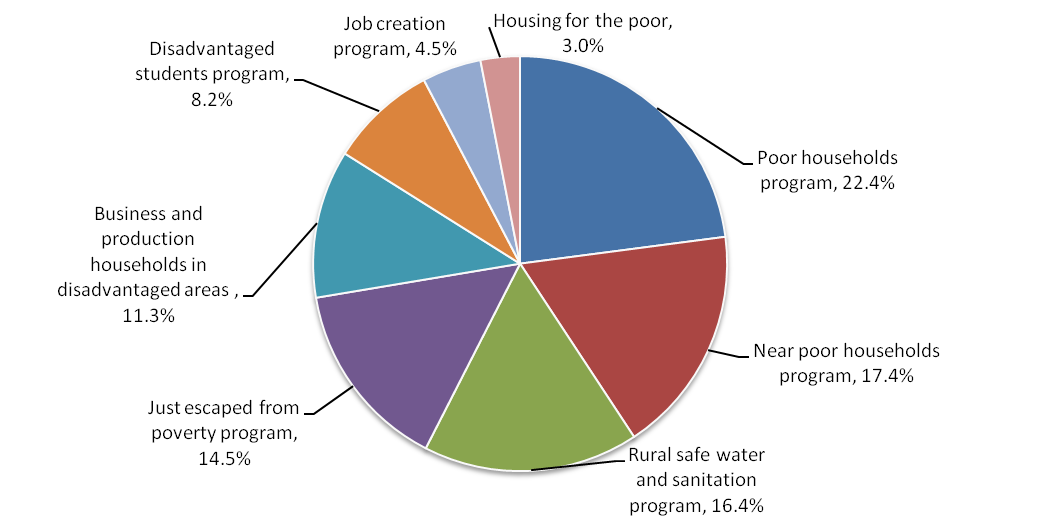 Besides developing the additional programs, VBSP considers to increase the loan size for available programs. Particularly, in 2019, the poor program and job creation program has been raised in its loan size up to VND 100 million. The addition of capital and the increase of the limit and the loan term have raised access opportunities and promoted the efficiency of loans for the local people. The maximum loan size for disadvantaged students will increase from VND 1.5 million/month/student to VND 2.5 million/month/student. This is a credit program with meaningful purposes in terms of economics, politics and society, contributing to creating human resources for the country.
LENDING INTEREST RATE
Poor Households

Lending to poor households
6,6%/year
Lending to poor households in 64 poor districts as stipulated by the Government Resolution No.30a in 2008
3,3%/year

Near Poor Households

Lending to near poor households
7,92%/year

Students

Lending to disadvantaged students
6,6%/year

People in need of loans for job creation

Lending to business establishments owned by war invalids and handicapped persons
3,3%/year
Others...
DEPOSIT INTEREST RATE
Term
Deposit Rate
Overnight
3,04%/year
1 week
3,23%/year
2 week
3,5%/year
Others...