VISITORS







News & Events
Updated: 2020-03-10 16:08:39
Disadvantaged laborers given help to work abroad
(VBSP News) Thanks to a number of support policies of VBSP, hundreds of disadvantaged laborers in the country had more opportunities to work abroad.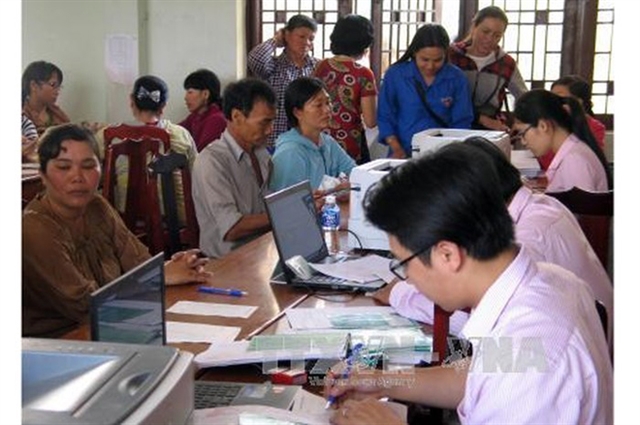 Disadvantaged laborers who want to work abroad are provided loans and consulting services from VBSP
Mr. Duong Quang Ngoc, Deputy Director of the provincial Department of Labor, Invalids and Social Affairs, said the province had issued a number of policies to support local workers going abroad. "Supporting labor export activity is part of the province's efforts to reduce poverty" he said.
Those who want to work abroad can access financial inclusion service from VBSP - Trà Vinh Branch, with a maximum amount of VND 150 million (US$6,450). Payment will be made for part of the fees for vocational training courses, foreign language courses, expenses for meals during study, and administrative procedures that need to be completed (criminal records, passports and medical examinations). The department has introduced reputable labor-export companies and relevant agencies to laborers, and has worked closely with labor-export companies to protect the legal rights of laborers working abroad. "The laborers will be given support to deal with risks and difficulties while working abroad" Mr. Ngọc said.
Last year, over 600 local residents were sent to work abroad, reaching 173 per cent of last year's target. Of the figure, more than 530 people were sent to Japan. "People working abroad have higher incomes and better working conditions," Mr. Ngọc said. As a result, the lives of their families have improved significantly.
An unskilled Vietnamese laborer working in Japan can earn an average monthly income of VND 28-30 million ($1,205-1,295), while a skilled or highly-skilled laborer can earn VND 37million ($1,595) per month. Moreover, after completing their contracts and returning home, laborers working abroad can be hired at foreign-invested companies with high salaries.
In the south-central province of Ninh Thuan, the number of laborers sent abroad has increased in recent years. The province has provided laborers with information related to labor markets and labor export requirements, loans, and vocational training. This was the third consecutive year that the number of guest workers exceeded the province's targets, Mr. Tran Van Trua, Deputy Director of the provincial Department of Labour, Invalids and Social Affairs, said.
Last year, the province sent 210 people abroad, surpassing the year's plan by 40 per cent. Local authorities opened many job fairs and consulted candidates who wanted to work overseas, offering opportunities to 2,500 local job seekers. It also created jobs for over 17,100 laborers last year. "Most of our laborers have stable incomes" Mr. Trua said. Many laborers sent money to their families and relatives for expanding production scale, building new houses, and buying new household appliances, he said.
Work abroad has helped reduce the poverty rate and contributed to the province's socio-economic development. "However, the number of laborers going to work abroad hasn't been commensurate with the province's potential" Mr. Trua said.
Consultation is provided for people interested in overseas jobs to help them know their rights and obligations, as well as laws, procedures, and incentive policies. VBSP in Ninh Thuan Province said it would continue to grant VND 2 billion ($86,520) in providing loans every year to needy people who want to work abroad. The loans are provided to poor and near-poor people, ethnic minority people, relatives of people who have provided meritorious service to the revolution, and people who have completed their military services.
vietnamnews.vn
LENDING INTEREST RATE
Poor Households

Lending to poor households
6,6%/year
Lending to poor households in 64 poor districts as stipulated by the Government Resolution No.30a in 2008
3,3%/year

Near Poor Households

Lending to near poor households
7,92%/year

Students

Lending to disadvantaged students
6,6%/year

People in need of loans for job creation

Lending to business establishments owned by war invalids and handicapped persons
3,3%/year
Others...
DEPOSIT INTEREST RATE
Term
Deposit Rate
Overnight
3,04%/year
1 week
3,23%/year
2 week
3,5%/year
Others...