VISITORS







News & Events
Updated: 2019-04-10 16:40:41
Preferential credit awakens youth's aspiration of start-up
(VBSP News) In recent years, the trend of start-up youth has been popular in Thanh Hoa province. Many young people have developed business that contributed to the local socio-economic development.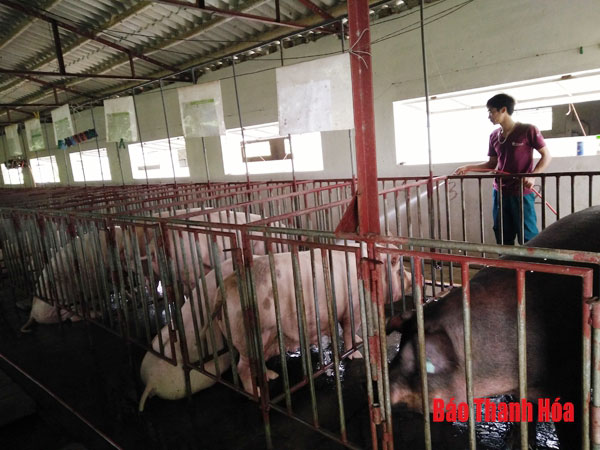 Farming model of Mr. Nguyen Huu Quang, Yen Bai commune

For rural young people, especially the poor, opportunities to start businesses and create stable jobs are always concerned and there are many activities to support them to start their career. In addition to land, labor materials, tools, and vocational skills, capital is very essential. Accompanying the youth on the way of establishing business, in the past years, with capital of the National Fund for Employment, VBSP in Thanh Hoa province helped the youngsters develop production. 50 projects received loans with a total amount of more than VND 10 billion. Besides, through 701 Savings and Credit groups, 25,401 customers borrowed more than VND 860 billion from VBSP Thanh Hoa province. From these loans, many young people have built and developed production models that bring high economic efficiency.
Visiting the farm of Mr. Nguyen Huu Quang's family in Yen Dinh district, he said: "On the first day of my career, I had many questions: What should I do to change my life? What should I do to escape poverty and become rich?" In 2015, after being hired to work out of town, Mr. Quang decided to return to his hometown to invest in developing a model of synthetic breeding farm. However, due to limited capital, he had to borrow with high interest rate, thus, economic efficiency was not high. In 2017, through the Job Creation Program of VBSP Thanh Hoa province, Mr. Quang borrowed VND 100 million. Thanks to this capital, he invested in breeding buffaloes, cows and expanding the scale of his fish pond. Currently, his farm brings more than VND 1 billion, deducting operating expenses, he earns about VND 200 million profit, and creates jobs for 5 workers with the salary of more than VND 5 million/ person/ month. Mr. Quang said: "Our first difficulty is capital. Many young people, when embarking on economic development, do not have capital so they are easily discouraged. For me, policy credit capital for young people is a driving force for economic development".
In addition to the preferential capital of VBSP, many projects funded by the National Fund for Employment have also promoted economic efficiency such as the Project of processing products from pineapples and melons of Trung Thanh Agricultural Product Processing Joint Stock Company (Nong Cong); model of raising pigs and fish, processing safe food by Mr. Nguyen Hoai Chau (Hau Loc); model of raising goats and cows by Mr. Pham Van Chau (Ngoc Lac).
It can be seen that policy capital has supported successfully for youth's start-up and created jobs for hundreds of idle workers in rural areas. Mr. Le Huu Quyen - Director of VBSP Thanh Hoa province said: Groups under the Youth management not only used capital effectively but they also did very well in collecting debts and interests. Loans are well utilized ,thus, contributed to poverty reduction... VBSP Thanh Hoa province always creates favorable conditions and saves rational capital resources for Youth Union to implement projects.
danviet.com.vn
LENDING INTEREST RATE
Poor Households

Lending to poor households
6,6%/year
Lending to poor households in 64 poor districts as stipulated by the Government Resolution No.30a in 2008
3,3%/year

Near Poor Households

Lending to near poor households
7,92%/year

Students

Lending to disadvantaged students
6,6%/year

People in need of loans for job creation

Lending to business establishments owned by war invalids and handicapped persons
3,3%/year
Others...
DEPOSIT INTEREST RATE
Term
Deposit Rate
Overnight
3,04%/year
1 week
3,23%/year
2 week
3,5%/year
Others...