VISITORS







News & Events
Updated: 2019-04-09 17:37:30
Helping poor households improve livelihood
(VBSP News) Over the past years, hundreds of poor households in Ha Tinh province have borrowed preferential loans from VBSP, which helps them invest in breeding, farming and developing farming models so that they can escape from poverty, raise income and contribute to developing the local socio-economy.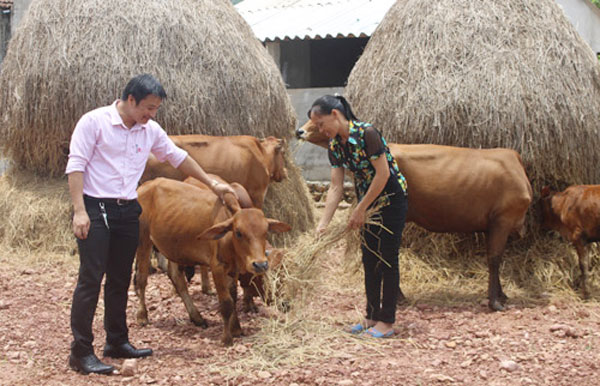 From preferential loans, many Ha Tinh farmers have invested in developing agricultural production effectively and earning good income.
More capital, more income
Nguyen Thi Duc's family in Huong Son district has been the poor household for many years. However, since she had access to VBSP's preferential capital, she invested in breeding cows, wild pigs and chickens, planting fruit trees such as oranges and pomelos. The number of her cows from just a few ones now has increased to 20.
Ms. Duc sold some cows and continued to borrow VND 50 million from the VBSP's job creation program to invest in planting orange trees. Ms. Duc estimated that the orange garden started to harvest this year and her family will have good income next year.
Another example is Ho Tu Nam's farming Ky Anh district. Mr. Nam confided: "My wife and I just made the farm so we needed capital to invest in production. Luckily, in 2013, with VND 50 million from VBSP's job creation program, my family expanded the scale of growing safe vegetables, raising pigs and ostriches. Thanks to the application of science and technology into animal husbandry and cultivation, we got high income. Therefore, we paid the interest and debt on time for VBSP".
According to Mr. Nam, in 2016, his family continued to borrow VND 50 million from VBSP to expand the model of breeding and afforesting. Currently, his farm has 20 cows, 10 pigs and over 500 chickens. Besides, he also planted 10 hectares of acacia forest. His farm not only brings high income for his family but it also creates jobs for 3 local workers, with the salary of VND 4 million / person / month.
Focus capital on local initiatives
Currently, outstanding loan of VBSP in HaTinh province reached over VND 4,363 billion, of which medium-term debt was over VND 4,018 billion, accounting for over 92%. Besides, there are some credit programs with large outstanding loans such as: the Lending Program for Business and Production Households Living in Extremely Disadvantaged Communes, the Safe Water and Rural Sanitation Lending Program, the Poor Households Lending Program, the Near-poor Households Lending Program, the Lending Program for the Newly Escaped from Poverty.
In addition, VBSP in Ha Tinh province also focused on policy lending programs associated with social security such as: the Housing Loan for the Poor, the Social Housing Loan Program, the Disadvantaged Students Lending Program, the Job Creation Lending Program...
According to the Deputy Director of VBSP in Ha Tinh province, Hoang Ba Dong, thanks to the synchronous and effective deployment of customer support and debt recovery, at this time, most customers pay debts on time and overdue debts account very small percentage.
In 2019, based on the allocation of funds, VBSP in Ha Tinh province will continue to implement the lending programs with preferential interest rates. At the same time, VBSP in Ha Tinh province also focuses on prioritizing capital for communes of constructing new countryside and effective projects. Besides, the bank continues to closely coordinate with the departments, branches, mass organizations and local authorities in the transfer of science and technology, guiding business methods, the use of capital for borrowers.
"In order to timely meet the demand for borrowing loans of the people, over the past time, VBSP in Ha Tinh province has timely collected the due debts to create the revolving lending capital", Hoang Ba Dong said.
danviet.com.vn
LENDING INTEREST RATE
Poor Households

Lending to poor households
6,6%/year
Lending to poor households in 64 poor districts as stipulated by the Government Resolution No.30a in 2008
3,3%/year

Near Poor Households

Lending to near poor households
7,92%/year

Students

Lending to disadvantaged students
6,6%/year

People in need of loans for job creation

Lending to business establishments owned by war invalids and handicapped persons
3,3%/year
Others...
DEPOSIT INTEREST RATE
Term
Deposit Rate
Overnight
3,04%/year
1 week
3,23%/year
2 week
3,5%/year
Others...