VISITORS







News & Events
Updated: 2019-03-13 15:51:57
Hungary Embassy to Vietnam paid a courtesy visit to VBSP Headquarters
(VBSP News) At the acceptance of the formal invitation from Vietnam Bank for Social Policies (VBSP), Mr. Istvan Bakos, Economic Counselor, Hungary Embassy to Vietnam paid an official visit to VBSP Headquarters.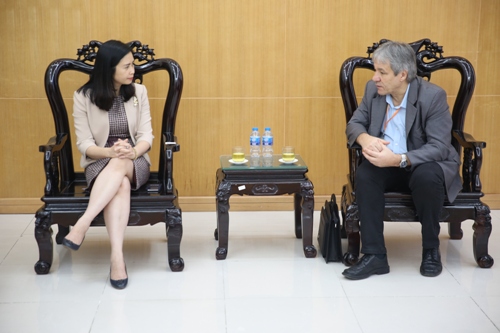 Deputy General Director of VBSP, Ph.D Tran Lan Phuong welcomed and met with Mr. Istvan Bakos, Economic Counselor, Hungary embassy
At the meeting, Ph.D Phuong introduced the overview on establishement and development of VBSP over 16 years.
Mr. Istvan Bakos, Economic Counselor, Hungary Embassy to Vietnam, highly appreciated the outstanding achievement of VBSP especially in terms of contribution for sustainable poverty reduction and social security. He impressed very much about the 16-year achievement and prestige of VBSP. He said the Hungary embassy is willing to help initiate the relationship between two sides in terms of finance and banking, rural and agriculture finance, education, ICT technology. Especially, he is very interested in financial literacy for the poor and other disadvantaged groups in Vietnam.
At the end of the meeting, two sides expect to boost further development between Vietnam and Hungary in general and VBSP with Hungary embassy and Hungarian credit institutions in future.
VBSP highlights: VBSP provide preferential credit and other services for poor households and other vulnerable groups (ethnic minority, disadvantaged students, micro-enterprises, entrepreneurs in poor areas, persons with disability, SMEs etc) for sake of sustainable poverty reduction, social security, environment protection, fight against climate change and boosting financial inclusion development.
VBSP deliver financial products and services right at customers' home. VBSP established nearly 11,000 transaction points right at commune/township/ward level and at least once per month VBSP's field staff team come to communes and transact with customers. Moreover, VBSP established nearly 200,000 credit and savings groups at village or hamlet level who include clients voluntarily joining each other and VBSP entrust these group leaders to collect loan interests and micro-savings right at group member's home. For customers living away from the bank office under 3 km, they could go to district branch, but from 3 km and over, they come to the commune transaction point. Moreover, they do not need to come to commune, the group leader will come to transact with them right at their home.
VBSP News
LENDING INTEREST RATE
Poor Households

Lending to poor households
6,6%/year
Lending to poor households in 64 poor districts as stipulated by the Government Resolution No.30a in 2008
3,3%/year

Near Poor Households

Lending to near poor households
7,92%/year

Students

Lending to disadvantaged students
6,6%/year

People in need of loans for job creation

Lending to business establishments owned by war invalids and handicapped persons
3,3%/year
Others...
DEPOSIT INTEREST RATE
Term
Deposit Rate
Overnight
3,04%/year
1 week
3,23%/year
2 week
3,5%/year
Others...