VISITORS







News & Events
Updated: 2020-10-14 16:24:15
Policy credit helps the lives of ethnic minorities change
(VBSP News) Recently, policy credit programs have been promptly and effectively deployed by VBSP in Phu Yen province, helping ethnic minorities in the province to have capital for cultivation, breeding, and improvement of life. Thereby contributing to socio-economic development, stabilizing political security in localities.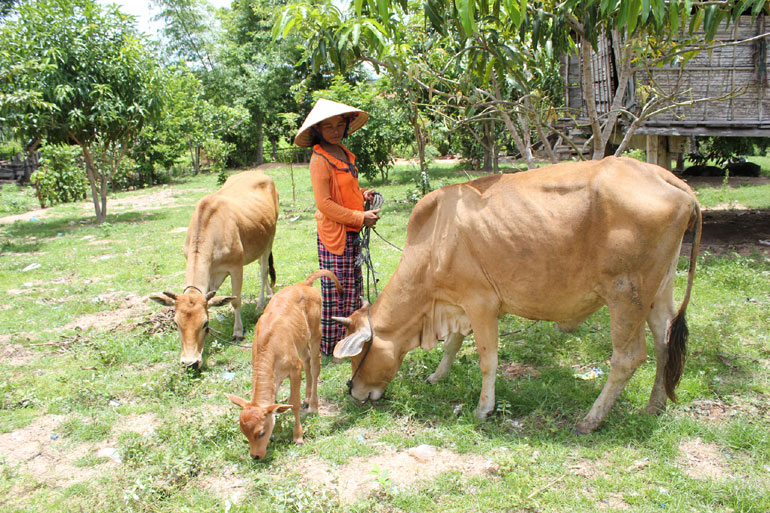 Ethnic minorities in Son Hoa district borrowed to raise cows and develop their economy
Benefited from many programs
Mr. Mang Thanh from Da Du village, Xuan Lanh commune, Dong Xuan district, studied literature at the College of Education in Phu Yen University, he then continued to progress to university level in the same field at this school. After graduating, Mr. Thanh got a working contract at Xuan Lanh 1 Primary School. As an ethnic minority person, after graduating from school, got a job of his profession near his home, Mr. Mang Thanh was very happy.
Previously, his family was difficult, so during his time at school, Thanh's mother, Mrs. Mang Thi Oay, borrowed money from the credit program for disadvantaged students of VBSP. The loan helped Mr. Thanh to partially cover the costs of studying. "I am an ethnic minority, and I have been able to study through preferential education program. However, if I hadn't got a loan from VBSP, my family economy couldn't afford my study for 5 years. During school time, in addition to the loan, I also worked part-time to pay for school expenses", Mr. Mang Thanh shared.
Coming to Trinh village, Ea Bia commune, Song Hinh district and ask for Mr. Ksor Y Veo's family who are known for their efforts to escape poverty in recent years. Previously, Mr. Y Veo's household was referred as one among poorest households in the village. He and his wife worked hard but lack capital, so they could not get better living. Having known this, the leader of the Savings and Credit group in Trinh village instructed Mr. Y Veo to make a loan application to VBSP. With capital in hand, Mr. Y Veo bought cows to raise. When the mother cow gave birth to the calf, he sold one to pay off the debt, and the rest being kept to raise. When Y Veo's household got out of poverty, his family continued to get loans from near-poor household program and then loans for households in disadvantaged areas to raise cow and plant cassava. Income from cultivation and animal husbandry helped Y Veo repair his spacious house, equipped with essential furniture, no longer as difficult as before. Y Veo shared: "My family has today, not only from our hard working, but also thanks to VBSP's timely loans".
In Hon Ong village, Son Phuoc commune, Son Hoa district, thanks to funds from the loan program for poor households to live, Ms. La O Ho Det was able to rebuild the house after many years of living in the old house. degraded, dilapidated. Her family's life is inherently very difficult. After divorcing her husband, Ho Det raised two young children alone. Not only was VBSP's loan to rebuild her house, she also got a loan for poor households in ethnic minority areas who are especially difficult to raise cows. "I will try to raise cows quickly so that not only can I have money to repay the bank loans but also save my children for schooling," said Manh Thanh.
Continue with capital support
Currently, ethnic minority households in Phu Yen province are benefited from special preferential credit programs from various program of the Government regarding residential land, productive land, safe water, rapid and sustainable poverty reduction etc. In addition, ethnic minority households also benefited from variety of other policy credit programs managed by VBSP such as loans to poor households, near-poor households, newly escaped from poverty, disadvantaged students, safe water and rural sanitation etc.
In the first 9 months of 2020, VBSP of Phu Yen province disbursed nearly VND 109.4 billion to 2,807 ethnic minority households in the province. By the end of September 2020, the total outstanding loans of the program for extremely disadvantaged ethnic minorities reached nearly VND 379.4 billion with 11,706 active borrowing households, accounting for 13% of the total outstanding loans.
Director of VBSP Phu Yen Province - Ho Van Thuc shared: "In the coming time, besides continuing to support capital for ethnic minorities, VBSP in Phu Yen province will coordinate with mass organizations and local authorities to enhance intensify propagation of the State's preferential credit policies to the people; coordinating with relevant sectors to organize training, transfer science and technology, positioning the market for product consumption to help people improve productivity, product quality, increase income, rise out of poverty sustainably. .
With simple loan procedures and operation network to each village, social policy credit not only facilitates ethnic minorities with capital for production, business, and improvement of life, but also contributes raising awareness for the people, gradually increase their position in the society.
Le Hao
LENDING INTEREST RATE
Poor Households

Lending to poor households
6,6%/year
Lending to poor households in 64 poor districts as stipulated by the Government Resolution No.30a in 2008
3,3%/year

Near Poor Households

Lending to near poor households
7,92%/year

Students

Lending to disadvantaged students
6,6%/year

People in need of loans for job creation

Lending to business establishments owned by war invalids and handicapped persons
3,3%/year
Others...
DEPOSIT INTEREST RATE
Term
Deposit Rate
Overnight
3,04%/year
1 week
3,23%/year
2 week
3,5%/year
Others...