VISITORS







News & Events
Updated: 2020-10-09 10:41:32
Policy credit: An efficient capital channel
(VBSP News) Vietnam Bank for Social Policies (VBSP) has reported tremendous growth in lending to needy people, including women and households, reflecting the benefits of policy credit.
In the past five years, the authorized capital amount entrusted to the Vietnam Farmers' Union to lend to its members rose constantly from VND42.623 trillion ($1.85 billion) by the end of 2014 to VND67.442 trillion ($2.93 billion) by August 31, up 58.23 per cent.
This accounted for 30.58 per cent of the total outstanding balance VBSP has lent to people in need through the authorized model with support from diverse political and social organizations.
The information came from a recent online conference in Hanoi, reviewing lending to needy households and other policy beneficiaries via the authorized format by VBSP in 2015-2020.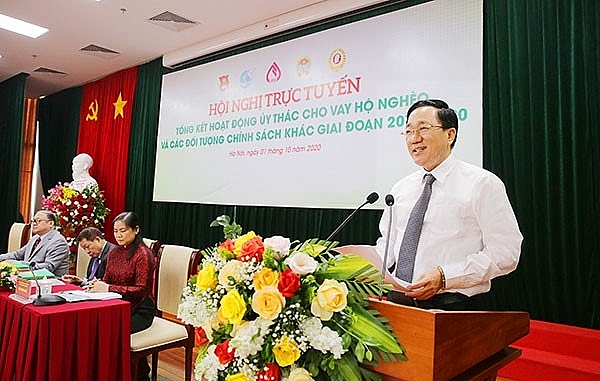 VBSP General Director Duong Quyet Thang making remarks at the recent online conference reviewing policy credit activities
These policy credit activities have helped the Vietnam Women's Union and its members tackle difficulties and challenges they face in operation processes such as creating employment and helping members to push up business and production or mitigate climate change and pandemic implications.
In the past five years, the Union has contributed to improving the capacity and sense of responsibility of the staff directly working on capital lending at all levels, including supporting borrowers in properly using the loans to ensure repayment.
Along with this, with support from the Union, more than 40,000 training courses were organized, focusing on capital disbursement skills and processes, capital source management, as well as new procedures and regulations on authorized capital activities, among others.
In fact, the Vietnam Women's Union has been the top performer with the highest outstanding balance among the country's political and social organizations with authorized capital sources from VBSP.
As of August 31, the Union's capital volume surpassed VND85.36 trillion ($3.7 billion), an increase of VND33.8 trillion ($1.47 billion) compared to 2014. Overdue debts dropped to 0.21 per cent, down 0.13 per cent compared to the end of 2014, showing that the members have basically fulfilled their loan obligations.
Credit quality has been constantly improving, with the ratio of overdue debts to the total outstanding balance entrusted to relevant political and social organizations falling from 0.38 per cent in 2014 and 0.25 per cent by the end of August.
The capital provided to the Union has been vital in bringing policy capital to women in need and the bank has done an outstanding job in controlling these capital sources to ensure the money is used in the right way, helping needy households escape poverty.
In light of Directive No.40-CT/TW of the Secretariat dated November 2014 on strengthening the Party's leadership in policy credit distributed by VBSP and related political and social organizations continue to effectively handle their lending activities to people in need, helping to realize the national targets for sustainable poverty reduction, building new countryside model, and ensuring social well-being, drawing widespread appreciation from the people and the community.
By the end of August 2020, the total outstanding balance under the authorized model at VBSP reached VND220.545 trillion ($9.6 billion), making up 99.56 per cent of the bank's total balance, an increase of VND90.491 trillion ($3.93 billion) compared to 2014, growing an average 11.8 per cent per year, with a network of 173,712 capital lending and savings groups, and nearly 6.5 million members still incurring loans.
Credit quality has been constantly improving, with the ratio of overdue debts to the total outstanding balance entrusted to relevant political and social organizations falling from 0.38 per cent in 2014 and 0.25 per cent by the end of August.
Concessionary credit has been lent quickly and conveniently to the right people with the total lending volume under the authorized format hitting VND334.061 trillion ($14.5 billion) in the past five years, accounting for 98.8 per cent of VBSP's total balance, with more than 12 million recipients.
Important capital channel
Nguyen Lam, Deputy Head of the Central Commission for Mass Mobilization, said that through the authorized capital format, political and social organizations have been winning growing trust from the people. This lending method has become not only an efficient capital channel but is also proving an innovative model in public relations activities.
More importantly, policy credit has been contributing to enhancing people's spiritual and material lives, consolidating solidarity in the nation, and fostering people's trust in the renovation cause of the Party and the state.
In the time ahead, Duong Quyet Thang, VBSP's General Director and member of the Board of Directors said, "In the coming time, lending through the authorized model will remain an important capital channel to reach the policy credit target and will be developed in a sustainable manner, providing the best support for needy households and other policy beneficiaries."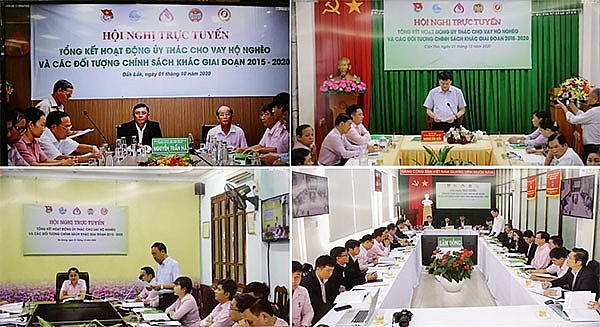 The participants joining the online conference
The target is for all needy households and other policy beneficiaries to be able to access VBSP's credit programs and services.
"In the past years, the political and social organizations partnering with VBSP have been very dedicated to their job, bringing success to the policy credit program and garnering appreciation from the Party, the state, and international organizations. We are committed to furthering this success story," added Thang.
vietstock.vn
LENDING INTEREST RATE
Poor Households

Lending to poor households
6,6%/year
Lending to poor households in 64 poor districts as stipulated by the Government Resolution No.30a in 2008
3,3%/year

Near Poor Households

Lending to near poor households
7,92%/year

Students

Lending to disadvantaged students
6,6%/year

People in need of loans for job creation

Lending to business establishments owned by war invalids and handicapped persons
3,3%/year
Others...
DEPOSIT INTEREST RATE
Term
Deposit Rate
Overnight
3,04%/year
1 week
3,23%/year
2 week
3,5%/year
Others...