VISITORS







News & Events
Updated: 2020-09-09 16:10:59
Ensuring preferential funding for disadvantaged students
(VBSP News) To be ready for the new school year, VBSP Quang Ngai province has prepared funding to disburse in a timely manner, meeting the need for loans, helping disadvantaged students to have money to pay tuition and other studying cost.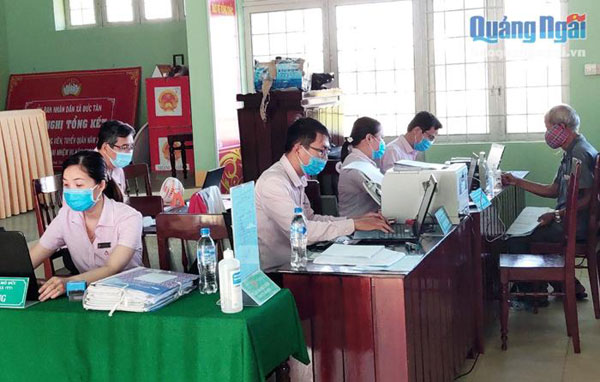 VBSP Mo Duc district maintained a fixed transaction schedule in the communes to meet demand for loans of students as the new school year began.
Create opportunities for disadvantaged students to go to school
Vo Thi Hoa's family in Phu Vang village, Duc Hiep commune, Mo Duc district was a near-poor household. Their life was very difficult. In order to support the children to study, she and her husband have to do many jobs, but still could not afford when 3 children passed the entrance exams to universities. Hoa's family was facilitated by the Women's Union of Duc Hiep commune to access the credit program for disadvantaged students of VBSP in Mo Duc district.
Ms. Hoa shared: "When my children first passed the university entrance exam, I was very happy, but also very worried, because the cost of living and studying at the university was high. Thanks to a loan from the credit program for disadvantaged students, each month I have more money for my children to pay tuition, rent a house, buy books. Without it, my husband and I could hardly send all three children to school".
Trinh Thi Cuc's family, who lives in the same village of Phu Vang, also have difficulties, but all four of her children tried hard to study and passed university entrance exams. When she learned about VBSP's student loans, Cuc boldly made a loan application. "The loan amount from VBSP has helped my child, like many other poor students to go to school, opening up hope for a better future", Mrs. Cuc said.
After 13 years of implementation, VBSP's loan program for disadvantaged students has become an effective bridge, helping dozen thousands of students in Quang Ngai province continue to nurture their dream of going to school. By the end of July 2020, the total outstanding loans to disadvantaged students in the whole province reached more than VND 94 billion with 3,666 active customers.
Ready for the new school year
Students is about to start the new school year; Many of them are children of difficult families who need capital to go to school. Therefore, VBSP Quang Ngai province has assigned local branches to prepare capital resources to meet the needs of students.
Director of VBSP of Mo Duc district Nguyen Minh No said: In the academic year of 2020-2021, Mo Duc district had about 300-350 students passing the entrance exam to universities, colleges and professional secondary schools nationwide. Therefore, the bank had prepared about VND 1.5 billion to meet the capital needs of disadvantaged students. In addition, the bank also added revolving funds, to continue disbursing to students who are studying at schools that had loan records in the past.
Lending to disadvantaged students is channeled through their households. A representative of a household is a direct borrower and is responsible for paying debts to VBSP. In case a student has neither father nor mother, or only one parent, but being incapable of working, he / she can directly borrow money at VBSP where the school is headquartered. The preferential lending rate for students is 0.55% / month.
With the goal of not letting students drop out of school because of financial difficulties, for many years, the provincial VBSP has cooperated with local authorities, mass organizations, savings and credit groups to actively give communication on the loan program. Thereby, creating conditions for bringing policies to communes, wards, towns and households ensuring the capital is effectively used for the right purpose, the right object but also minimizes the overdue debt.
Hong Hoa
LENDING INTEREST RATE
Poor Households

Lending to poor households
6,6%/year
Lending to poor households in 64 poor districts as stipulated by the Government Resolution No.30a in 2008
3,3%/year

Near Poor Households

Lending to near poor households
7,92%/year

Students

Lending to disadvantaged students
6,6%/year

People in need of loans for job creation

Lending to business establishments owned by war invalids and handicapped persons
3,3%/year
Others...
DEPOSIT INTEREST RATE
Term
Deposit Rate
Overnight
3,04%/year
1 week
3,23%/year
2 week
3,5%/year
Others...