VISITORS







News & Events
Updated: 2020-09-03 11:29:40
"Midwife" for young people to get rich
(VBSP News) From VBSP's preferential loans through the Youth Union's channel, many young people in Luong Tai district (Bac Ninh province) got rich on their own homeland.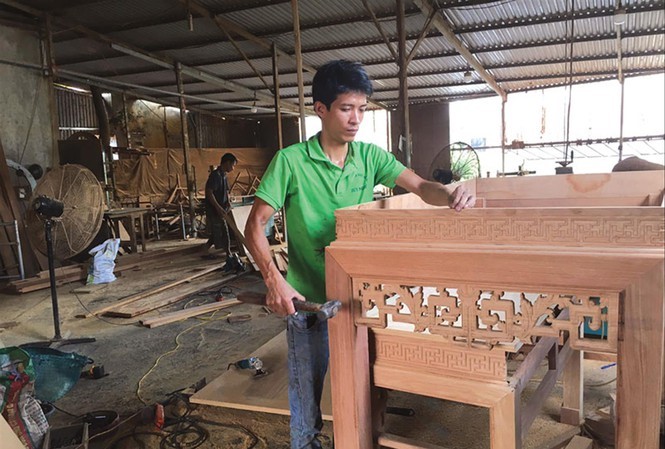 The preferential loans through the channel of Luong Tai District Youth Union have helped many young people in the district got rich
The Secretary of Luong Tai District Youth Union, Pham Minh Khoi said "Luong Tai is a disadvantaged district of Bac Ninh province, its economy is mainly based on agricultural production. The youth has many difficulties, especially in terms of capital. Many young people in the district are thirsty for capital to start up. Grasping that aspiration, the district Youth Union actively connects young people to preferential loans".
Luong Tai District Youth Union has established Savings and Credit groups to help young people start a career with funding from VBSP. The district also coordinated with the district VBSP in reviewing and evaluating youth economic development projects that need start-up loans. Borrowing projects were supported with fast procedures processing and be supervised to use loans for the right purposes.
From policy credit, many young people in the district got rich in their own homeland. Mr. Nguyen Van Tung in An My village, My Huong commune went abroad to work in 2011. In 2014, as returning home and seeing the growing development of houses and public works, he decided to open an aluminum glass doors production unit in the family's land.
"In 2019, with the guidance of Luong Tai District Youth Union helping complete the loan application procedures, I borrowed VND 350 million from VBSP. With capital, I invested in more modern machines to shorten production time and improve the quality of products ", said Mr. Tung. Thanks to the initial loan through the Youth Union channel, up to now, Mr. Tung's aluminum and glass production unit has become one of the famous establishments inside and outside the district. Each year, he earned an average profit of VND 300-400 million dong, creating regular jobs for 6 workers with an income of nearly VND 10 million per month.
"The entrusted loans from VBSP has been used for the right purposes. We hope that the authorities and VBSP would remove problems in terms of legal procedures, helping young people easily access loans to get rich ", District Secretary, Luong Tai Youth Union, Pham Minh Khoi shared.
Nguyen Thang (Tien Phong newspaper)
LENDING INTEREST RATE
Poor Households

Lending to poor households
6,6%/year
Lending to poor households in 64 poor districts as stipulated by the Government Resolution No.30a in 2008
3,3%/year

Near Poor Households

Lending to near poor households
7,92%/year

Students

Lending to disadvantaged students
6,6%/year

People in need of loans for job creation

Lending to business establishments owned by war invalids and handicapped persons
3,3%/year
Others...
DEPOSIT INTEREST RATE
Term
Deposit Rate
Overnight
3,04%/year
1 week
3,23%/year
2 week
3,5%/year
Others...