VISITORS







News & Events
Updated: 2021-07-07 10:40:20
Policy credit grew 6.3% over the first half of 2021
(VBSP News) On July 5, 2021, VBSP organised a virtual meeting with 63 branches of provinces and cities nationwide to evaluate the results of the first 6 months and also identify the directions and tasks for the rest months of 2021. Secretary of the Party Committee of VBSP, member of the Board of Directors, General Director Mr. Duong Quyet Thang chaired the meeting.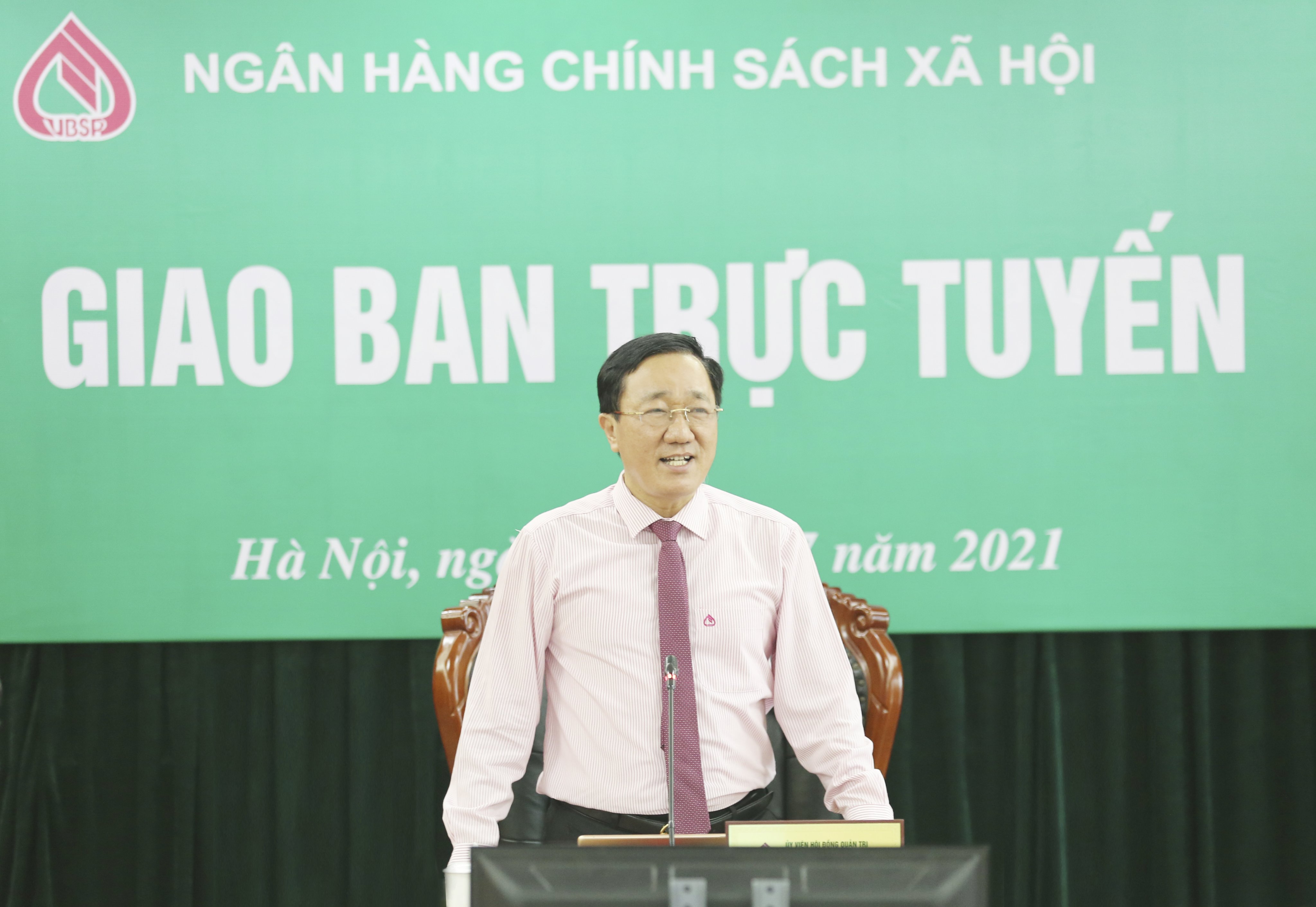 General Director Mr. Duong Quyet Thang addressed the virtual meeting
Speaking at the meeting, VBSP's director Duong Quyet Thang said that the complicated progress of the Covid-19 pandemic has exerted negative impacts on the economy. In this context, VBSP has closely followed guidance from the government, the banking industry, as well as its Board of Directors, to fulfil the 2021 missions.
As of June 30, the total policy credit balance reached VND247.34 trillion ($10.75 billion), an increase of VND13.91 trillion ($604.8 million) compared to 2020. In which, entrusted funds received from the local budget reached VND23.47 trillion ($1.02 billion), accounting for 9.3 per cent of the total capital, an increase of VND3.15 trillion ($136.96 million) and fulfilling 105 per cent of the 2021 plan.
In the first six months of the year, total lending turnover reached VND48.22 trillion ($2.1 billion) with nearly 1.3 million loan packages to poor households, near-poor households, households just getting out of poverty, and other policy beneficiaries.
By the end of June, total outstanding loans reached VND240.52 trillion ($10.46 billion), an increase of 6.3 per cent compared to the end of 2020, with more than 6.4 million poor, near-poor households and other policy beneficiaries having outstanding loans. In particular, outstanding loans of credit schemes under the growth plan assigned by the prime minister reached VND206.39 trillion ($8.97 billion), up 6 per cent compared to the end of 2020, completing 77 per cent of the target.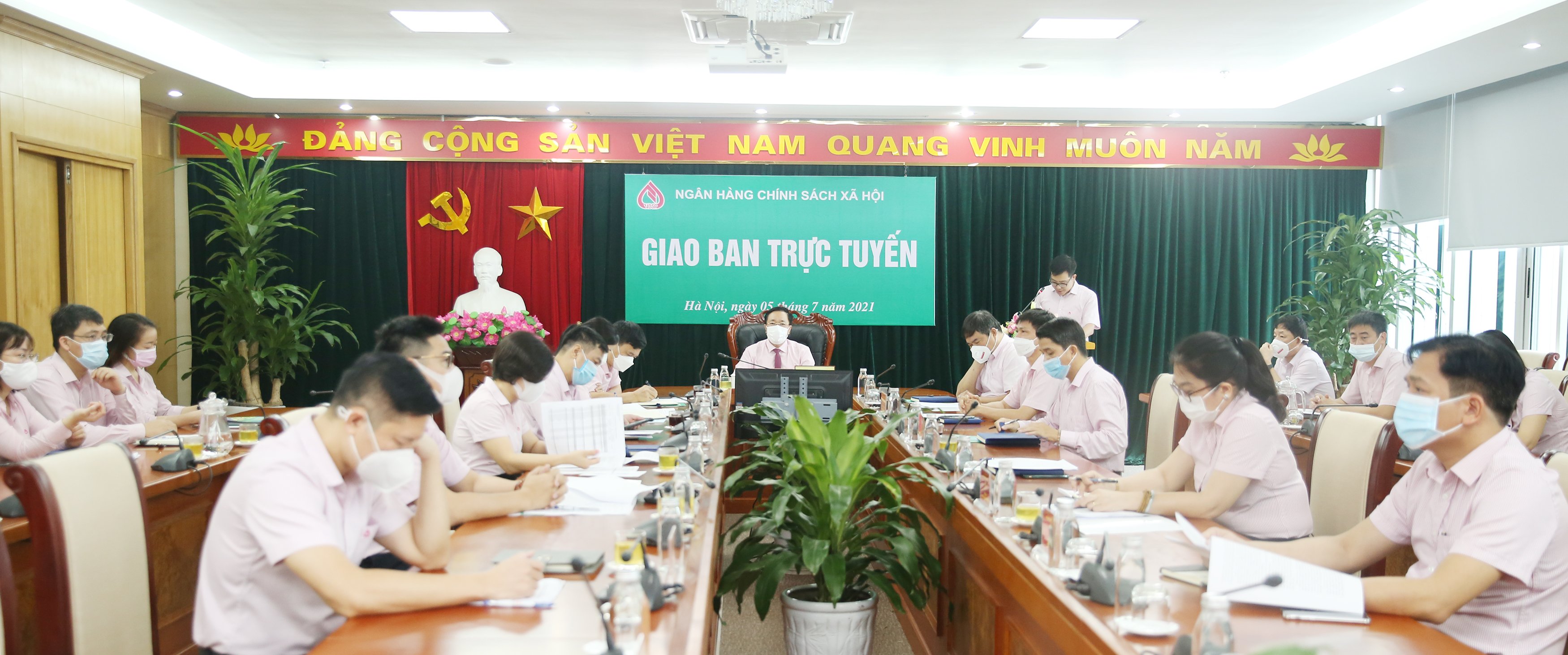 Representatives join the virtual meeting
The policy credit continues to actively support policy beneficiaries to develop production and business, improve their living standards, and overcome the impact of the COVID-19 pandemic, contributing to poverty reduction, new rural development, and ensuring social security. Moreover, policy credit has timely provided capital for production and business, creating jobs for nearly 249,000 employees, including 1,600 overseas workers. It also provided loans to over 16,000 disadvantaged students, was used to develop 879,000 rural safe water and sanitation facilities, as well as build 3,600 houses for policy beneficiaries.
In order to complete the assigned tasks in the last six months of the year, the general director requested the branches to actively advise the government, ministries, branches, committees, and local authorities to implement Directive No.40-CT/TW and Conclusion No.06-KL/TW dated June 10, 2021 of the Secretariat on strengthening the Party's leadership in policy credit. In addition, they should channelise local resources to facilitate multidimensional poverty reduction, ensure social security, and build new countryside. All of these efforts are expected to contribute to the successful implementation of the 13th National Party Congress resolution. VBSP will continue to promote lending to policy credit schemes according to assigned targets, accelerate progress and procedures to promptly support the poor and other beneficiaries of policies, as well as strive to complete early targets assigned by the prime minister.
The bank will also coordinate with relevant ministries and branches to advise the implementation of the PM's decisions. It also aims to implement the loan programmes to pay wages for work stoppage as well as to restore production according to the government's resolution and the PM's decision to help individuals and businesses affected by the COVID-19 pandemic.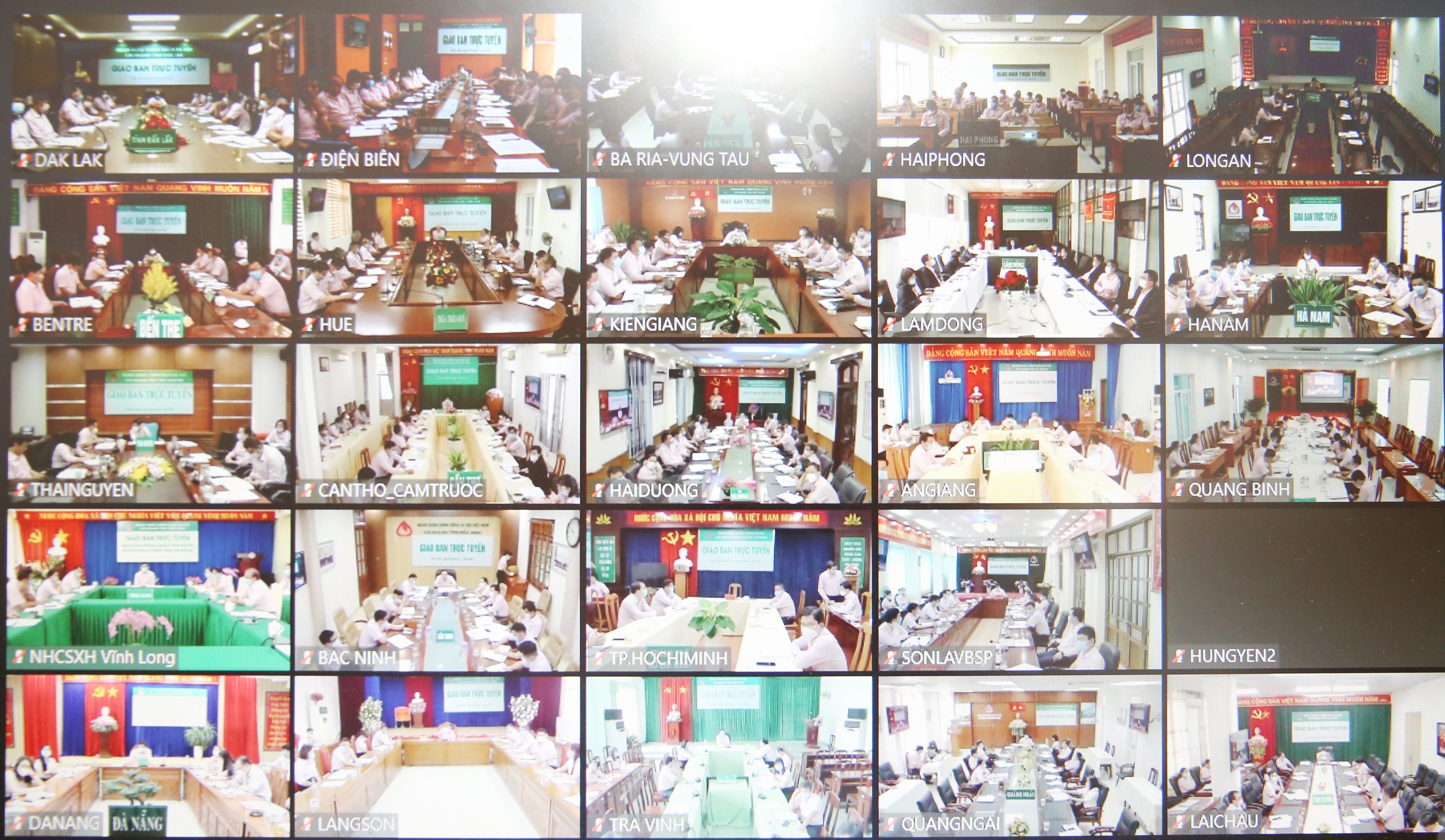 VBSP not only focuses on consolidating and improving credit quality but also works closely with authorities and socio-political organisations to monitor natural disasters occurring in localities and the damage caused by the COVID-19 pandemic to promptly support poor households and other policy beneficiaries to stabilise their lives, production, and business.
Furthermore, at the virtual meeting, the VBSP's Emulation and Reward Council announced the award decisions of the General Director for collectives and individuals with outstanding achievements in performing professional tasks in the first six months of 2021 and the implementation of the prevention and control of the Covid-19 epidemic.
Vbsp.org.vn
LENDING INTEREST RATE
Poor Households

Lending to poor households
6,6%/year
Lending to poor households in 64 poor districts as stipulated by the Government Resolution No.30a in 2008
3,3%/year

Near Poor Households

Lending to near poor households
7,92%/year

Students

Lending to disadvantaged students
6,6%/year

People in need of loans for job creation

Lending to business establishments owned by war invalids and handicapped persons
3,3%/year
Others...
DEPOSIT INTEREST RATE
Term
Deposit Rate
Overnight
3,04%/year
1 week
3,23%/year
2 week
3,5%/year
Others...