VISITORS







News & Events
Updated: 2023-11-16 08:16:51
Part II "Life changed" thanks to policy credit
In recent years, thanks to policy loans, many ethnic minority households in Bac Kan have had the opportunity to escape poverty, making an important contribution to implement the goal of sustainable poverty reduction, economic development and social security.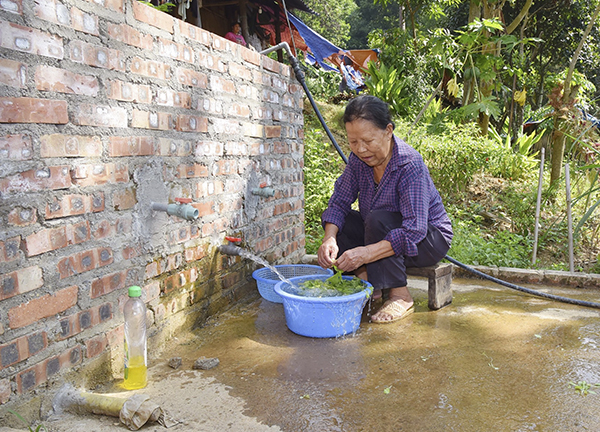 People in Nhat Ven Village, Phuc Loi Commune, Ba Be District took policy loans for safe water pipes and improve quality of life
As scheduled, we were in Ba Be district early in the morning to visit some loan models with credit officers. On the way, VBSP's credit staff told us about the way that the Mong people in Nhat Ven village (one of the most disadvantaged villages in Phuc Loc commune, Ba Be district with 100% poor households) get out of poverty and gradually become rich legitimately thanks to policy loans.
After two hours of moving by various vehicles: car, motorbike and even walking; finally we arrived at Nhat Ven Village. According to the bank staff, the economic life of the Mong people has changed dramatically. Many old degraded houses have been replaced by solid spacious houses.
Stopping next to the house that had just been built, still fragrant with the smell of new tiles, the Party Secretary of Nhat Ven village introduced that was the house of young couple Hau Van Tin and Hoang Thi Duyen of the Mong ethnic group. The couple decisively borrowed money from VBSP to develop the local livestock economy and the husband went to Japan for work under contract.
In her new house, Ms. Duyen told us: "I am so happy because this morning my husband, who is working in Japan, transferred VND 18 million to me to pay principal and interest and to cover our living expenses. He transferred money to me every beginning of the month. If VBSP and local staff did not communicated and facilitated our access to policy credit, my family would probably still be living in a dilapidated house and be surrounded by poverty."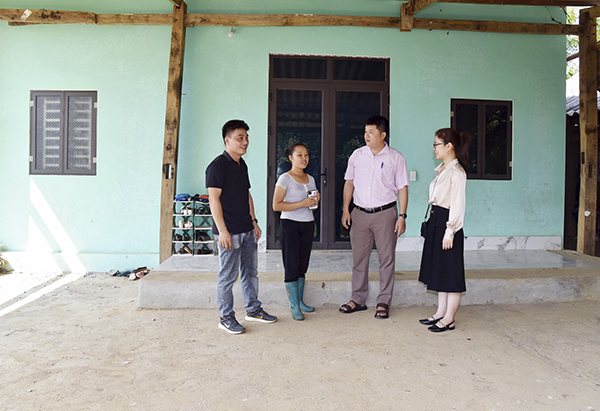 Ms. Hoang Thi Duyen (the second person from left to right) happily welcomed the delegation of VBSP Ba Be district at her family's newly built house.
According to the report, by the end of September 2023, the entire Ba Be district had 340 households borrowing money to work abroad with a loan balance of VND 20.6 billion, the number of active borrowing households in the Mong ethnic group was about 40 households, accounting for 11% of households borrowing capital in this category.
Ly Thi Sai, Party Secretary of Nhat Ven village, said: "Besides Mr. Hau Van Tin's family, there are also La Van Thanh and Duong Van Tran's families, both of the Mong ethnic group, currently working in Taiwan under labor contracts with the income of VND 30 - 35 million per month. From a few initial households, now there are many people starting to learn about going to work abroad under contracts. Nhat Ven Village has set a goal to reduce up to 4 poor households by the end of 2024".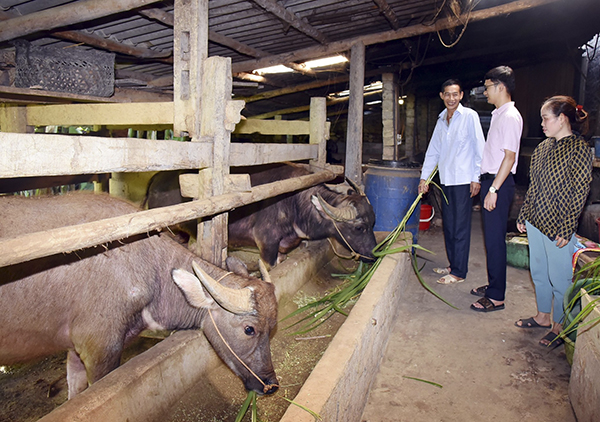 Mr. Dang Van Lay's family in Ban Dinh village, Nghien Loan commune, Pac Nam district borrowed capital from the cow raising policy, and now has escaped from poverty
To get more information, we continued to visit Dao ethnic people in Ban Dinh village, Nghien Loan commune, Pac Nam district. We came to Mr. Dang Van Lay's family, one of the typical production households. Through the share of the leader of the Savings and Credit Group, we knew that Mr. Lay's family returned to Ban Dinh at the end of 1980 with empty hands. Thanks to a diligent and hard-working nature, he and his wife cleared wasteland to build a house, created fields to cultivate to ensure daily food... However, his family's life only changed since they received a policy loan to develop economy.
Mr. Lay said: "Even though hunger was eliminated, we still could not escape poverty because of lack of investment capital. Being informed about preferential credit, I went to the Savings and Credit Group to complete the procedures to get a loan. With the advantage of having a large buffalo and cow market, plus existing experiences in raising cattle, when we had capital, we implemented a fattening livestock model. In the first year, we gained profit of VND 80 - 100 million".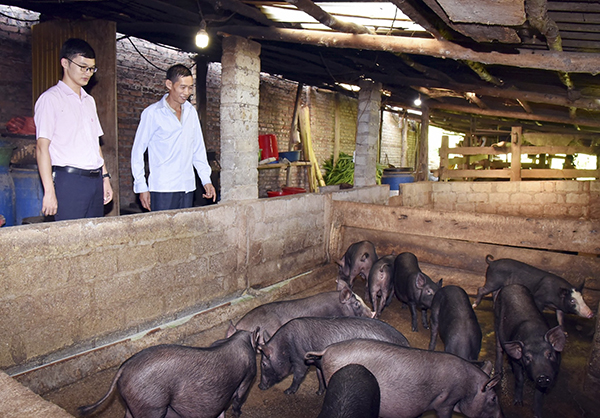 Mr. Dang Van Lay's family in Ban Dinh village, Nghien Loan commune, Pac Nam district borrowed money to raise local black pigs
Mr. Lay further shared: "Thanks to the profit from fattening buffaloes and cows, my family expanded the economic model by raising native black pigs and making corn wine; at the same time, we also planted production forests with more than 10 hectares of fatwood trees. Up to now, after 10 years of using loans, my family has finished repayingprincipal and interest to the bank and built a 2-floor house; life is more and more stable".
Policy credit has contributed significant improvement to the lives of ethnic minorities in Bac Kan after more than 21 years which raisedthe desire to develop the economy, increase income, and gradually enrich the people.
VBSP
LENDING INTEREST RATE
Poor Households

Lending to poor households
6,6%/year
Lending to poor households in 64 poor districts as stipulated by the Government Resolution No.30a in 2008
3,3%/year

Near Poor Households

Lending to near poor households
7,92%/year

Students

Lending to disadvantaged students
6,6%/year

People in need of loans for job creation

Lending to business establishments owned by war invalids and handicapped persons
3,3%/year
Others...
DEPOSIT INTEREST RATE
Term
Deposit Rate
Overnight
3,04%/year
1 week
3,23%/year
2 week
3,5%/year
Others...