VISITORS







News & Events
Updated: 2023-11-13 16:19:29
Effectiveness of policy credit in Bac Kan (Part I – Accompanying with the poor and other policy beneficiaries).
The implementation of preferential credit policies for the poor and other policy beneficiaries is always recognized as one of the effective solutions in raising income for citizens and contributes to promote socio-economic development in Bac Kan province.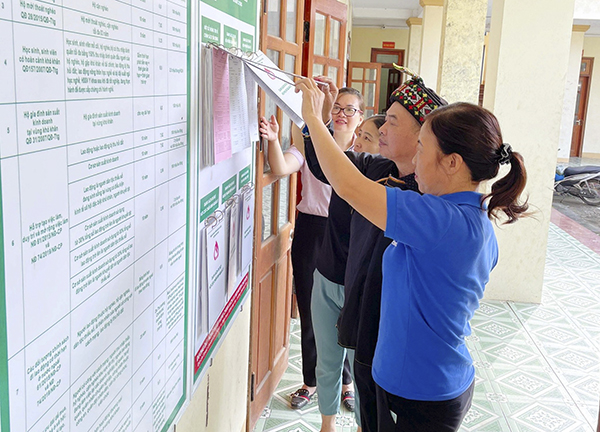 People learn about the loan sources at Commune Transaction Point
The right directions
According to Decree No.78/2002/NĐ-CP dated October 4th, 2002 of the Government, VBSP is the tool to implement preferential credit policies for the poor and other policy beneficiaries, contributing to the goal of reducing the poverty rapidly and sustainably, creating jobs, ensuring social security, building new rural areas and promoting local socio-economic development. Therefore, during the past 21 years, Bac Kan Branch has proactively and actively coordinated with entrusted mass organizations to well propagate policy credits. Preferential credit programs were deployed to beneficiaries, especially 02 key programs, the program of socio-economic recovery and development according to Resolution No.11/NQ-CP and the program of socio-economic development in ethnic minority and mountainous areas in the period from 2021 to 2030 with the first period from 2021 to 2025 according to Resolution 88/2019/QH14 and Decree No.28/2022/NĐ-CP.
In addition, VBSP effectively coordinated and integrated policy credit activities with technical assistance, transferring technology, promoting agricultures, forestry and fishery extension to improve the efficiency of using capital. Strengthening supervision to promptly prevent mistakes and limitations in the management and using of social policy credit capital.
During the implementation process, Bac Kan province has focused credit resources on lending to more than 345 thousand of poor households and other policy beneficiaries, with the revenue reaching VND 9,067 billion. Total outstanding loans entrusted to four mass organizations have reached over VND 3,000 billion, increasing 45 times compared to the beginning days of VBSP. The number of active borrowing households is 44,161, an average of VND 67.4 million per household. In 9 months of 2023, loan revenues reached VND 679 billion, with 12,186 households receiving loans.
Effective and creative way of working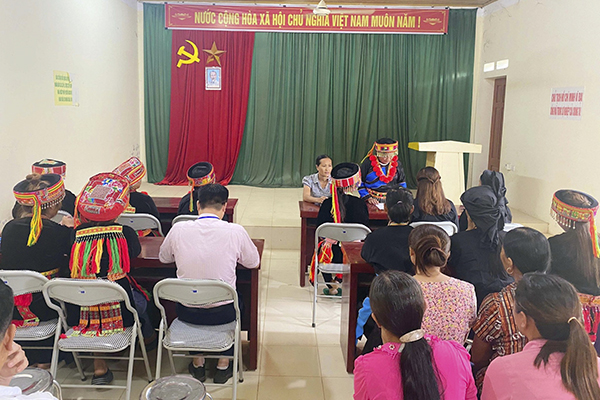 Group No.12 (Saving and Credit Group) in Dong Tam Town, Cho Moi District do periodic activities
Ha Sy Con, Director of Bac Kan branch said that from the achieved results and practical experiences, the branch has implemented many suitable solutions to ensure poor households, near-poor households, post-poor households and other policy beneficiaries to have conditions to access to VBSP's products and services. Besides, the branch focused on improving the quality of products and services to well adapt the need of beneficiaries. Specifically, according to the direction of VBSP's General Director, annually the provincial branch proactively advised the People's Committeeto review loan needs of people and build plans for next year and next 3-year period, then submit to the Provincial People's Committee for certification, and submit to the General Director of VBSP.
Contribute to promote economic development and sustainable poverty reduction
Ha Sy Con, Director of Bac Kan branch added: Capital was invested in 100% of communes, wards and towns, creating conditions for the poor and policy beneficiaries to access conveniently and timely.
As of September 30, 2023, there have been nearly 150,000 poor households received loans; helping over 52,000 households escaping poverty; nearly 26,000 jobs created, 5,000 workers go working abroad, building nearly 100,000 works of rural safe water and sanitation and building or reparing over 3,000 houses for poor households, etc …
Most notably, the branch lent over VND 2,300 billion, helping more than 43,700 customers borrowing capital to invest in developing production, business, and stabilize their life after the COVID-19 pandemic. Policy capital has resulted in province's poverty rate decreasing from 27.37% in 2020 to 24.71% in 2022 (an average reduction of 2.07% per year), promoted socio-economic development in ethnic minority and mountainous areas, ensuring social security, and limiting "black credit" in the area.
VBSP
LENDING INTEREST RATE
Poor Households

Lending to poor households
6,6%/year
Lending to poor households in 64 poor districts as stipulated by the Government Resolution No.30a in 2008
3,3%/year

Near Poor Households

Lending to near poor households
7,92%/year

Students

Lending to disadvantaged students
6,6%/year

People in need of loans for job creation

Lending to business establishments owned by war invalids and handicapped persons
3,3%/year
Others...
DEPOSIT INTEREST RATE
Term
Deposit Rate
Overnight
3,04%/year
1 week
3,23%/year
2 week
3,5%/year
Others...