VISITORS







Board of Directors
Updated: 2023-07-11 16:58:10
VBSP Board of Directors held the regular meeting of quarter II, 2023
(VBSP News) On July, 7­th 2023 in Hanoi, VBSP Board of Director (BOD) held the regular meeting of Quarter II, 2023. Ms Nguyen Thi Hong - Member of the Party Central Committee, Governor of the State Bank of Vietnam (SBV) and Chairwomen of VBSP's BOD attended and chaired the meeting.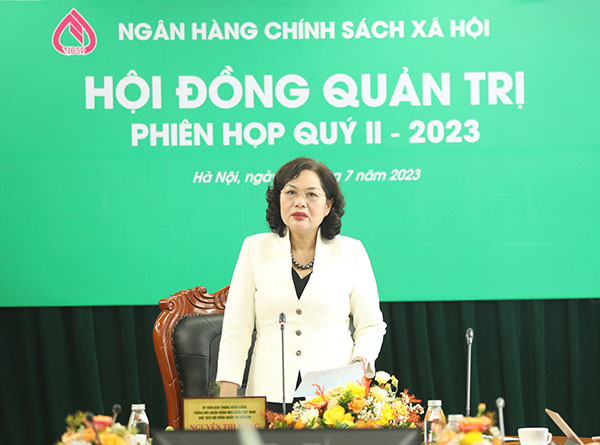 SBV Governor and Chairwoman of VBSP Nguyen Thi Hong, chaired the meeting
Attending the meeting were Minister, Chairman of the Committee for Ethnic Minorities Hau A Lanh; Chairman of the Vietnam Farmers' Association Luong Quoc Doan; President of the Vietnam Women's Union Ha Thi Nga, and members of the VBSP's BOD; members of the Board of Advisory for BOD; Deputy General Directors; Chairman of VBSP's Work Union; Chief accountant; Director of functioning Departments at Head Office, Training Center, IT Center and Transaction Centre.
Speaking at the meeting, Ms Nguyen Thi Hong, SBV Governor and Chairwoman of the VBSP's BOD emphasized: In the first 6 months of 2023, VBSP actively followed the Government's Resolution No.01/NQ-CP dated January 6, 2023 on the main tasks and solutions to implement the socio-economic development plan, state budget estimates and improve the business environment and national competitiveness in 2023; Directive No. 01/CT-NHNN dated January 17, 2023 of the Governor of the State Bank on organizing the implementation of key tasks of the banking sector in 2023; Resolution of the BOD to focus on comprehensively directing all aspects of operations, timely disbursing funds to meet the capital needs for production and business of poor households, near-poor households and other policy beneficiaries.
As of June 30 th, 2023, the total assets reaches VND 318,218 billion, increased by VND 21,261 billion (+7,2 billion) compared to 2022, of which the local authorized funds reaches 34,527 VND billion, increased by VND 3.925 billion, accounting for 10.8%. Total outstanding loans of policy credit programs reach VND 304.431 billion, increased by VND 21.082 billion (+7.4%) compared to 2022 , serving more than 6,6 million active customers. In which, outstanding loans of the Prime Minister's programs reached VND 259,589 billion, an increase of VND 16,903 billion (equivalent to +7%) compared to the end of 2022. In particular, VBSP has focused on implementing Resolution 11 /NQ-CP on socio-economic recovery and development program and deploying Resolution No. 43/2022/QH15. As of June 30th 2023, the system has disbursed over VND 19 trillion, an increase of more than VND 3 trillion compared to 2022, with 351,000 borrowers.
From the beginning of 2022 until now, VBSP has disbursed policy credit programs supported with 2% interest rate with a capital of VND 139 trillion with more than 3.3 million customers. The total amount of interest rate support for customers is VND 1,940 billion.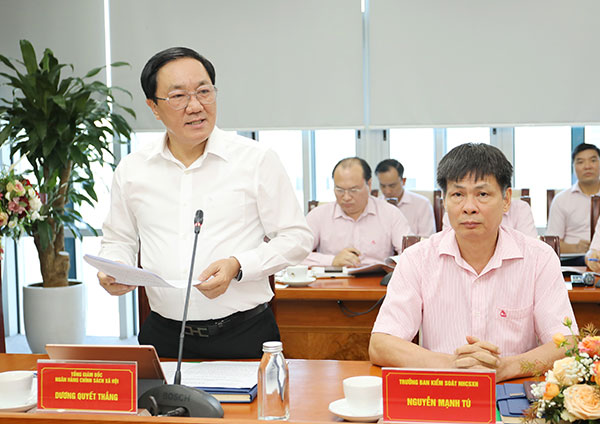 The BOD member and VBSP General Director Duong Quyet Thang presented the report of quarter II, 2023
In the first 6 months of 2023, social policy credit has supported production and business investment capital, created jobs for more than 310 thousand employees, helped more than 4,000 workers have migrant jobs; helping more than 25,000 disadvantaged students in schooling; supporting more than 3,000 households to buy computers and online learning equipment for students; built more than 871 thousand clean water and sanitation works in rural areas; building 571 houses for poor households to stabilize their lives; more than 7,000 social houses for policy beneficiaries…
Besides the growth of outstanding loans, debt quality continued to be maintained stably. Ratio of overdue and frozen debt accounted for 0.62%/total outstanding loans; in which overdue debt accounted for 0.17%.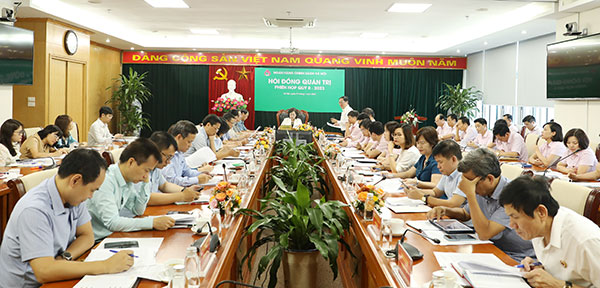 The meeting scene
Speaking at the meeting conclusion, the BOD Chairwoman highly appreciated the VBSP operational achievement in the first 6 months of the year. In the context of the economy still facing many difficulties and challenges both at domestic and foreign, the VBSP system has made efforts to overcome to ensuring good credit quality along with timely implementing lending program for socio-economic recovery and development, National target programs under the Government directions.
To complete the assigned tasks, the BOD Chairwoman requested the whole system to continue to advise the Government, ministries, departments, branches, committees and local authorities at all levels to well implement Directive No. 40-CT/TW, Conclusion No. 06-KL/TW of the Secretariat and Decision No. 1630/QD-TTg of the Prime Minister, focusing on mobilizing of resources for social policy credit, developing and completing a thematic monitoring report on the mobilization, management and use of policy credit capital according to Directive No. 40-CT/TW and Conclusion No. 06-KL/ Central Committee of the Secretariat of the Party Central Committee.
Actively and proactively mobilizing capital sources, receiving entrusted capital from the local budget, issuing government-guaranteed bonds, and mobilizing deposits from organizations and individuals to meet capital needs of beneficiaries, completing growth plan targets assigned by the Prime Minister and ensure solvency, developing credit and financial plans for the whole system in 2024 at the same time.
In addition, VBSP coordinates with relevant ministries and branches and directs the whole system to effectively implement Resolution No. 11/NQ-CP. The VBSP BOD also agreed with the proposals and recommendations of the Executive Board on requesting relevant ministries and branches to advise and propose competent authorities to arrange capital sources to implement credit policies according to Decree No. 28 /2022/ND-CP on preferential credit policies for implementation of the national target program for socio-economic development in ethnic minority and mountainous areas in 2024 - 2025. Continue to strengthen work communication about social policy credits and activities of VBSP; focusing on digital transformation, implementing key projects to provide comprehensive banking and financial products and services to VBSP's customers.
vbsp.org.vn
LENDING INTEREST RATE
Poor Households

Lending to poor households
6,6%/year
Lending to poor households in 64 poor districts as stipulated by the Government Resolution No.30a in 2008
3,3%/year

Near Poor Households

Lending to near poor households
7,92%/year

Students

Lending to disadvantaged students
6,6%/year

People in need of loans for job creation

Lending to business establishments owned by war invalids and handicapped persons
3,3%/year
Others...
DEPOSIT INTEREST RATE
Term
Deposit Rate
Overnight
3,04%/year
1 week
3,23%/year
2 week
3,5%/year
Others...