VISITORS







News & Events
Updated: 2023-08-04 14:50:52
VBSP works with Nepal's Ministry of Agriculture and Livestock Development
(VBSP News) On July 26, in Hanoi, the Vietnam Bank for Social Policies (VBSP) had a meeting and worked with the delegation of the Ministry of Agriculture and Livestock Development of Nepal (MoALD) led by Mr. Durga Prasad Pandit – Under Secretary of the Ministry. The delegation was received by VBSP Deputy General Director Huynh Van Thuan.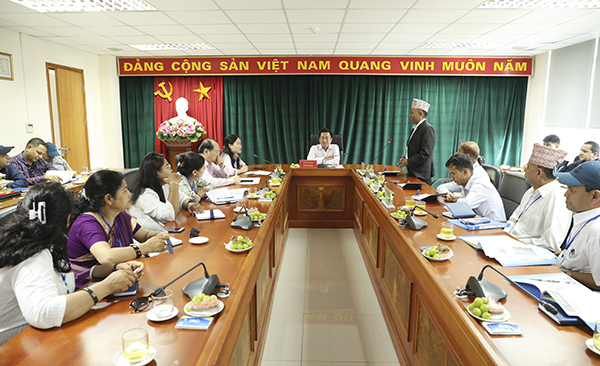 The meeting with MoALD
Welcoming the MoALD delegation to visit and work with VBSP, Deputy General Director Huynh Van Thuan summarized the main features of VBSP activities after 20 years of establishment and development. VBSP's role in poverty reduction and social security assurance in Vietnam; helping the poor have capital for production and business, stabilize their lives, and escape poverty sustainably.
As a special credit institution of the Government, operating not for profit, VBSP is the largest provider of microfinance for poor households and policy beneficiaries in Vietnam, so far VBSP has established a model of organization and management suitable to the characteristics of Vietnam.
As of June 30, 2023, total outstanding loans of VBSP reached more than 304 trillion VND, with 6.6 million active customers who are poor households and policy beneficiaries. Over the past 20 years, VBSP has established more than 168 thousand Savings and Credit groups, nearly 11 thousand Transaction Points in communes and wards, with the method of serving people at home and disbursing and collecting debts in the commune. This aims to minimize costs for poor households and policy beneficiaries who are enjoying preferential capital.
At the meeting, Mr. Durga Prasad Pandit - Director of the Department of Agriculture and Rural Development - MoALD thanked VBSP for the warm welcome and congratulated the achievements that VBSP has achieved in implementing preferential credit policy for poverty reduction and development of agriculture and rural areas.
Mr. Durga Prasad Pandit said: MoALD has known about Vietnam's achievements in the agricultural sector since the Doi Moi policy was implemented in the mid-1980s, bringing Vietnam from a poor country to a lower middle-income country and one of the world's largest agricultural product exporter. People's living standards have been improved, and the poverty rate has decreased rapidly over the years which certainly has contribution of credit policies for agricultural and rural development.
The delegation hoped that through their visit to Vietnam, they would have an intuitive view of the agricultural value chain, food security in agriculture, especially credit policies relating to agriculture and rural areas to consider application in Nepal.
Following the meeting, the MoALD delegation will go on a field trip to learn about credit activities, social policies, micro-credit and agricultural value chains in Hanoi and Quang Ninh and Ho Chi Minh City from 26th July to August 1st.
VBSP
LENDING INTEREST RATE
Poor Households

Lending to poor households
6,6%/year
Lending to poor households in 64 poor districts as stipulated by the Government Resolution No.30a in 2008
3,3%/year

Near Poor Households

Lending to near poor households
7,92%/year

Students

Lending to disadvantaged students
6,6%/year

People in need of loans for job creation

Lending to business establishments owned by war invalids and handicapped persons
3,3%/year
Others...
DEPOSIT INTEREST RATE
Term
Deposit Rate
Overnight
3,04%/year
1 week
3,23%/year
2 week
3,5%/year
Others...