VISITORS







Press Release
Updated: 2016-03-01 13:41:47
Over 2.6 million poor households and policy beneficiaries in Northwest region got loans from VBSP
As a key bank providing on poverty reduction, VBSP has mobilized financial resources to create funding and implement effective policy credit programs in Northwest provinces.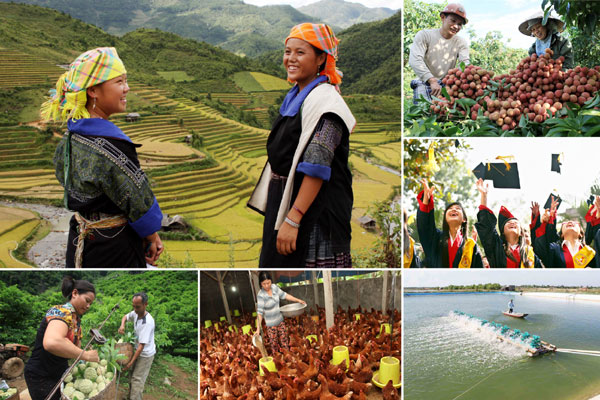 In recent years, social policy credit programs in the northwestern mountainous provinces has contributed actively in the implementation of national strategies for poverty reduction, social security, thus, considerably improve living standards of the people. The number of poor households dropped sharply from 34.4% in 2009 down to 18.26% in 2014.
By the end of November 2015, loan turnover to the poor and other policy beneficiaries in mountainous northwest provinces reached VND 50,658 billion, total loan outstanding reached VND 29,286 billion with 1,227 thousand active poor households and other policies borrowers and overdue debts felt sharply to just 0.31% of total loans outstanding.
Over the years, VBSP provincial branches have cooperated closely with the authorities and mass organizations locally in the expansion of policy lending to support the poor and policy beneficiaries. Thus, credit quality is increasingly improved, social policy credit activities in the Northwest are recognized and appreciated by the Party, the Government and the People.
In the past 5 years, over 2.6 million turns of poor, near poor households and other policy beneficiaries have been borrowing from the VBSP. For the period 2009-2014, policy credit have helped over 363,000 households to overcome poverty threshold; attracting and creating jobs for over 128,000 workers, of which more than 5,000 employees goes working abroad; helping 228,000 disadvantaged students carrying on their study; building 712,000 works to provide clean water and sanitation in rural areas and nearly 152,000 houses for poor households and policy households.
Besides achievements, during implementation, policy credit operations in the Northwest provinces show some limitations, credit quality has been uneven among provinces. In some Commune People's Committee, surveillance and certification of poor, near-poor households and policy beneficiaries has not been done with adequate attention.
In some localities, the coordination between agricultural, forestry technical assistance, technology transfer, market information of the State authorities, enterprises and mass organizations with social policy credit operations of VBSP has not been paid with adequate attention.
In the coming period, to improve the efficiency of social policy credit in the Northwest, resources shall be focused to invest in lending to the poor and other policy beneficiaries under lending programs of the State, especially in 6 provinces with high poverty rates (including Dien Bien, Lai Chau, Cao Bang, Ha Giang, Son La, Yen Bai).
At the local level, it is necessary to arrange for partial funding from local budgets to replenish funding to social policy beneficiaries in the province, ensuring implementation of the poverty reduction goals in the locality in particular and contributing to poverty reduction targets in the period 2016-2020 across the country in general.
sbv.org.vn
LENDING INTEREST RATE
Poor Households

Lending to poor households
6,6%/year
Lending to poor households in 64 poor districts as stipulated by the Government Resolution No.30a in 2008
3,3%/year

Near Poor Households

Lending to near poor households
7,92%/year

Students

Lending to disadvantaged students
6,6%/year

People in need of loans for job creation

Lending to business establishments owned by war invalids and handicapped persons
3,3%/year
Others...
DEPOSIT INTEREST RATE
Term
Deposit Rate
Overnight
3,04%/year
1 week
3,23%/year
2 week
3,5%/year
Others...