VISITORS







News & Events
Updated: 2017-08-24 18:56:03
CEO of Vietnam Bank for Social Policies meeting with JFC-Micro Delegation from Japan
(VBSP News) On 23rd August 2017, in VBSP Headquarters, CEO of Vietnam Bank for Social Policies Mr. Duong Quyet Thang had a meeting with the JFC-Micro delegation from Japan led by Mr. Ueno Yoshiharu, General Manager of JFC-Micro. Attending the meeting also included Deputy CEO Ms. Tran Lan Phuong and some senior officials from functional departments of VBSP.
Two sides exchange information on VBSP's operation achievements, the effectiveness and impact of the technical assistance project between the Policy Research Institute (PRI) under the Japan Ministry of Finance, Japan Finance Corporation, Micro Business and Individual Unit (JFC-Micro) and VBSP in periods of 2003 -2011.
CEO Duong Quyet Thang welcomed Mr. Ueno Yoshiharu, General Manager of JFC-Micro
At the meeting, CEO Duong Quyet Thang welcomed the courtesy visit of the JFC-Micro delegation at VBSP and introduced the operation achievement of VBSP in the past fifteen years as well as the effective impact of the technical cooperation project on VBSP performance system, contributing to sustainable poverty reduction and social security.
VBSP highly appreciate the success of the technical cooperation project between the Policy Research Institute, Japan Ministry of Finance, JFC-Micro and VBSP in 2003 – 2011. Through the project, VBSP is provided and shared experience and knowledge in terms of credit analysis for start-up enterprises, education loans, branch management and capacity building the internal training system of VBSP. After the project ended in 2011, VBSP applied credit analysis material set into practice in some lending programs such as: Job creation loan, SMEs loan, merchant loan, business household loan in disadvantaged areas etc. Also, VBSP pro-actively conducted training credit analysis for credit officers, newly-recruited staff, contributing to capacity building human resource for VBSP.
CEO Duong Quyet Thang expressed the expectation that two sides will continue partnership in training, technical assistance in terms of agriculture finance, credit management, non-financial services for start-up enterprises, micro-entrepreneurs and other disadvantaged groups.
Mr. Ueno Yoshiharu, General Manager of JFC-Micro sincerely thanked for the warm-hearted reception from VBSP. Through the meeting, JFC-Micro received fruitful information on the VBSP operation achievement over 15 years as well as the impact of the technical cooperation project, contributing to the national target of poverty reduction, socio-economic development and social security. Two sides will research new cooperation orientation in Vietnam in future.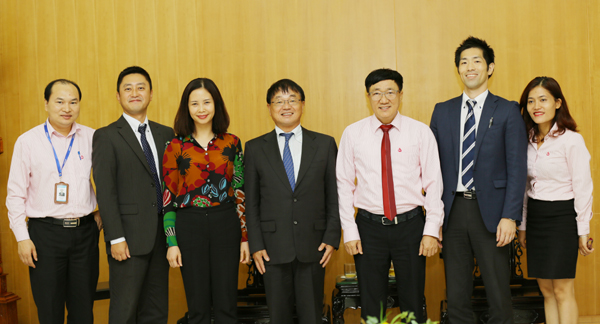 JFC-Micro and VBSP will continue maintaining and expanding sustainable cooperation and development
As of 31th December 2016, VBSP has 9,000 staff and serves seven million customers through grassroots networks, appropriate infrastructure, socialized procedures and skilful staff, with US$ 6.5 billion in loan portfolio, over US$ 1 billion in deposit and total assets of USD 7 billion. Seven million customers, one-third of the total population, are active microfinance borrowers and savers of the VBSP. Those huge clientele deals with the VBSP through the network of 63 provincial branches, 629 district transaction offices, about 200,000 savings and credit groups which are established based on village/hamlet and 10,917 of fixed date transaction points in total 11,161 communes in Vietnam where commercial banks have no access. By that widest operation network in Vietnam, VBSP approaches to clients near their home instead of waiting them in the bank's offices which often are 30 km far from their communes in average.
VBSP is the only bank in Vietnam to reach the poor at rural, remote and mountainous areas through the innovative model of fixed-date transaction at commune/ward/town nationwide. It is one of the most effective and efficient delivery channels that help the last mile population in Vietnam access inclusive finance served by VBSP. Through this delivery channel, VBSP helps their clients save time and travel costs that almost are as high as lending interest burden. Therefore, the delinquencies of the VBSP is quite low at 0.78% and the interest repayment rate accounts for 99% by the end of 2016. VBSP's vision is to become a leading retail and universal bank promote financial inclusion to the mass market, typically the last mile population.
LENDING INTEREST RATE
Poor Households

Lending to poor households
6,6%/year
Lending to poor households in 64 poor districts as stipulated by the Government Resolution No.30a in 2008
3,3%/year

Near Poor Households

Lending to near poor households
7,92%/year

Students

Lending to disadvantaged students
6,6%/year

People in need of loans for job creation

Lending to business establishments owned by war invalids and handicapped persons
3,3%/year
Others...
DEPOSIT INTEREST RATE
Term
Deposit Rate
Overnight
3,04%/year
1 week
3,23%/year
2 week
3,5%/year
Others...